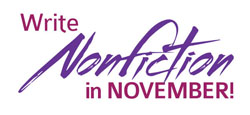 The Write Nonfiction in November (WNFIN) Challenge, also known as National Nonfiction Writing Month (NaNonFiWriMo), is my response to National Novel Writing Month (NaNoWriMo), a contest that challenges fiction writers to write 50,000 words in 30 days during November. It's a challenge to nonfiction writers, like me, to spend the month of November writing and completing a work of nonfiction.
Until 2013, Write Nonfiction in November was a dedicated blog that provided an ongoing resource on nonfiction writing, publishing and promotion via the archive of posts published during the challenge. The blog also provide a way each year for nonfiction writers to comment on their writing experiences during the challenge. That blog has since been combined with Write Nonfiction NOW!, which offers great information on the same topics all year round.
To learn more and discover how to participate, click here. Or simply click here to register for the 2016 challenge.
Prepare for the challenge now…National Nonfiction Writing Month will soon be here.
-1059
Days
-6
Hours
-54
Minutes
-36
Seconds