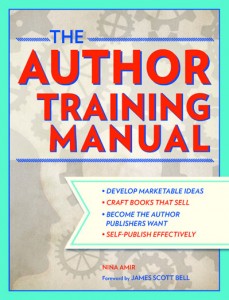 I'm so pleased and proud to announce the release of The Author Training Manual: Develop Marketable Ideas, Craft Books That Sell, Become the Author Publishers Want, and Self-Publish Effectively. This Amazon bestseller is the definitive guide for any writer—no matter the genre in which you write or how you plan to publish—who wants to succeed as an author. As book marketing expert John Kremer, author of 1001 Ways to Market Book, says, "Nina's book can enable authors to create their own ATMs to withdraw money whenever they need it simply by creating new books." Additionally, after I asked on Twitter if he had received his copy, bestselling author and self-publishing guru James Scott Bell, who wrote the foreword to The Author Training Manual, tweeted, "Surely did. So should everyone else!"
Here's what just three of the numerous publishing pros who offered testimonials for this book said about it:
"Among the myriad of books written about the business of writing and publishing, Nina Amir's The Author Training Manual is the first I've seen that combines all of the elements necessary to learn how to be an actual (rather than 'aspiring') writer." – Brian Felsen, President, BookBaby

"The Author Training Manual teaches you to produce a business plan for your book and to evaluate that plan through the lens of acquisitions editors–essential knowledge for any aspiring author." – Rick Frishman, best-selling author of the Author 101 series

"This excellent book is loaded with practical, proven techniques you can use continually to become a 'high-earning' author as well as a top seller." – Brian Tracy, author of Unlimited Sales Success
Upon release of The Author Training Manual, I went on two back-to-back virtual book tours. The resource that was created during that time is invaluable and gives you a sense of the fabulous information contained within the pages of this book. You can find all the interviews, posts and reviews below, including a few done prior to the start of the tour.
Enjoy!
And don't forget to purchase your copy of The Author Training Manual. You can do so here:
Amazon.com
WritersDigestshop.com
Barnesandnoble.com
Indiebound.org
Pre-Launch
May / June Virtual Book Tour!