You can turn your life lessons into stories worth telling as you help me develop one of my upcoming books.
Let me explain…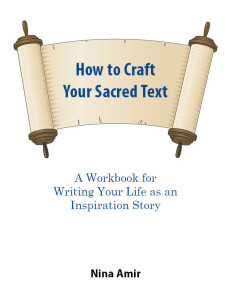 In the next year or so, I hope to expand my current workbook, How to Craft Your Sacred Text, into a full-length book. This workbook has not been publicly available until now; I've only offered it at a few select speaking engagements. You can now purchase the book, How to Craft Your Sacred Text: Writing Your Life as an Inspiration Story, here as a digital download.
I am looking for "beta users" to provide feedback and examples I might use in the finished book. If you provide this, and your work is useful, I will give you a signed copy of the finished and published book.
What is How to Craft Your Sacred Text: Writing Your Life as an Inspirational Story?
This 26-page workbook will show writers, clergy and speakers how to read (interpret) and write, as well as speak, their life experiences in the same manner as various traditions have read the bible—literally, metaphorically, allegorically, and secretly, thus producing essays, books and speeches containing their own "original medicine" used to heal and inspire others.
Interested in reading, writing and speaking your life story and inspiring others in the process? Get your copy by clicking on the button below.
How to Craft Your Sacred Text: Writing Your Life as an Inspirational Story
e-Workbook
Price: $4.95
(You should receive a message from PayPal after you purchase with a link to download the book. If you do not, please email me at nina (at) ninaamir.com. I will send you the ebook personally–but it won't happen instantaneously.)