WNFIN Challenge/NaNonFiWriMo
Day #24
Guest post by Patricia Fripp (@PFripp)
Today's NaNonFiWriMo/WNFIN post is actually a vlog, or a video. Why? Because if you want to learn how to promote and sell your books as a professional speaker, it's important to see and hear what professional speakers look and sound like. The lesson has more impact when you can experience a professional speaker in action. You can read the transcript of the video below.
Welcome to National Nonfiction Writing Month. I'm Patricia Fripp, past president of the National Speakers Association.
All right, you have written your nonfiction book. Now you need to market it. My recommendation? Speak to sell your book, and develop a following. There is no such thing as a free speech. Develop your skills, add to your mailing list, and, voila, you have potential buyers. Consider giving speeches before you've published your book, getting people on the mailing list to let them know that it's coming.
Your nonfiction book has a premise, a big idea. So does your speech. Your big idea must constitute the heart of your speech. You need to prove your idea, your premise, or your point of view with your points of wisdom, your talking points.
For example, imagine that you have 18 chapters in your book. Perhaps you have written about leadership. You might want to walk out and tell one compelling story from your book. When you have finished telling the story, you will transition into your premise: how your18 leadership techniques can dramatically transform an organization. "Thank you for the opportunity to discuss the content in my book. From its eighteen chapters, Fred suggested that I highlight for you the main points in chapters one, two, three, and four." Then you break down each chapter as a talking point, a chunk of content. You might give the audience an overview, the key idea of each one. Elaborate about its meaning or its significance. Give an example from the book and then point out specifically for the audience what they could to do improve their leadership. If it's a small group, you might ask, "Before I continue, do you have any questions about this chapter?" Move on then with the second, third and fourth, depending upon your time limit. What you are not going to do is attempt to discuss 18 chapters in 35 minutes.
Let us imagine that you have reviewed the four chapters as promised. Next you might say, "We have ten minutes. Would you like to do a Q&A, or would you prefer to hear the fifth leadership technique?" I promise you, 99 percent of the time, the audience will ask for another technique, because you are the expert, and the audience would rather hear from you than be at the mercy of poorly asked questions.
You're nearing the end of your presentation; time for a review. "Your leadership skills will improve when you've embraced one, two, three, four." That's your review. If you have described specific characters and individual stories, be specific: "If you want to improve your leadership skills as Larry, Mary, and Susan did, take the steps that they did. I challenge you to call for action, call for action, call for action."
Then you might say, "We have ten minutes." It's appropriate now to encourage some Q&A, because people will likely ask, "Where can I get your book?" If they don't ask, follow up with, "Now that you've heard some of the content from the book, I want to let you know how you can get it. Well, lucky for you, Gary did ask me to bring a few copies, and they are on the back table."
You do not, however, end on your sales presentation. Why not say, "I'll never forget the best leader who helped frame and mold my leadership skills." Then you relate a memorable story to close with impact—you want to close on a high.
A winning combination might be to start your speech by telling a story from early in your career when you were not a good leader. After delivering the heart of your speech, you can follow up with, "Once I learned to incorporate the leadership lessons from all of the best bosses I've ever had, I felt empowered and confident to lead others." Then bring on the powerful closing with a story of life as it is now, now that you're a great leader.
This is Patricia Fripp, past president of the National Speakers Association. If you want to learn how to speak more effectively, structuring and telling stories, check out www.FrippVT.com, as in "virtual training." Good luck with promoting your book.
Resources
Fripp VT
See below for details and coupon code.
About the Author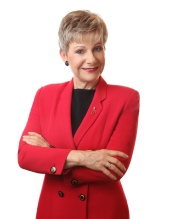 Patricia Fripp is the ultimate authority on powerful persuasive presentations – your competitive edge! Being a dynamic, inspiring, and persuasive presenter is no longer a nice skill to have. It's a matter of business life and death! Patricia Fripp, CSP, CPAE, is a CPAE Hall of Fame keynote speaker, business presentation skills expert, and sales presentation skills trainer and coach. Named "One of the 10 most electrifying speakers in North America" by Meetings and Conventions magazine, Patricia delivers high-content, entertaining, dramatically memorable presentations. Kiplinger's Personal Finance wrote, "The sixth best investment in your career is to attend a Patricia Fripp speaking school."
For more than 30 years, Patricia has maximized her client's investment, delighted audiences, and transformed sales teams. Her personalized content and powerful presentation skills consistently exceed client expectations. Patricia simplifies and demystifies the process of preparing and presenting powerful, persuasive presentations. Patricia is a past president, and the first female president, of the over 3,000-member National Speakers Association. She is also a partner in World Champions Edge coaching community with four Toastmasters International World Champions. Patricia is the author of Make It, So You Don't Have to Fake It! and Get What You Want! and co-author of Speaker's Edge, Speaking Secrets of the Masters, and Insights Into Excellence.
Patricia is a member of the very prestigious Speakers Roundtable, an invitation-only society of highly regarded professional speakers. Members are America's most in-demand motivational, professional, and keynote speakers and include business experts, award-winning professional speakers, authors, speech coaches, and business consultants.
www.FrippVT.com helps you learn how to speak to market your book and to inspire, persuade, and inform audiences. The program is presented in a learn-at-your-own-pace, highly interactive format. Get a free trial, and use "book" as your coupon code to save 10% when you join.