NEW RELEASE!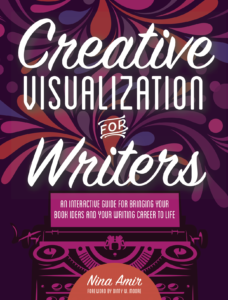 Explore Your Motivations. Replenish Your Creativity. Define Your Vision for Success.
To become more creative, confident, and productive, writers need to focus their attention, visualize their desires, set clearly defined goals, and take action toward their dreams. Nina Amir's Creative Visualization for Writers is the perfect guide for this journey of self-discovery.
Nina shows writers how to evaluate their beliefs and shed self-defeating behaviors; determine their destination by visualizing their ideas and goals; develop an Author Attitude to help them write, achieve, earn, and produce more; discover new ways to foster their creativity and productivity; and affirm that they have what it takes to succeed.
Featuring more than 100 exercises and prompts to spark new writing ideas and provide a creative boost, as well as coloring pages to encourage relaxation, Creative Visualization for Writers helps authors transform their dreams into reality and find joy in the creative process.
PRAISE FOR THE BOOK
"Finally, a book that puts a truly positive spin on the writing process! There's so much to love here–inspirations, exercises, and high-octane creative fuel. Highly recommended!"
—Jonathan Maberry, New York Times best-selling author of Patient Zero
"Writers often find it hard to go from idea to published book to writing career. Nina Amir's Creative Visualization for Writers provides the tools necessary to fulfill your dream of becoming a successful author."
—Rick Frishman, best-selling author, publisher, and speaker (www.rickfrishman.com)
"This excellent book shows you how to stimulate your imagination and unlock your ability to write more creatively than ever before."
—Brian Tracy, author of Get Smart!
"Nina Amir delivers an inspiring book that offers solutions to the problems creative people struggle with: What is my vision, and how can I access it and make it come true in the real world? Every creative work in the world starts with an idea and the problem of how to bring it forth. Creative Visualization for Writers draws upon ancient wisdom and modern techniques to help you give birth to your project."
—Linda Joy Myers, President of the National Association of Memoir Writers and author of The Power of Memoir and gold medal winner Don't Call Me Mother
"Creative Visualization for Writers is brilliant—a guidebook, journal, writing coach, coloring book, and touch point to your inner life, all in one place! I love the blend of introspection and activity, along with the short, actionable chapters and exercises. Nina Amir's holistic approach can help you be creative, productive, and successful as a writer—and enjoy a rompin' good time in the process. This book will help you choose the right projects—the ones that truly light your re and help you live your purpose now—and complete them."
—Lisa Tener, author and book coach (ww.Lisatener.com)
"In Creative Visualization for Writers, Nina Amir shares all you need to know to implement the latest research on how your brain tap into its very own writing genius."
—Carolyn Howard-Johnson, Multi-award-winning poet and author of the HowToDoItFruggally series of books for Writers
"More than just a map, Creative Visualization for Writers is like a GPs for achieving your writing dreams. I highlighted the heck out of this book!"
—Carla king, Misadventures Media
"An inspiring guide to help you get to know your inner writer—and decode how to truly work alongside her to produce your best writing."
—Zachary Petit, Editor, Print Magazine
""With powerful, an affirming messages of support, Creative Visualization will help any writer harness the positive energy and creativity necessary to do their best work. Nina Amir's con dent, encouraging voice will motivate writers on their discouraged days, and inspire in the best of times."
—Jordan Rosenfeld, Author of Writing the Intimate Character and a Writer's Guide to Persistence and five other books
"This delightful, interactive book brings to writers the awesome power of visualization and combines it with Nina Amir's wise, sane advice on how to get your work out of your head and into the world. It's a must-read for aspiring authors who want to become published."
—Joel Friedlander (www.thebookdesigner.com)
"I love the concept of this book. The writing process is never straightforward. Right- brain exercises, from visualizing to coloring, can add joy to rote tasks like outlining and marketing. At the same time, goal-setting and list-making activities can spark creative thinking. So let your creativity and productivity flow together!"
—Jody Rein, Literary agent and co-author of How to Write a Book Proposal Fifth Edition