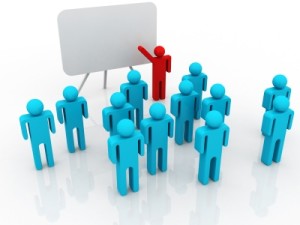 I'm a huge advocate of attending professional conferences of all types. If you are a writer, attend a writing conference. If you also blog, attend a blogging conference. If you write about your profession, attend conferences in your field. If you speak or want to become a speaker, attend conferences for speakers.
Here are 10 reasons why I think you should attend at least one writers' conference this year:
Ideas and inspiration: As you listen to expert speakers at conference you generate many new ideas for books, articles and essays, as well as ways to market them and make a living or career as a writer. You become inspired to take action. It can be hard to come up with ideas and feel inspired when you never get out and meet or  listen to people who discuss their successes or concepts that are new to you.
Encouragement: It's common to feel discouraged and to doubt yourself and your work, especially if you work alone most of the time. Getting out amongst other writers and experts offers you a chance to speak to them about your projects and to get encouragement. Hearing their success stories also fuels your desire to keep going.
Learning: No matter the length of the conference you attend (1 day or 5), you have the opportunity to learn from experts—or at least from those who know more than you. If you come home having gained even one piece of new knowledge you can apply that will help you succeed, this is worth the price of entry.
Trends: It's important to keep up with new and developing trends in the publishing industry, which is changing a light speed. The best place to learn about this is at a conference where those who keep tabs on the industry come to report on the changes they see.
Tips and Techniques: Most conferences have many different sessions. In each one, an expert offers tips, techniques, advice, and resources. You become privy to this invaluable information and can go home and put it to use. Plus, you don't have to look far and wide; a variety of information is provided for you in one place and during one short period of time.
Networking: At a conference you have the chance to meet fellow writers, bloggers and publishing professionals of all types, including literary agents and acquisitions editors. The contacts you make can prove invaluable. Meeting someone face-to-face that you might have connected to online can make a huge difference to your relationship, too.
Pitching: Many writers' conference include pitch sessions or meet-the-editor sessions. This allows you to discuss your book project with an actual agent and editor, which can lead to literary representation or a book deal or both.
Feedback: At a writers' conference you can meet with developmental editors, book doctors, line editors, and acquisitions editors. These publishing professionals will give you feedback on your book ideas, your book proposals, your manuscript, and your platform.
Professional Development: As you attend conferences, you become more educated as a writer. If you put what you learn to use, your career will advance. This is called professional development. You will be amazed at how many opportunities flow out of such efforts.
Fun: Attending conferences is enjoyable! Get out of your lonely writer's garret and meet some people, learn something new and get inspired! Attend a party or luncheon. Hang out with other writers.
One More Reason to Attend Conferences
I got my start speaking at writing conferences after attending the San Francisco Writing Conference back in 2004. Two years later I became a conference volunteer, and two years after that I was asked to serve on a panel as a speaker. After my book, How to Blog a Book, was published, I became a full-fledged expert speaker at the conference with my own session. This year, I'll have two traditionally published books to talk about when I present there in February. I wrote about how attending the San Francisco Writing Conference was the best thing I did for my writing career. You can find this piece, along with 20 other writers' comments, in the September 2013 issue of Writer's Digest magazine.
Join Me at a Conference
I'll be speaking at a variety of conferences this fall—and I attend them all, which means I actually go to sessions when I'm not speaking. I love discovering what I can learn—and put to use. I never feel like I know everything there is to know about my industry.
Consider attending the conferences where I'll be speaking this fall:
Central Coast Writers' Conference
Writer's Digest Conference West
San Francisco Writing for Change
Or join me at Author 101 University in Las Vegas, NV, on October 24 to 27, 2013. I'm actually planning on attending this event. I won't be speaking there, though I hope to do so one day. Enroll now, and BRING A FRIEND FOR FREE! (In fact, I'm looking for a friend to go with me (to split the cost)! Leave me a comment and tell me how to contact you, if you are interested in attending as my "friend.") Use coupon code "earlybird13" and get $200 off till Aug 31.
So, what are you waiting for? Register for a writers' conference today—or at least a local workshop. And if you have more reasons to attend a writers' conference to add to my list, leave me a comment below.
Photo courtesy of jzcreationzs | freedigitalphotos.net