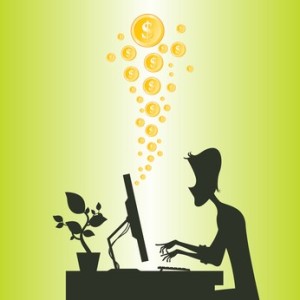 Most writers I speak with want to increase their income next year. Heck, most people want to increase their income. As writers, though, we typically want to do that by focusing on work we love. That means we want to write about topics that interest us and we want to serve our readers by providing them with articles, essays and books that add value to their lives.
I've read at least a few book and attended one or two courses that discuss how to "do what you love and have the money follow." While in some cases I've not found this theory to manifest so easily, for writers I have found works quite well. When you purpose to editors topics about which you feel passionate or that you think fulfill a personal mission or purpose–topics you love, the inspiration that generates comes through in your writing. Not only that, when you talk about these topics with editors, they sense your excitement and energy and become more likely to ask you for a book or article proposal.
That means your passion and purpose for these topics, which combined turn into inspiration, help you stand a higher likelihood of acquiring assignments and book deals. And these assignments and book deals turn into paychecks.
As you create a business plan and goals for the coming year, consider including the following action steps to help you increase your income:
Choose to write about topics that inspire you. Make a list of the three topics that really "float your boat." What are you most passionate about? What do you enjoy writing about most? What topics fulfill your sense of personal purpose or mission? Now, brainstorm five to fifteen different article ideas you can submit to magazine that revolve around these subjects. If you want to write a book, brainstorm a book you can write on one or more of these topics. (Maybe you can write one full-length book and one or more short ebooks.)
Find editors interested in those inspired topics. Research magazines, agents and publishers who publish work on the subjects you've chosen. You simply can use Google for this or a resource like 2014 Writer's Market or 2014 Guide to Literary Agents. Make a list of as many places to submit as possible. The way to sell your work easily is to find those who feel passionate about the same topics as you and who have the same sense of mission or purpose—or at least who can get excited about your sense of mission and purpose.
Submit your work to editors and agents looking for inspired work. The only way to increase your income is to increase your chances of getting work accepted. That means sending work out. Write a great query letter for your article, essay or book and submit, submit, submit. Create a goal to submit a certain number of times per month or week.
Meet your "rejection quota." Every writer gets rejected—some more than others. So, keeping that in mind, and know that at a certain point rejections turn into acceptances. Just keep going until you've gotten past your rejection quota, the number of rejections you need to get before you begin receiving acceptances. At that point, checks will start arriving in the mail. If you keep your focus on your passion and purpose, you'll always feel inspired, even when you have a stack of rejections.
Include these four steps in your New Year plans, and your income will surely increase—as will the benefit your provide to your readers. You'll also feel a huge sense of accomplishment as you move closer and closer to fulfilling your personal writing mission or purpose.
Photo courtesy of herminutomo | stockfresh.com