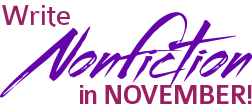 This post is part of the Write Nonfiction in November Challenge (WNFIN), also known as National Nonfiction Writing Month (NaNonFiWriMo), which is sponsored by the Nonfiction Writers' University —
join today for just $1!
To find out more or participate in the WNFIN challenge,
click here
.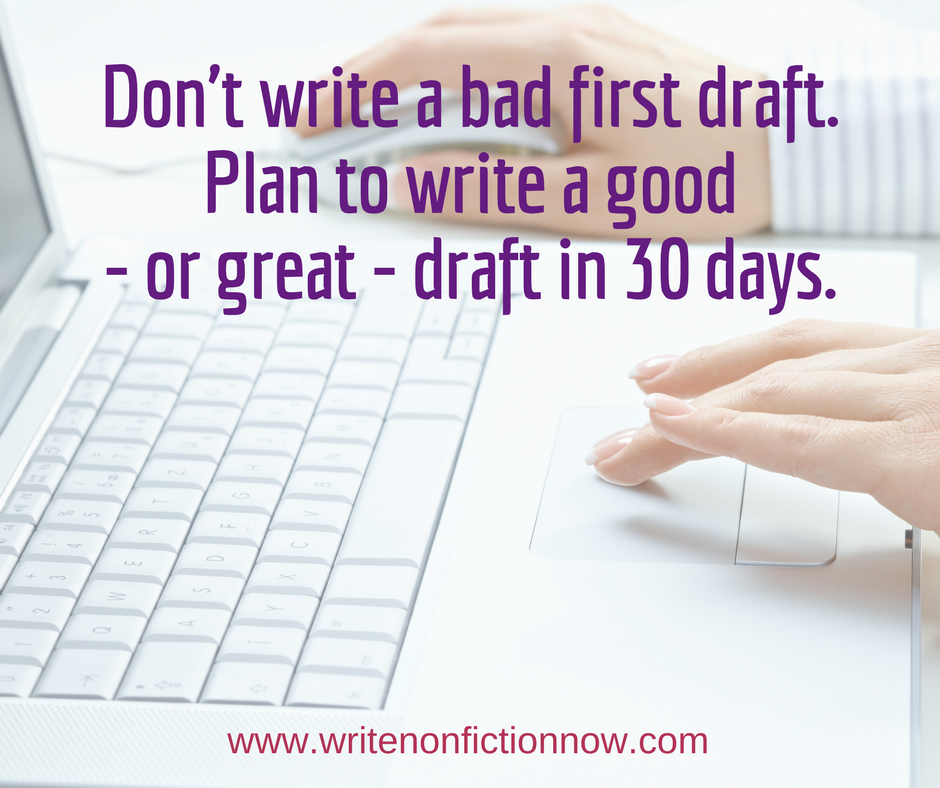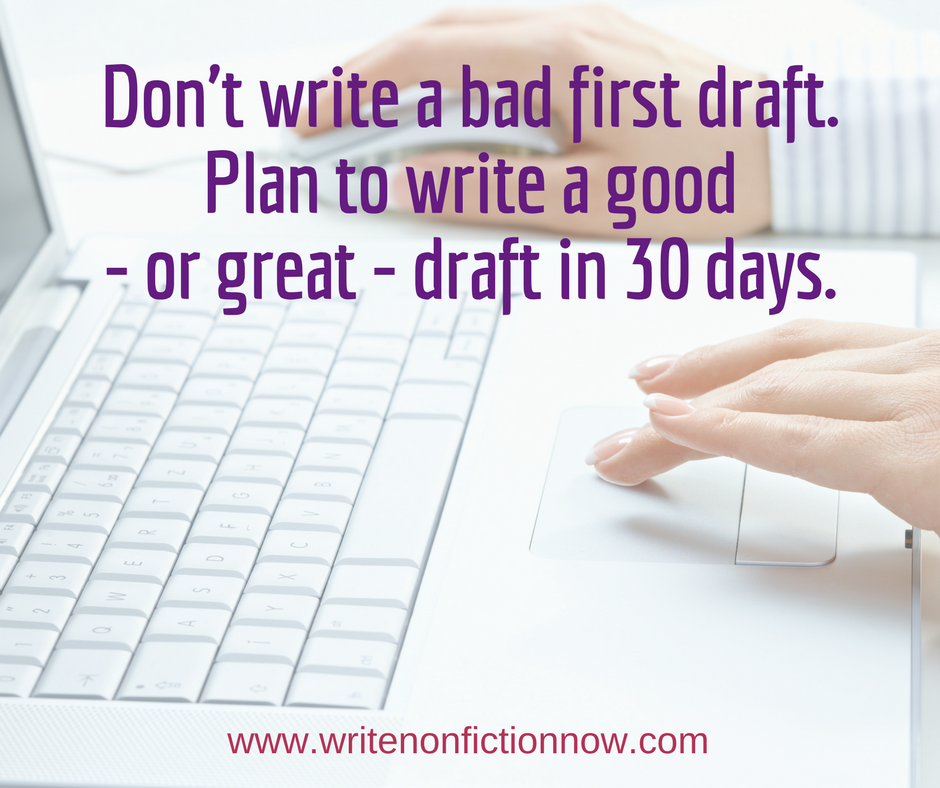 November 1st has arrived, and you've decided to write a nonfiction book in a month. Even if you put writing blocks on your calendar daily, sit down in front of the computer, and put your hands on the keyboard, there's only one way you'll complete a good—not bad—first draft in 30 days: You must know what you need to write.
Many people talk about writing a bad first draft during a month-long challenge like National Novel Writing Month (NaNoWriMo) or National Nonfiction Writing Month (NaNonFiWriMo), aka the Write Nonfiction in November (WNFIN) Challenge. I suggest you set out to write a good first draft.
How do you do that and get it done in a month? Planning.
But not just any type of planning. You must have every chapter mapped out in detail. And that needs to happen first. Even if you didn't do more extensive planning previously, don't start the WNFIN Challenge until you take the following steps. If you begin anyway—before you plan, you are more likely to end up with a bad first draft…if you finish a draft at all.
How to Quickly Write a Good First Draft
Here are some fundamental steps you can complete in the first day or two of November (if necessary), and then start writing…fast!
Decide what your book will accomplish for the reader. What is it's benefit or value? What problem does it solve or question does it answer? Once you know this, you can proceed and determine the content that will accomplish that goal. Everything you do must get your reader from point A to point B.
Brainstorm all potential topics related to your book's subject. Don't hold back during this process. You want to consider every possible topic you could include in the book. Use a mind map or just list the topics. (For more information on mind mapping, read posts in this category on www.writenonficitonnow.com. Or check out Mind Mapping for Authors.
Organize the topics into groups. Create new lists or move around the items in your mind map until you have between seven and ten major subject areas—if you are writing a full-length book. (Short ebooks can have fewer subject areas.)
Give each significant subject area a chapter title. Your major subject areas or groupings represent chapters. The easiest way to move from chapter to chapter is to know what each is about; the chapter title helps you focus on the primary benefit of that section of the book.
Create subheadings for each chapter. Most nonfiction books contain chapters broken into smaller sections. Each section has a subheading—a title. Look at the topics you have grouped under the chapter title. Which ones represent major parts of the chapter? Title the subheadings.
Determine what content to include under each subheading. Now create a detailed outline or bullet list for each chapter. It should consist of the chapter title, the subheadings for each section, and then all the topics you will cover in each section. (Grab these from your initial brainstorming session.) When you complete this step, you will have completed a detailed outline of all the content in your book.
Eliminate any topics that don't fit into this book. Don't be tempted to include every topic you listed. Stay focused on the benefit you want to provide to the reader—the goal of the book.
Add any missing topics. It's possible that your outline is missing topics. Once you review the entire book's content, you can determine if there are any gaps in information. Add these topics to expand the outline.
Awesome. Now you know what to write. You've planned out your whole book. But there's one more step: Know what to write each time you sit down at the computer.
Plan Your Writing Time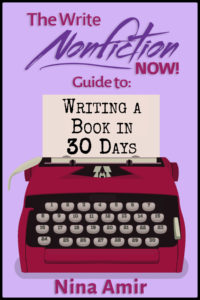 Step #9 requires that you block time to write on your calendar. Do not leave finding time to write to chance! Make appointments with yourself every day to write. Put them on your calendar or schedule and treat them as you would a doctor's appointment.
However, don't simply indicate on your calendar that you will write from 8 a.m. until 9 a.m. Monday through Friday and from 12 p.m. until 2 p.m. on Saturday and Sunday in November, for example. If you want to write quickly and productively all month long, you need to indicate what you will write during your writing blocks or appointments.
For instance, you might get out your calendar and block of time tomorrow, the second day of the WNFIN Challenge, to write from 5 a.m. until 7 a.m. (If that sounds early, consider that many prolific writers—many of whom have full-time jobs—write early in the morning before the day gets started.) Additionally, you put on the calendar details about what you plan to accomplish in or your goal for that period. So, your calendar might look like this: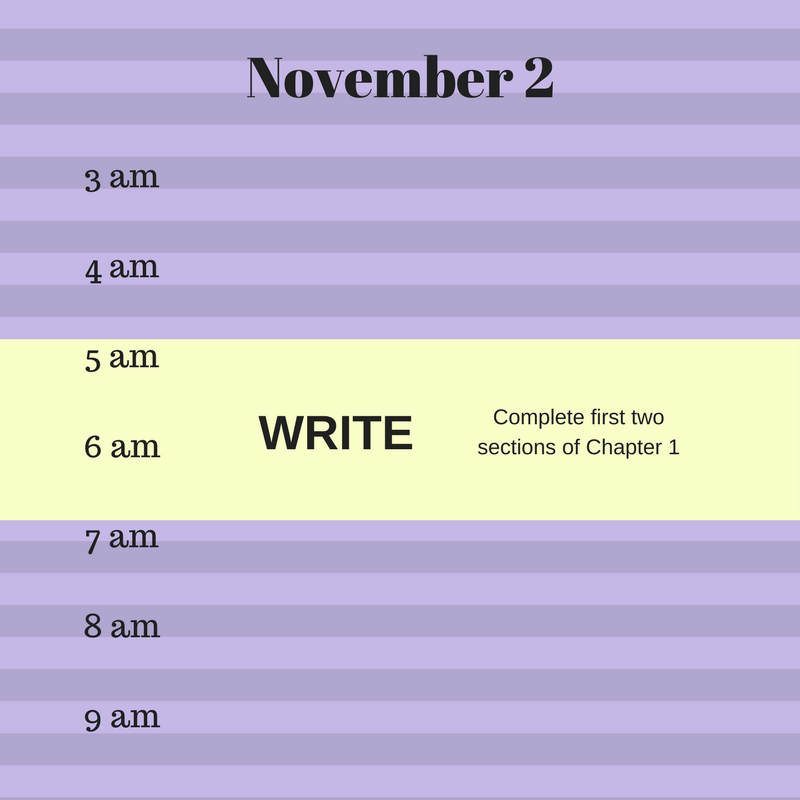 If you do this for each of your writing periods, you will never stare at the computer screen and wonder what to write (waste time) again.
With your detailed outline or table of contents for your book and a writing schedule that includes a content plan, you are well prepared to start—and finish—a book-in-a-month challenge. You'll find you have clarity and purpose, and these two essential elements will help you achieve your writing goals this month.
If you need more high-performance writing tips to help you meet the WNFIN Challenge, check out the High-Performance Writer Home-Study Program. Recieve tips, inspiration, and strategies during the month of November.
Tell me in a comment how this system works for you or what system you use to make sure you write effectively every day.
Take the Challenge!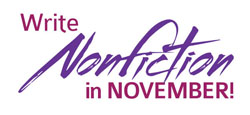 To learn more about how to take the WNFIN Challenge and participate in NaNonFiWriMo, click here.