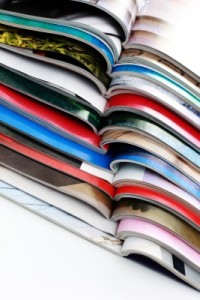 Two weeks ago I received an email from a regional magazine asking me if I'd be willing write a cover article for the publication on the subject of dance. I happily agreed. Not only will I get paid a reasonable fee, this article helps me build platform in a subject area of interest to me.
How did this editor find me? Well, I admit, I've written for the magazine several times before—and once on the same subject. However, the primary reason the editor of this regional parenting magazine sought me out specifically to write a story about why dance benefits children is simple: I've become an authority on dance and children. In particular, I'm an expert on boys and dance. Not only have I written about boys and dance for other magazines, I have a popular blog on this topic, called My Son Can Dance.
I created this blog because I wanted to one day write a book on the topic of boys and dance. I figured this blog would help me build author platform, and it has. Additionally, I have written articles on the subject and about dance in general. This editor knew this; so when it came time to find a writer for her story about the benefits of dance for children, she immediately thought of me.
Become a Specialist
If you want to write for regional or national magazines, you can write about almost anything. However, you increase the likelihood of landing assignments if you specialize in one or two subject areas. This also increases your chances of editors thinking of you for particular types of stories.
These days, however, you want to make sure you are discoverable online as well as in print publications. Sometimes editors search for experts just as you might search for a product or service using your favorite search engine. Thus, you want to make sure you are "visible" online. This also increases your chances of an editor calling or emailing you out of the blue with an assignment.
To get started, consider what books you plan to write. Can you group them into one or two subject areas? If so, begin doing the following things to help you become known as an expert in these subject areas:
Begin a blog or blogs related to those subject areas.
Write articles on these topics for online publications. You might not necessarily get paid for these, but they will allow you to link back to your blogs. This is an easy way to begin getting clips and bylines.
Write ezine articles on these subjects; again, you provide this content for free, but anyone who publishes it provides a link back to your blog.
Produce a podcast or radio show on your topic.
Produce YouTube videos on your topic.
Write guest posts for other bloggers who write on the same or similar topics.
Query radio shows and podcasters with show ideas that relate to your subjects.
Start writing articles on these topics for regional magazines.
Query national magazines with articles on these topics.
Can you think of any other ways to become an expert in your subject area and make sure editors think of you first when they have an assignment that needs your expertise?
Don't miss a single post! Receive every Write Nonfiction NOW! post conveniently in your email box.  And if you are currently a blog subscriber using Feedburner, please resubscribe here. That service will be discontinued in July and you will stop receiving posts.
Image credit: matka_W / 123RF Stock Photo