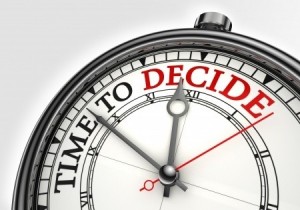 It's January 1. The New Year has arrived. Will it be any different than last year? You can make that decision right now. Today. This moment.
It's easy to say the decision depends upon editors, agents, spouses, any variety of conditions… In fact, you, and only you, make the decision. You decide in an instant to change. And you make the decision to follow through with the actions necessary to make that change happen.
Don't Float on That River in Egypt
We've all heard about that river in Egypt…you know the one: Denial. You float down that river when you blame the fact that you didn't become an author or begin your writing career (or get it off the ground) in 2013 on:
the agents who didn't offer you a contract
the acquisitions editors who didn't accept your work
the editors who told you that your manuscript needed major work
the spouse who said you need to continue working a full-time job or earn the money to publish your book
the elderly parents or young children needing your care
your bad health
your lack of time
Don't spend time on that river this year. Paddle on over to the shore. Get out of the boat. Start walking. That's right…one step at a time in the direction of your goals: authorship and a career as a professional writer.
In other words, take responsibility for yourself.
Do Something Different
To achieve different results this year, you must do something different. If you didn't become an author last year or start that freelance writing career—despite your efforts, you need to change something… probably the way you do things. Break your habits or change your daily schedule. Don't expect anything to change if you don't. Someone once said, the definition of insanity is doing the same thing over and over and expecting a different result. It's true.
Many writers became successful despite obstacles or challenges. They decide to succeed anyway. And they take the necessary action. You can do the same.
For example, one of the participants in my Write Nonfiction in November Challenge got ill during the National Nonfiction Writing Month (NaNonFiWriMo). She picked up her computer and worked in bed. She didn't allow illness to stop her.
If you didn't do anything to further your goals last year, then, obviously, you just need to decide to take action, and take it.
Make a Decision
Every year I make decisions about how I will do things differently. Call them resolutions if you will, but I don't like that word. ("Resolve" has a negative connotation.) I call them decisions and intentions. This year I've struggled a bit as I looked back over the past year. It's true that I am an author and I have a writing career, but I didn't accomplish the goals I set for myself last New Year's Eve. I made decisions but I didn't take action.
It's important to understand why that happens. Sometimes we don't change—we don't take action—because our beliefs hold us back. We think we aren't good enough, worthy enough, smart enough. Sometimes we are afraid. Sometimes we don't really want to do what we claim to want to do. That means we harbor an underlying  lack of belief in our goals that make it hard to take action toward the goals. It's like getting mixed messages; we tell our mind we want to move forward and make a change, but our beliefs offer reasons not to do so.
I see this in my own life as well, especially this past year. And this places one foot is on the gas and the other on the brake.
Examine your beliefs to determine if they are holding you back, and then change them. Be honest and determine if you've been blaming others for your inability to become an author or start a writing career. Then take responsibility, decide to "Just do it" this year, and take the first step today. Yes, today.
Start out on January 1 by making a decision or two.
Take a Step
Take time on this very first day of the New Year to move one step closer to authorship or freelance professional writer status:
Write an essay
Start a book proposal
Mind map or outline a book
Compose a query letter
Research agents or publishers
Develop a list of editors or designers
Start a blog
Make a list of potential customers or clients
Register for a conference or convention
Write the first chapter to your book
Let me know what you decide to do—or do—to move closer to your goal; tell me in a comment below.
If you need help becoming an author or professional writer, take advantage of my New Year Blow-Out Sale, which ends at midnight today (Jan. 1), but has many products and services to help you meet your goals.
Also, the prices listed above on the 3-month intensive Author of Change (ACT) Transformational Coaching Program Home Study, Basic and Premium versions actually are early-bird prices. But you can save an additional $25 off for all three versions with these links:
The Basic and Premier ACT Coaching Program have a LIVE coaching element and begin Jan. 6 and run through the end of March. You can also register for the ACT Coaching Program Live Basic and Premium versions with a friend using my "twofer" deal (two people go for the price of one registration). Take advantage of this by registering here:
www.authorofchange.com
(use Option #1 or #2) and then emailing me at nina@ninaamir.com with the name of the person who will attend for free.
Don't Wait
Don't wait one more day to realize your dream of becoming a nonfiction author or starting that professional writing career. There's no time like NOW to take the first step toward your goal. All it take is a decision followed by action. Do both and your year will be off to a great start already!
Image credit: donskarpo / 123RF Stock Photo