The more books you write, the more books you sell. That means you stand a higher chance of making a living as a writer and author if you become a multiple-book author.
Statistics show that hybrid authors, those that publish both traditionally and independently, who earn a living from their books typically have about 12 titles to their names. Self-published authors who earn a decent income from their books have at least three published titles.
However, don't produce books willy-nilly. Have a plan, and that plan should include books that are related in some way and then written and published in a logical order. This helps brand you and increase your readership. If you can achieve these two goals, your books sales will increase further.
Recently I wrote about building a business around your book. In that post, How to Map Your Path From Idea to Successful Authorpreneurship, I explained that one way to do this is to start with your book idea and build out to related products and services. Think of your books as one type of product you produce. Maybe it is the only product, but books are, indeed, products released into target markets by authors and publishers. The publishing industry releases more new products per day, per month, or per year than any other industry.
Part of the process of building either a career as an author or a business around your book, therefore, revolves around creating spin-off books. Spin-off books are books, such as series and sequels, that relate back to your original idea. You can best craft ideas for spin-offs using a mind mapping process, which I wrote about in an earlier post.
Once you have your spin-off book ideas, you can place these in your book proposal to impress a publisher or in your indie book business plan develop a strong publishing platform. Book proposals often contain a section called Spin-offs, and if you have a series in mind you can mention it on the cover page of your proposal.
Nonfiction Writing Prompt #32: Brainstorm and Pitch Spin-off Books
To complete this prompt, brainstorm new book ideas related to your current or primary book idea. Then write titles and pitches for each one of these ideas.
First, use the mind mapping process I described in the post mentioned above (or any process you like), but get as many potential book concepts onto paper or computer screen as possible. Remember, you want to craft ideas that relate to the book project you are working on currently or want to work on in the future.
For example, you might start with your current project, "How to Ride a Bike Across the United States." Your brain storming session might yield a mind map that looks like this:

Second, develop these ideas by creating potential titles. Your brainstorming session might have included workable titles. The ones in the mind map above work for how-to books, for instance. But you also might need to polish them, hone them, revise them—especially if your mind map has branches that say "a book about cycling with pets and kids," "a book about cycling across Europe" and "a book about getting in shape for long-distance cycling."
Third, write pitches for your potential books. Craft a one-sentence description of what the book would be about and how it would benefit readers. This should provide some sense of the market as well. For example, you might write:
"How to Cycle Cross Country on a Tandem Bike will be the ultimate guide for couples and friends who want to cycle long distance in close quarters, providing everything from tips on equipment, training, maintenance, cycling as one, planning the trek, and getting along from beginning to completion of the ride in one slim, easy-to-pack volume. This book is The Bicycling Guide to Complete Bicycle Maintenance & Repair and The Complete Book of Long-Distance Cycling meets The Conversation Method."
Notice how this pitch mentions the market: couples and friends. It also talks about the benefits: It will provide "everything from tips on equipment, training, maintenance, cycling as one, planning the trek, and getting along from beginning to completion of the ride in one slim, easy-to-pack volume." By comparing the idea to some bestselling books, you also get an idea of the flavor and comprehensive nature of the book−just in two sentences.
Once you have a title and pitch for each spin-off book, determine which one should come first, second, third, etc. Consider if there is a logical order, if some will be shorter than others or if you can build brand or platform toward a larger or more important book by creating a publishing schedule.
A list of two to five spin-off books in a book proposal can prove quite impressive and land you a two- or three-book deal. If you indie publish, having these spin-offs in your business plan will give you the confidence that you know what book to write next to support your current book and the next and the next. In this way, you build a successful author career.
How many spin-off books did you create by completing this prompt? Did you find the exercise easy and fun? I love this type of ideation! Tell me about your experience in a comment. If you found creating spin-offs difficult, you can get help by signing up for Author Coaching.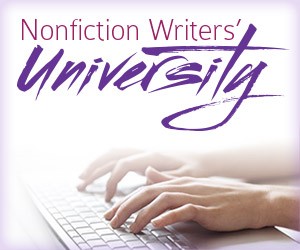 For more information on how to create nonfiction book ideas that are marketable and that support your writing goals, join the NFWU. When you do, you'll receive this month's Nonfiction Writers' University (NFWU) homework assignment, which contains more exercises and information on this topic. Plus, you'll have access to the growing archive of past homework assignments and NFWU event recordings as well as some introductory gifts worth more than the membership! Members also get additional bonuses during the year.
Next NFWU event: FREE teleseminar on 8/20 at 5 pm PT: Finding Creativity in Planning with Nina Amir. Register here. (No membership required.)
To find out more about or to join the NFWU at the low introductory rate or with a buy-on-get-one-free yearly membership offer, click here. (Hurry…the introductory rate ends 8/31/14).