If you want to write and publish books, the first step involves developing ideas. You may be a nonfiction writer with just one book idea or with many. However, if you have nonfiction writing goals, your book ideas should support your goals.
I have many book ideas. Despite the fact that some of them really excite me, I have put quite a few on hold. I have them queued up in a logical order, one following the other so they help move me toward my goals.
Sometimes those goals could be simple, such as get a traditional publishing deal. That may not sound "simple," but, for example, I put aside some projects of mine that were outside my area of expertise to pursue that goal. I used my expertise to accomplish it. With traditionally published books under my belt that have performed well—a track record—I can move into other categories more easily, should I want to pursue traditional publishing for my other ideas. I can also pursue self-publishing now more successfully.
Your goals could be to:
Attract more clients
Make more money
Develop authority
Tell my story
Serve others
Teach
Build a business around a book
Get more freelance assignments
Become a professional speaker
Whatever your goals, it's time to develop book ideas that support them.
Nonfiction Writing Prompt #10: Create Book Ideas to Support Your Goals
Write down your top two or three nonfiction writing goals. For each goal, also write down one or two reasons why you want to achieve that goal. Here's an example of what that might look like:

Next, brainstorm tentative titles or subjects for books that would support those goals. Come up with at least one, preferably two for each goal. Prioritize them based on which will help you achieve your goal fastest. Here's an example (without actual titles or subjects):

If you come up with other nonfiction book ideas you'd like to write during this process, write them down as well, but put them away for later. (That's what the "Other Books" category above is for.)
How many ideas did you come up with? Tell me in a comment below.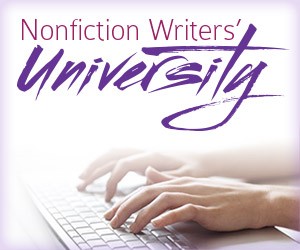 For more information on how to create nonfiction book ideas that are marketable and that support your writing goals,  join the NFWU. When you do, you'll receive this month's Nonfiction Writers' University (NFWU) homework assignment, which contains more exercises and information on this topic. Plus, you'll have access to the growing archive of past homework assignments and NFWU teleseminars as well as some introductory gifts worth more than the membership! Join here at the low introductory rate!
February NFWU Teleseminar: 2/18/14 @ 12 pm PT – "How to Mind Map Your Nonfiction Book Before You Begin to Write" with Book Coach Roger Parker. Join the NFWU to reserve your spot. (Members also get recordings of the events, access to the forum, bonus products, and more…) Learn about the benefits of membership when you click here.