I am happy to welcome
Justine Schofield
, the development director of 
Pubslush
, as a regular contributor to Write Nonfiction NOW! You can follow her on Twitter at
@

heyyojscho
. Her first post explains why crowdfunding is a superb strategy for business writers.
Crowdfunding is one of the latest buzzwords. From technology to the arts, entrepreneurs are taking advantage of this unique funding model in order to more successfully launch projects through the support of the crowd. Crowdfunding allows entrepreneurs to raise funds for an upcoming project in the idea or creation phase, not only as a way to mitigate financial risk, but also to prove proof of concept. Project creators are able to gauge audience interest by having potential buyers put their money where their mouth is, so to speak.
Crowdfunding has gained serious traction in the publishing world, as a way for self-published authors to fund book production costs, engage with their audience and build their author brand. For a business author, the entrepreneurial spirit of crowdfunding presents even greater benefits and opportunities.
Raise the funds you need to publish.
If you're writing a business book, you're branding yourself as an expert in your field. Publishing a book is the perfect way to prove credibility, while expanding your audience reach and network. However, self-publishing a book that will positively promote you and your brand is a costly endeavor. From professional editing to formatting and cover design, the costs add up.
Conducting a crowdfunding campaign is a way to raise the funds you'll need to publish before digging into your own pocket.
Craft rewards that will entice supporters.
What's really special about crowdfunding is that you're able to offer your audience a range of reward levels, meant to entice them to pledge at higher dollar amounts. This allows campaign creators to raise even more funds than if they were to conduct a standard pre-sales campaign.
Creators are encouraged to offer exclusive rewards that will motivate their audience to pledge during the crowdfunding phase, rather than waiting for the final product to be released. As a soon-to-be or established author, you should offer the most obvious reward—your upcoming book—but as an established business professional, you have even more to offer your audience. You can incorporate the expertise and services that compliment your book into the rewards you offer your audience.
Provide "group" rewards catered towards your audience.
Even better, if your book appeals to larger companies or corporations, you can offer "group" or "corporate" reward levels. For example, say your business book is about creating a productive work environment. In this case, a corporate reward level could include 50 copies of your book and a training course or speaking engagement with company employees. This targets potential clients, entices them to purchase at higher dollar amounts and guarantees book sales.
Gauge audience interest.
Another invaluable perk of crowdfunding is you're able to engage with your audience and receive feedback before you have a finalized book. Perhaps you thought the book on a productive work environment would be a hit, but your crowdfunding campaign isn't going as well as you had hoped. This is a strong indication that you should reconsider the topic or pitch for your book. Ultimately, crowdfunding allows authors to use audience response and feedback to create a more desirable and successful product.
Understand who your audience is.
Every book has a specific audience, and the sooner you can pinpoint who your audience is, the more successful you will be. A successful crowdfunding campaign provides you with market data and analytics, which include the demographics of your supporters as well as other important market information, such as traffic sources and click through rates. Important audience data like this isn't accessible through traditional marketplace channels and can provide you with a more comprehensive view of your audience, which will inevitably help you to appropriately tailor future marketing and promotional efforts.
Maintain control.
As a businessperson, and perhaps an entrepreneur in your own right, maintaining control of your brand is important. Self-publishing will grant you the authority to maintain creative control over your book while crowdfunding will provide you with the resources and information to practice informed publishing. As with most business decisions, informed publishing equals more successful publishing.
In an industry where more and more books are being published annually, there's no such thing as being overly prepared to publish. By tapping into the wisdom—and pockets—of their target audience, business savvy authors are able to produce higher quality books that not only complement their brand, but also compete in the current marketplace.
About the Author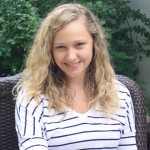 Justine Schofield is the development director of Pubslush, a pre-publication platform that offers crowdfunding and pre-order options to authors and publishers. A writer at heart, Justine received her MFA in Creative Writing from Lesley University. A prominent voice in the publishing industry and an advocate for educating authors and publishers about crowdfunding, she is a regular contributor to many online publications. Connect with her on LinkedIn and follow her on Twitter.