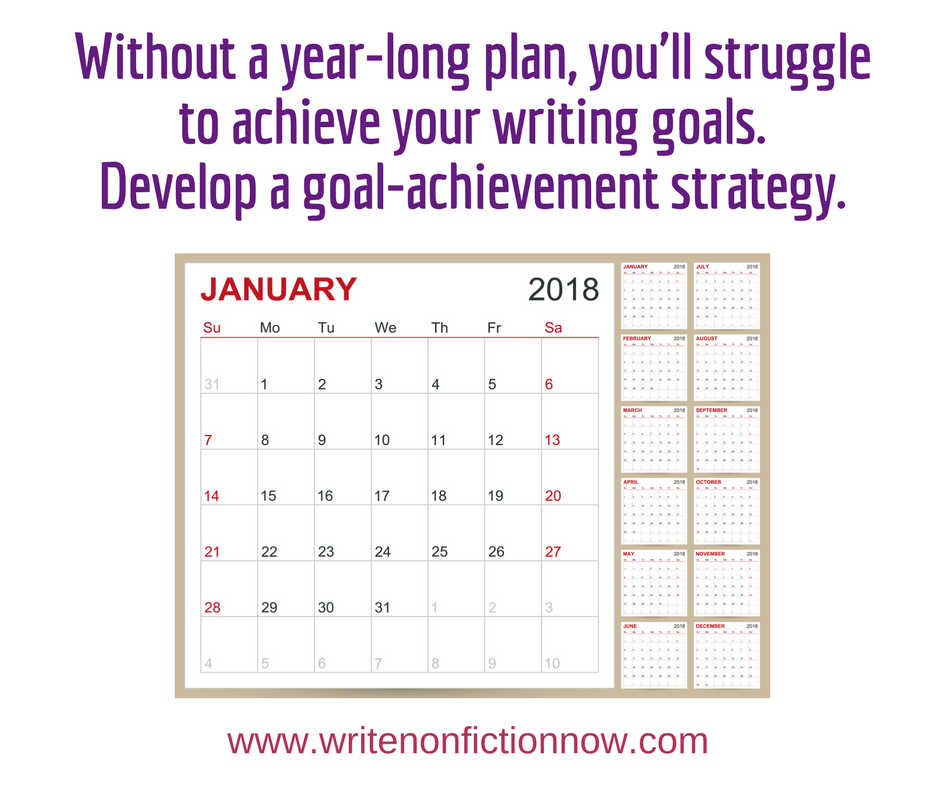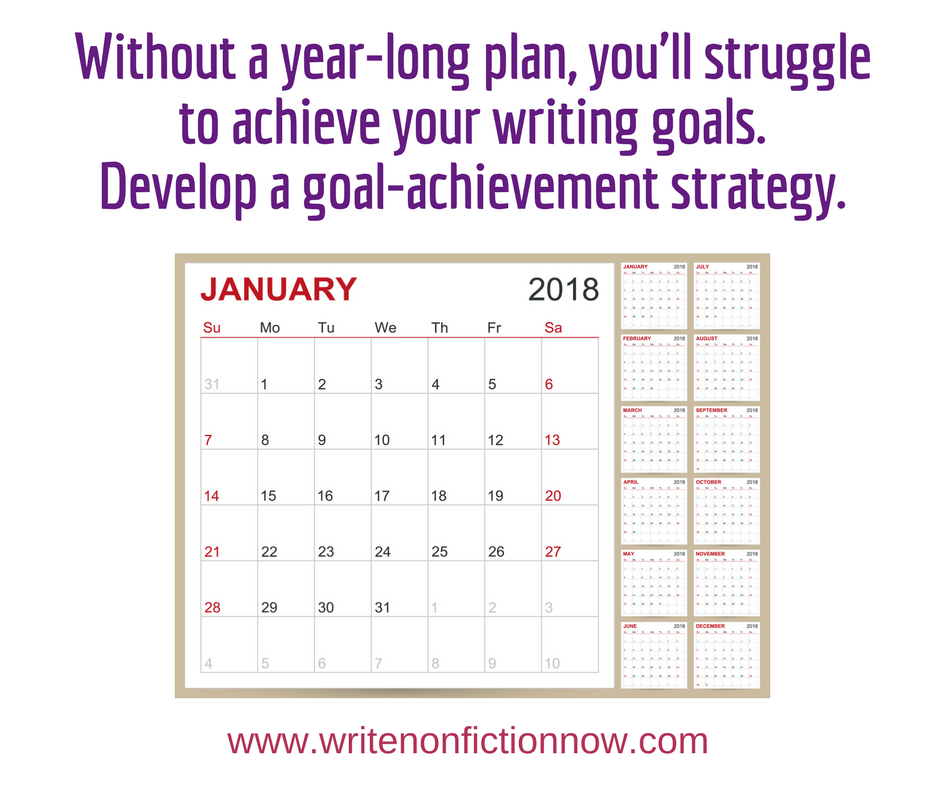 Every year in December you hear the same advice: set goals. To achieve your nonfiction writing goals, however, you need to plan your year.
Did you compose writing goals last year? How'd you do on those goals? If you are like most people—not just writers—you didn't do so well.
I get it. I don't always achieve my goals either. But I understand why…
Even if you compose writing goals for the New Year, you'll only succeed if you also create a strategy to achieve your writing goals. If you don't have a plan or strategy, you'll write out your goals and forget about them. Or you will attack them in an unfocused manner and get discouraged when you don't make progress. And then you'll quit. At the end of the year, you'll feel just as you did at the end of the previous year—disappointed in yourself. Your confidence will plummet, and you'll be less likely to set writing goals—or achieve them—the next year.
I don't want that to happen to you, and I know you don't want that to happen either. That's why you need to take this month's nonfiction writing challenge.
December Challenge: Plan Your Year
To help you become a more productive writer and achieve your goals for the New Year, don't just create goals; create a plan for the entire year that helps you achieve your goals. I know this might seem like common knowledge, but as my mentor, Brendon Burchard, likes to say, often common knowledge is not put into common practice. This year, put that common knowledge to use by following these steps.
To complete the challenge you need a calendar for the New Year. You may also want to use a journal.
Compose your writing goals. Write out your three to five most important goals for the upcoming year. You can use new and old SMART goal-setting guidelines.
Break your goals into smaller tasks and milestones. Determine what three to five tasks you must complete to achieve your larger goal. These become mini-goals. Each time you accomplish one mini-goal, you reach a milestone on the way to accomplishing the larger goal.
Give yourself deadlines for achieving each milestone. Without deadlines, you won't push to complete tasks. While these are self-imposed deadlines, treat them like deadlines give to you by a publisher.
Put your deadlines on a year-long calendar. When you can see your deadlines and goals on a yearly calendar, you gain a long-term view of how long it will take to complete your goal. And it allows you to plan your deadlines around other life events, like personal vacations, days when children are out of school, or professional obligations.
Mark out time daily or weekly to work on the steps to achieving your goal. Use a daily calendar or planner to block out time to work on your goals. View these time blocks just as you would an appointment with someone that you cannot break without repercussions.
List the obstacles that could get in the way of your success. Develop a plan for overcoming or eliminating those challenges. If you follow the plan, you have no excuse for not showing up for your time blocks or achieving your milestones and goals.
Track your progress. A tracking method is the only way to know if you are moving forward toward your goals efficiently and are on track to meet your deadlines. You can create a simple tracking sheet that indicates if you have reached your weekly or monthly goals, for instance.
If you complete all these steps and create a plan to help you achieve your nonfiction writing goals, the likelihood of doing just that—achieving your goals—increases considerably. Of course, you still need to develop the willpower to stick to your plan. But having a plan gives you the clarity and focus you need to become more productive and effective.
Tell me about your writing plans for 2018 in a comment below.

For more information on setting goals and creating a plan to achieve them, join the
Nonfiction Writers' University (NFWU)
. During January, all the NFWU events will revolve around this topic. As the year progresses, I will provide a variety of resources to help you achieve your goals. You can join the
Nonfiction Writers' University
for a $1 trial period of 30 days*! When you do, you get access to four years of great content housed in the NFWU as well as monthly educational events, virtual writing sessions, group coaching, and video trainings.
*After the 30-day trial
period
you will be charged $37 per month for NWU membership.
Photo courtesy of shutterstock.com