SOPA and PIPA represent two bills in the United States House of Representatives and the United States Senate respectively. SOPA is short for the "Stop Online Piracy Act," and PIPA is an acronym for the "Protect IP Act." ("IP" stands for "intellectual property.") These bills are efforts to stop copyright infringement committed by foreign web sites. If the SOPA and PIPA Acts are passed, Internet entrepreneurs, which includes authors selling books and other information products,  could be affected.
Here's why: These proposed Acts would allow powerful people to immediately shut a website down without notice (and without trial) — EVEN if the owner of the website didn't do anything wrong! That means that anyone with enough money that finds you or your website (business) threatening in some way could feasibly put you out of business overnight.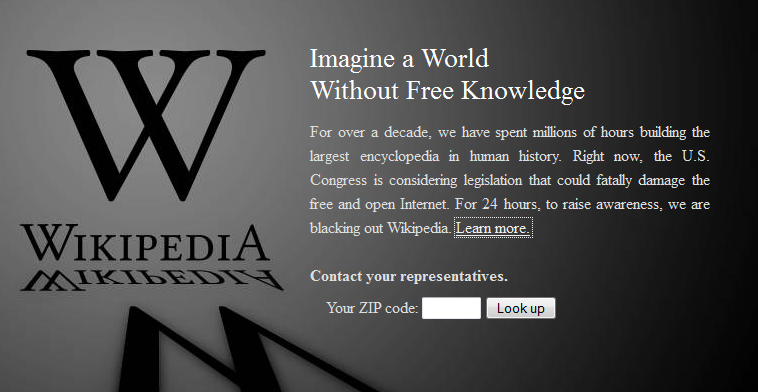 In protest of these proposed Acts, many websites today have "gone black." However, just today, January 18, you can actually read more about SOPA and PIPA by going to Wikipedia. You might be surprised when you land on the main page (http://en.wikipedia.org/wiki/Main_Page), though. The site has gone black — you can't access any other of Wikipedia's pages — and is only telling people more about SOPA and PIPA…and telling you how to do something about it:  Contact your congressman or congresswoman. (You can do that here: http://en.wikipedia.org/wiki/Wikipedia:SOPA_initiative/Learn_more.)
I'm not much of an activist. I took action today, though. It took me about five minutes to find the last four digits of my zip code and to then write a short note to my congresswoman. I called, too.
The other thing you can do is post this on your blog or email the information to your friends. Let everyone know they should contact their congressmen. The directions to give them are simple:
Step 1:  Go to Wikipedia, scroll down to the link, click it, and type in your zip code.
Step 2: Locate the phone number for your Senators and call!
I actually got an email from Tellman Knudson that set me into action. I'd heard all about websites "going black," but didn't want to do that. It's not too late to strike if you want. Here are the details for making your website "black":  http://sopastrike.com/strike.
Here are some facts shared by Tellman in that email:
Fact 1: Sites like YouTube, which publishes millions of user-uploaded videos each week, are worried that they would be forced to more closely police that content to avoid running afoul of the new rules.
Fact 2: "YouTube would just go dark immediately," Google public policy director Bob Boorstin said at a conference last month. "It couldn't function."
Fact 3: Tech companies also object to SOPA's "shoot first, ask questions later" approach.
The bill requires every payment or advertising network operator to set up a process through which outside parties can notify the company that one of its customers is an "Internet site is dedicated to theft of U.S. property."
Once a network gets a notification, it is required to cut off services to the target site within five days.
Fact 4: Filing false notifications is a crime, but the process would put the burden of proof — and the legal cost of fighting a false allegation — on the accused.
Fact 5: As the anti-SOPA trade group NetCoalition put it in their analysis of the bill: "The legislation systematically favors a copyright owner's intellectual property rights and strips the owners of accused websites of their rights."
Does any of that make you want to take some action? I hope so. Let me know what you did!