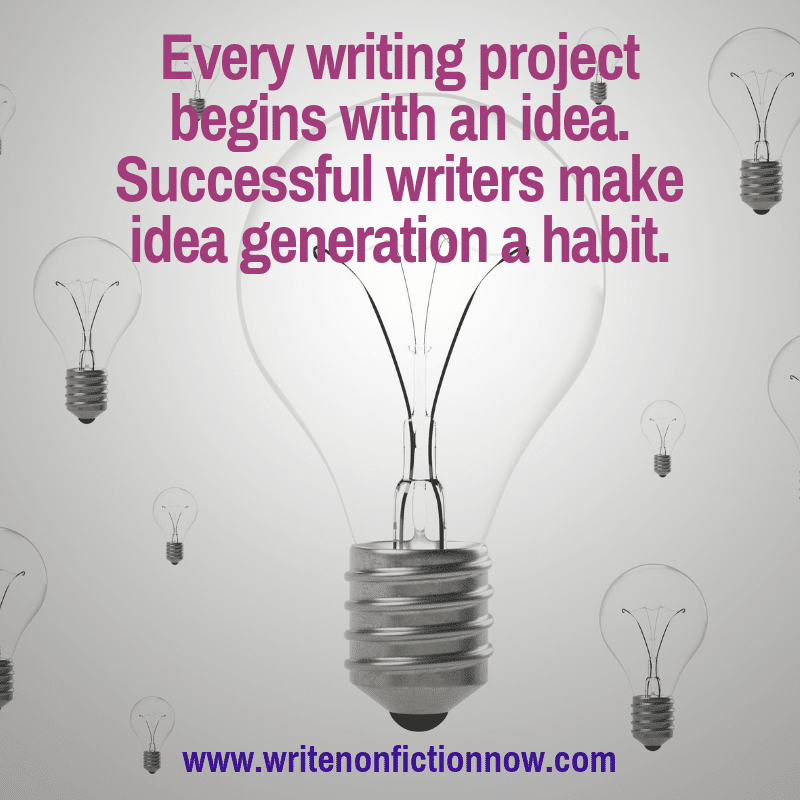 I bet, like most writers, you work on many different types of projects. For instance, you might write blog posts, articles, ebooks, books, reports, proposals, and workbooks. To complete these projects, you need a constant flow of writing ideas.
You also may be quite organized with your projects. You plan them out and create long task lists to help you get them done on schedule. Each step of a writing project is broken down into mini steps, each one gets you closer to "published."
Every one of your projects, however, starts with the same necessary element: an idea. That means you need a lot of ideas—especially if you want to make a living as a writer. Without ideas, you have nothing to write. And you have to write to get published—and paid.
You've probably got time blocked on your calendar to write, revise, and publish your work. Do you also plan time to brainstorm ideas? If not, it's time to start.
After all, everything you do as a writer begins with an idea. That's why this month I want to encourage you to generate writing ideas. But not just a few ideas…enough ideas to get you through to the end of the year….enough ideas to pursue one every week between the beginning of May and the end of December 2019.
May Nonfiction Writer's Challenge
To complete this month's challenge, brainstorm 32 new writing ideas for nonfiction writing projects—one per week—that you can pursue between now and the end of the year.
You've got eight months left until the end of this year. Each month has an average of four weeks. That means you need 32 ideas if you were to work on one per week.
Obviously, you won't write a book a week—at least not a full-length book. You could, however, write a series of eight short ebooks.
Additionally, you can write a blog post a week. You can send out a query to a magazine every week or write an essay and submit it each week.
You could create a PDF, checklist or resource sheet to provide as a gift to your readers—and do one of these per week or per month.
You get the idea.
How to Generate Nonfiction Writing Ideas
To generate the writing ideas required for completion of this challenge, follow these steps:
Get out a piece of paper or poster board or open a mind mapping program, like MindNode.
Start writing down subjects you might like to tackle.
For each subject, write down as many ideas as possible. (For example, if the subject is elephants, your ideas might be elephant rescue, What happened to the Ringling Brother and Barnum and Bailey elephants, characteristics of elephants, elephant feet, mother/child elephant relationships, etc.) Let your mind go wild.
Prioritize your ideas or indicate which are the best ones or ones about which you feel most excited.
Decide how to use the idea. (For example, as a blog post, an article, or an ebook.)
Get out a calendar.
Place your writing ideas on the calendar so you know what subject to write about on which date. Include details on the type of writing project you will tackle for this idea.
And now you are ready to start writing! You won't be sans writing ideas until January 2020. However, you can continue brainstorming at any time, making this challenge an ongoing one. After all, you'll need 12 months of posts in the New Year.
You might do a monthly brainstorming session to keep yourself ahead at all times. Or you could brainstorm specific types of ideas once per month, such as blog post or articles ideas. You likely don't need more than a handful of book ideas at a time. This challenge is not about making you feel overwhelmed, after all!
Pay attention to what happens after your brainstorming session. It's likely more ideas will come to you right away or as time goes on. And the more often you brainstorm, the more quickly and easily writing ideas will come to you. You'll make idea generation a habit–one that will serve you well during your career as a writer.
Take this challenge! Then, in a comment below, tell me how the idea-generation process worked for you.
Photo courtesy of Balintmohamed_hassan / Pixabay.com