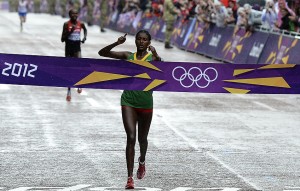 Much of the world has been spending their free time watching the Olympics. It's inspiring to see the athletes compete and win medals. I'm impressed by what great shape they are in and how hard they train to get to this international competition.
I already wrote one post about what writers can learn from the Olympics, but I would like to discuss a lesson I didn't mention previously. Like an Olympic athlete, if you want to succeed as a writer you must go into training. If you don't train relentlessly, day in and day out, pushing yourself to your limits–physically and mentally–you will not win a medal. You will not end up a published author.
How do writers train? Here are 20 activities to get yourself in Olympic writing shape:
Stretch every day.
Workout every day.
Get a great coach.
Switch coaches if yours isn't working.
Find exercise buddies.
Listen to criticism.
Try, try again.
Practice until it's perfect.
Don't let failure stop you.
Don't let set backs stop you.
Don't give up.
Be inspired by the competition.
Go beyond your limits as often as possible.
Try to break records.
Learn from the winners who went before.
Take care of your tool (your mind and body).
Move through pain.
Move through fear.
Go for it.
Do unwanted tasks.
Becoming a winner isn't easy. It takes hard work–every day. You can't just do the things you like. You can't just work out when you feel like it. No if you want the gold, silver or bronze.
If you aren't medaling, it's time to get into training or find a new coach.
Photo: Gold medalist Ethiopia's Tiki Gelana (R)crosses the finish line ahead of silver medallist Priscah Jeptoo of Kenya (L) in the women's marathon at the London 2012 Olympic Games in London on August 5, 2012. Courtesty of Francisco Leong/AFP/GettyImages