By Rochelle Melander (@WriteNowCoach)
I'm pleased to welcome back author Rochelle Melander, the Write Now! Coach. Today she offers tips to help you organize your nonfiction books so you can write them quickly, easily and effectively. If you want to learn more about this topic, register for the upcoming NFWU FREE telesminar with Rochelle, The Three Shifts You Need to Make to Succeed as an Author, which takes place on July 8. Find out more and  register here.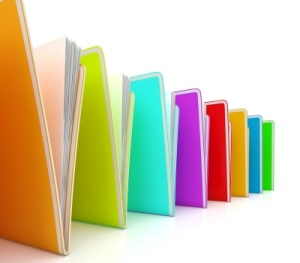 My friends think of me as an organized person. And I am. Except when I'm not. I ran my first 5k on Mother's Day—and I thought I'd prepared for everything. I trained. I read books.
Mother's Day dawned hot and sunny. After training for weeks in cold, rainy weather, I had no idea what it'd be like to run in the heat. At the last minute, I ditched my long pants in favor of running capris and headed out the door. It wasn't until I got to the venue that I realized I could've used a hat and some sunscreen. Oops. Then I started running and my pants crept down. Either I'd lost weight or the elastic was worn out. Either way, I spent most of the race pulling up my pants and fearing the worst! Next time, I'll know more about running…and be better able to handle surprises!
This July, I'm holding a Write-A-Thon—a month-long writing adventure for people who want to write their books fast. While I'm a new runner, I'm a seasoned writer. Here are some of the tools I've used to get organized to write fast:
Clarify your topic. Most of us have experienced that awful moment when someone asks about our book and we have no idea how to explain it quickly. We mutter, "Uh, the book's about how you can, you know, be well better at doing stuff like …" Before we can get to the point, we've lost our audience. Yikes! Without clarity about our topic, we can't talk about or write a book. The solution: create a one-sentence topic statement. For Write-A-Thon, my sentence was: "Write-A-Thon teaches professionals how to plan and write books fast." When I hit writer's block, I'd return to my topic sentence. It helped me to regain focus and write forward.
Gather content. Okay, so you have your topic. Now what do you want to say about it? Most of us who plan to write books quickly will write about topics we know well—so well that we don't even know everything we know. That's why we need to take three distinct steps to gather our content:

Do a brain dump. Record what you plan to write about your topic.
Phone a friend—or two. Ask colleagues to list their top five questions about your topic.
Talk to your market. Ask clients what information they're interested in knowing.

By the time you're done, you'll have a great big list of stuff to write about.

Get structure. A book structure is nothing more than a container for your ideas. When you clean out a closet, you end up with stacks of stuff that need containers to hold them: shelves for shoes, drawers and rods for clothing, and bins for the extras. Take a look at your stacks of ideas from #2 and consider how you might best present this to a reader. Here's an assignment I give my clients that will help you find the perfect structure:


Name your five favorite books and then check out their structures.

How does the author tackle the topic?
Does the book have sections?
How many chapters are there?
How long is each chapter?
What kind of "pieces" does each chapter include—essay, callouts, sidebars, quotes, questions for discussion, and so forth.

Once you have a sense of what kind of book you like, make your own structure, plugging your ideas into the outline.

Gather research. So now you have lots to work with: a topic sentence, a list of ideas, and a structure to put them in. No doubt you can write much of this stuff without notes—it's a part of who you are and what you do every day. But I'm guessing that some of your ideas will be boosted by additional information. Before you start writing, gather that information in one place. Take these steps:

Create a computer folder and move research documents or previous writing on your topic into it.
Create a bookmarks folder for your book so that you can easily store and access helpful sites.
Gather hard copies of books and other research notes in one place.
Make use of online tools to collect and organize research.(http://dirt.projectbamboo.org)

Organize Your Life. In order to put to use everything you've done up to this point, you need to set aside time to write. You can plan to write your book in July, but unless you've scheduled the time in your calendar, it won't happen. So, do these things:

Cancel the extra stuff in your life—anything that might get in the way of writing like attending book club or hosting the 4th of July picnic.
Schedule writing time. When we know when, where, and how we'll accomplish a task, we're much more likely to succeed.
Get food! Stockpile easy dinners and favorite snacks so you don't have to stop writing to make dinner!

That's it! If you follow the above steps, you should be ready to write your book this July or whenever you're ready. And thankfully, most writers don't have to worry much about our pants falling down!

Don't miss the next NFWU event: FREE teleseminar on 7/8 at 5 pm PT: The Three Shifts You Need to Make to Succeed as an Author with Rochelle Melander (The Write Now Coach). Register here. (No membership required.)

To find out more about or to join the NFWU at the low introductory rate or with a buy-on-get-one-free membership offer, click here. (Hurry…the introductory rate ends 8/31/14).

About the Author

Rochelle Melander is an author, speaker, and certified professional coach. She is the author of ten books, including the National Novel Writing Month guide—Write-A-Thon: Write Your Book in 26 Days (and Live to Tell About It). Rochelle teaches professionals how to turn their ideas into books, navigate the publishing world, and connect with readers through social media. She is the founder of Dream Keepers, a writing workshop for at risk tweens and teens in Milwaukee. For more tips and a complementary download of the first two chapters of Write-A-Thon, visit her online at www.writenowcoach.com.

Photo courtesy of Stuart Miles | freedigitalphotos.net