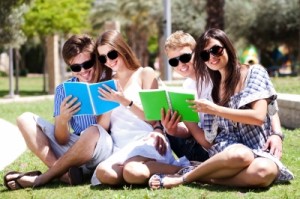 As a writer in today's world, you possess an awesome opportunity to become the author of change. You have so many tools at your disposal to help you inspire others to take up your cause, to share your message and to become change agents. In this way, you, too, become a change agent. You become an author of change.
Writing a book may be your dream, but you have a lot of options when it comes to authoring change. You can self-publish a book or try to land a traditional publishing contract. Additionally, you can create change by authoring an ebook. You can even blog a book.
Or you can simply blog and create change that way. By tying your blog into your social media and traditional media efforts, you can create amazing, life-changing and world-changing communities.
How exactly do books create change? They do so by offering an inspiring message that moves readers to take action. For this to happen, readers must feel a core need or reason to do something. The author must offer enough added benefit or value for creating change, becoming part of the movement or spreading the message–doing something–that they do, indeed, act. In most cases, this means touching them on an emotional basis.
For you to write a book that creates change–personal or social–it needs to be:
inviting
personal
relatable
You want to write with:
authenticity
passion
purpose
Yet, you must provide:
concrete data
convincing arguments
expert status or authority
You could write a memoir, a manifesto, a prescriptive book, or theoretical study. You might even write fiction. The following books were influential in changing  many people's lives and starting movements large and small:
Do you have books you'd add to this list?
You can author a book that inspires change and become an author of change. The world needs more change agents. Transform yourself into an Author of Change in my Author of Change Transformational (ACT) Coaching Program. Find out more by filling out the form below or click here to get more information and to register for the next LIVE ACT Coaching Program or for the ACT Coaching Program home-study version.
Photo courtesy of photostock