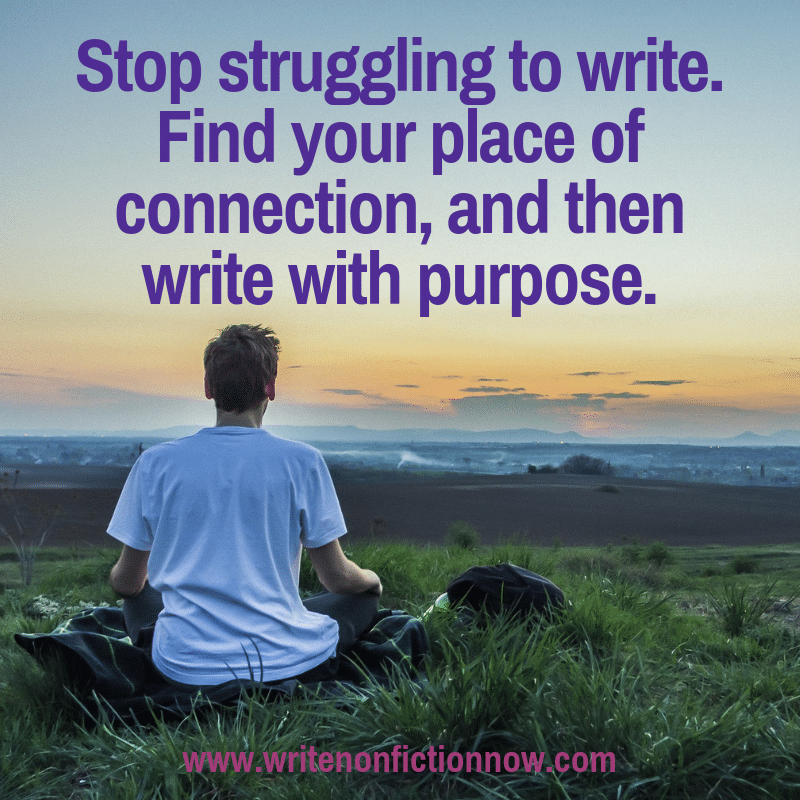 I don't often talk about my writing process or share about times when I am struggling to write. In fact, in the past, I didn't struggle to write…ever. Really.
Once upon a time, I struggled with ideas. I didn't think I had any. Then, as if by magic, the ideas came faster than I could write them down.
But I never had trouble actually writing. I've been trying to recall what shifted.
The Source of My Inspiration
I think inspiration hit me big time around the time when my husband, children and I began attending services at a synagogue regularly and learning more about Judaism. I came back to Judaism after a hiatus spent in the New Age Movement, and my desire to integrate the two spiritual systems inspired many ideas for articles, essays, blog posts, and books.
I pursued all of these ideas, but my heart was set on writing the books. After some good feedback but no publisher, I was counseled—maybe not as wisely as I thought at the time—to write about something more in my wheelhouse. I was told to move away from the spiritual and metaphysical books I passionately wanted to write and to focus on books about writing and publishing instead.
I had ideas for these types of books, and so I did just that. That decision resulted in three traditionally published books—How to Blog a Book, The Author Training Manual and Creative Visualization for Writers— and a host of self-published ebooks related to blogging, publishing, and nonfiction writing. I'm grateful for and proud of that body of work.
Now, a decade or more later, though, I have found myself without ideas…at least sans ideas related to spirituality, metaphysics, and even personal development. And I often feel as if I'm struggling to write. Yes…writing has become hard.
A Disconnection Problem
I do not have writer's block; I don't believe in it.
What I have is a disconnection. Specifically, I'm disconnected from the place from which I write. Where is that place? It's inside…at my spiritual core. When I'm disconnected from that place, I struggle to write.
When I set out to write those "other" books in around 2000, ideas weren't the only things that flooded my mind. It was words, too. I would sit down to write with words ending up on the computer screen that I hardly recognized as coming from me. It was as if I'd channeled them. The ideas, too…I sometimes wondered where they came from.
These days, I stare at the screen and search for words…I procrastinate. I leave my writing until the last minute…when I no longer have time to work. Instead of being in the flow, I find myself struggling to write.
Until today.
Inspiration Finds Me Again
This post flowed out of me like a waterfall. Why? Because I momentarily tapped back into the place from which I write—my soul. Those other books—the spiritual ones I started and didn't finish (or published in abbreviated forms)—wrote me. I didn't write them.
And I wrote with a sense of soul purpose, as if doing so were my calling. I had to write the books…and I did so for the sole reason that I felt compelled to share the message I had received.
I was on a mission. I wrote with a connection to my spirit and to Source…the Great Spirit, as Native Americans say.
Write On Purpose
Like me, most of the writers with whom I work have a strong sense of purpose, calling or mission. And, they are spiritual people with an inclination or gift for writing. Take that away, and the reason they write disappears. Then, they begin struggling to write or stop writing altogether.
Without purpose, I couldn't…I can't…write either.
Someone recently told me (or maybe I read it in a book) that we all have just one boss: God. We work for the Creator. And writers, especially those who write to "author change," or with the intention of producing transformational or change-inspiring self-help or prescriptive books, feel that to be true.
That's why they force themselves to move through their fear, exhaustion, self-worth issues, and responsibilities and write their books. They know their message is important. Why?
The writing is not about them. It's about a higher calling, one they must rise to meet.
Write In-Spirit
Today, as I struggled to compose a different post than the one you are reading, a friend called. And as we talked, I came to the realization that I have to focus on my connection with my highest self—my soul—and with God if I want to stop struggling to write. Only then will I be able to write with the depth and meaning I crave—and only then will I feel inspired again.
After all, the word "inspired" can be broken into two parts—"in spirit." And it's when I'm in spirit that I am in the flow…in the Divine flow…and feel I must write. And all that matters is that I do just that…and fulfill my mission.
When I can write from that place of connection, writing comes easily…just like this post.
What is the place from which you write? Tell me in a comment below.
Image by Benjamin Balazs | Pixabay