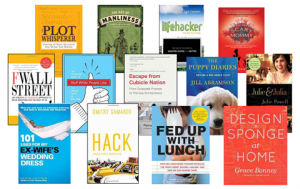 If you are a nonfiction authors who also blogs, you have a unique opportunity to kill the proverbial two birds with one stone: Write your books on your blog. That's right, blog your book.
Agents and acquisitions editors continue scanning the blogosphere looking for successful blogs to turn into books. Why? Because they see them as test-marketed book ideas–successfully test-marketed book ideas. And if you think the blog-to-book trend has slacked off, think again. Just go visit my other blog to see all the authors landing blog-t0-book deals. (The photo to the right represents just a few old and new blog-to-book deals.)
However, to blog a book, you can't simply blog aimlessly. As with any book project, to blog a book you must have a plan–a content plan. You must know exactly what will be in your book and then proceed to fill the manuscript pages–in this cases posts–one by one. How do you do that? Much like you would with any other book project. Here are four steps to follow.
1. Create a content plan for your book.
Begin your project by creating a mind map or conducting a brainstorming session to flesh out the content you want in your book. Come up with a full table of contents or an outline based on the book you think readers want to read and that you want to write. Do not create a content plan based on the blog you've already written; not every blog contains a book. (Most book deals are "booked blogs," or repurposed content, and this is a much bigger and harder job.)
Be sure to look at your content plan and decide what pieces you might hold back for use in your printed book or ebook. Having some new content available only in the book (not on the blog) provides an incentive to loyal blog readers to purchase the book.
2. Break your content into blog-post sized pieces.
You will want to write your book in 250-500 word chunks. So, create subheadings (blog titles) for each small bit of content you will write. This list becomes your writing guide.
3. Create a blogging schedule.
Maybe you will write two days a week—the very minimum amount I recommend—or seven days a week. Maybe you will write Monday, Wednesday and Friday. Decide and commit to the schedule.
4. Write and publish one blog post on each day of your blogging schedule.
Use the list you created in Step #2. It shouldn't take you too long, 45 minutes tops, to complete one of the titles on your list if you keep to 500 words or less–maybe an hour if you include a photo (a good idea). Compose these in a word processing program in sequence so you create a manuscript in the process. (You can write more posts per day, or, if necessary, write more posts once a week and use the scheduling option on your blog program to have them publish throughout the week.)
Viola! In four easy steps, you will find yourself blogging a book. And blogging a book is by far the fastest and easiest way to write and promote you work at the same time. Not convinced? Check out the blog-to-book success stories I'm publishing this month on my other blog, How to Blog a Book. Need help with your blogged book? Do you need help blogging your book or booking your blog? Ask some questions. Get some advice. Find out if blog-to-book coaching is right for you.