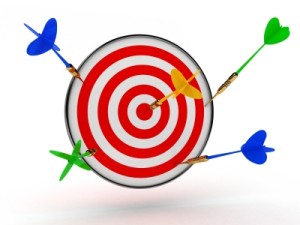 With 2012 almost over, it's time to start thinking about the writing goals you want to accomplish in the New Year. However, I suggest using a three-part process to help you actually do more than just think about your goals and actually accomplish them. It involves reviewing the past year, setting new goals and then creating an action plan for accomplishing your new goals. I'll discuss each of these three parts individually in my last three blog posts of this year. In this post, I'll first tackle the yearly review.
If you had a "regular" job, you might actually sit down with your boss once a year and have a "review." Your boss would look at your performance and possibly even measure it against the goals you set at the beginning of the previous year. You might have created markers  to meet before you could earn a raise or a bonus. As a writer or author, you serve as your own boss. Therefore, it's important to give yourself the same type of review for the work you did last year.
Sit down with a piece of paper and consider the goals you had for this past year (2012) and if you accomplished them. If you actually wrote down goals, get out the list and see how many of them you can check off. If you didn't write them down, think about what you hoped you might accomplish over the last 12 months. Make an "after-the-fact" list; then consider how many of these action items you completed–or even started. If you never even thought about your goals for 2012, that's something to ponder–especially if you don't feel you accomplished much this past year. (I'll discuss why in my next post.)
Now ask yourself some important questions:
Did you accomplish your goals? Exceed your goals? (Write down the percentage of goals you accomplished.)
How do you measure up based on the goals you set (or didn't set) last year to the year before (2012 vs. 2011)? Did you accomplish more this year or less? The same?
Do you deserve a promotion? A raise? A bonus? Or should you be fired?
As you plan where you want to go as a writer in 2013, consider how you handled this past year's goals.
What stopped you from accomplishing them?
Are these excuses or problems you need to resolve before the New Year begins so you can get more done and move forward with your career more smoothly?
Make a list of the top 3-5 things you can do differently this coming year to help you get more done and move closer to fulfilling your potential as a writer.
Now–and this is important–write down your top three accomplishments over the past 12 months. Then go celebrate them.
To read the next post in this 3-part series, click here.
Photo courtesy of Danilo Rizzuti|freedigitalphotos.net