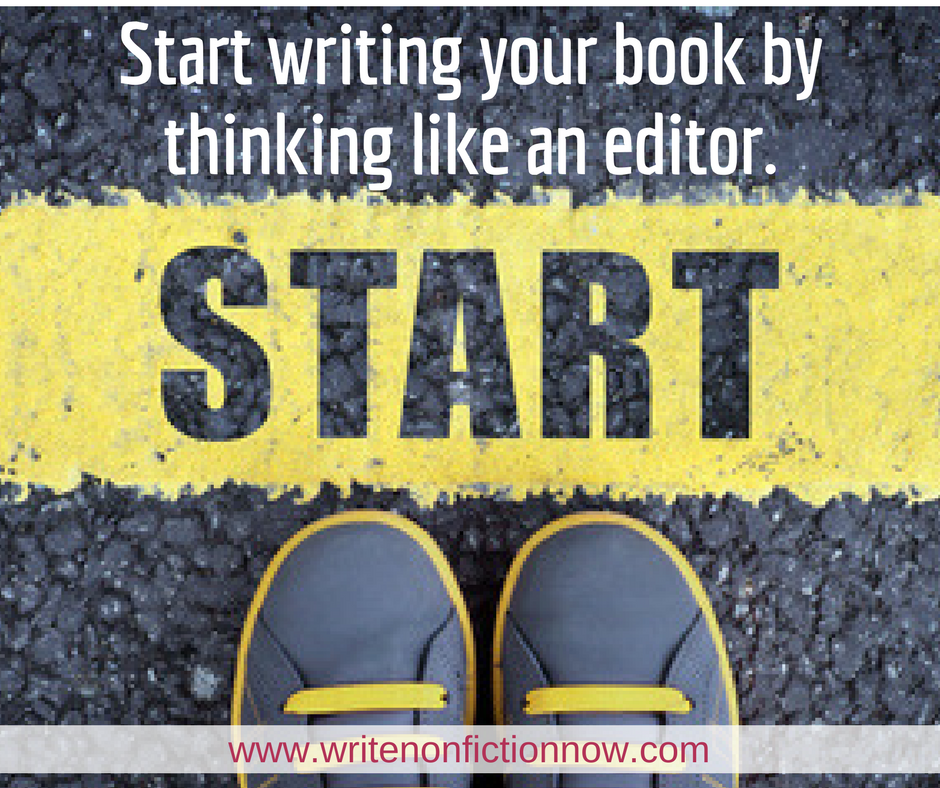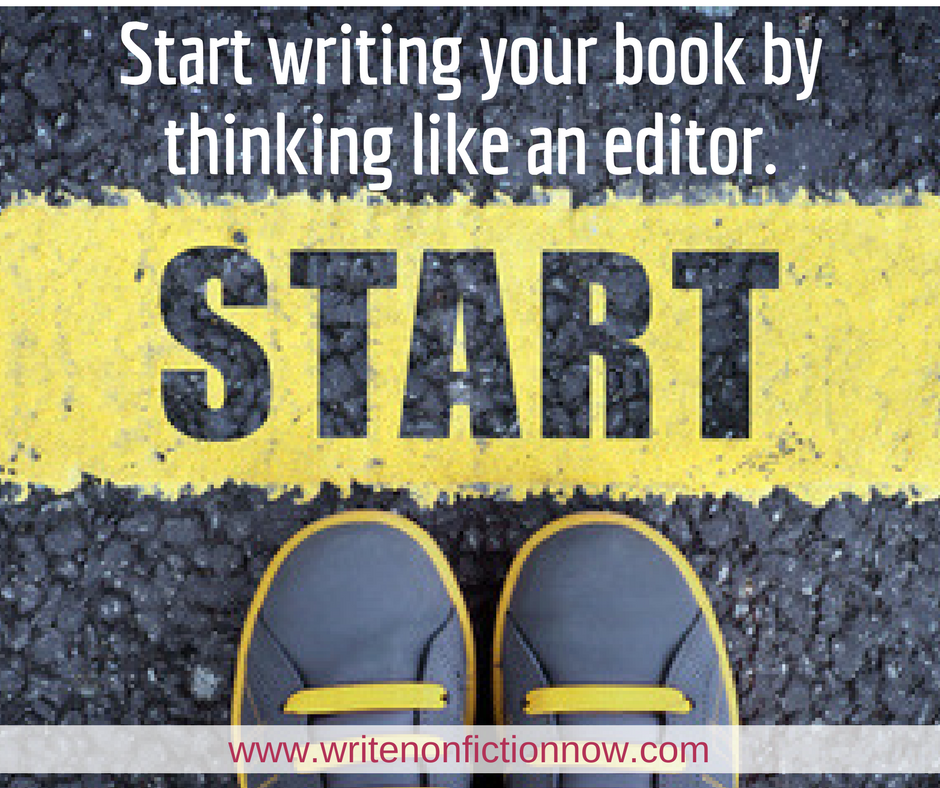 Figuring out how to start a nonfiction book can seem like the hardest step to writing one. But it doesn't have to be. In this guest post, book editor
C.K. Bush
(
@theladyck
) explains the basics of this task—from an acquisitions editor's perspective. And she recommends you stand in her shoes to get going on your book project sooner rather than later.
Recently, a writer I met through one of my existing clients asked me if I had any tips for someone on how to get started on writing a book. This particular writer was a person my author knew was a smart writer in his short op-eds and articles, and he was well known as an expert in his field. Yet, he'd never written a book and hadn't even thought about doing so until my client encouraged us to get in touch.
At first, I was stumped: as an acquisitions editor, I rarely come into the conversation before the book is conceived. I'll either receive completed books from hopeful authors, proposals for books under development from authors I already know, or writers with ideas for books that they need someone to help bounce ideas off. All of these writers are thinking about writing a book already; I'm here to help them get to the finish line.
Then I realized that there are instances where I approach a good writer after seeing an article, blog post, or even a good quote of theirs as a talking head in related media to see if they had thought of writing a book on their given topic. I might start a conversation with them, letting them know I enjoyed their article and would be interested in seeing them write a book on the same topic. If they are interested in doing this, we often get together to discuss how we could expand their article into a more significant piece of writing.
The only difference between this process and the question my new prospective author asked about how to get started, I realized, was that an editor already had a topic in mind.
Start with a Topic
For those writers who want to write a book but don't know where to start, I advise you to think like an acquisitions editor (the person at a publishing house who acquires manuscripts or book ideas from writers). An acquisitoins editor wants to scout out talented people to write books on the topics they're responsible for curating at the press where they work. They might work at a lifestyle or craft publisher and want to find innovative new how-to books on the latest trend. They might want memoirs or advice books for women.
Think about what your special topic could be—what subject of an article, blog post, or great quote from you would hypothetically catch an editor's eye. What are you an expert on? What is your unique story to tell? What is the big idea that you can deliver?
Develop the Parts of Your Book and Create an Outline
Having a topic is an excellent place to start. Once you have a topic, the next step is to think about how to open it up to a book-length treatment. Sometimes I get proposals that make me think: this would be a good article and not a book. Your book has to be based on an idea that has many parts. It needs to have chapters that continually reveal new components of your overall topic.
Take your initial idea and explore the parts that make it up. If you're known locally for running a great pie shop, for instance, you might want to write a book on how to make the best pies. For your book, the parts could be: making the perfect crust, selecting the best seasonal ingredients, making dessert and main course pies, and what sorts of other dishes might complement the pies you explore in the book.
Once you have brainstormed the idea for your book and its parts, create an outline. Later, as you revisit the parts of the book you've decided to write, start thinking like an editor again.
Ask yourself these questions: Are these the right parts to support the message I'm trying to share? Does the story I'm trying to tell make sense the way I've currently laid it out?
At this point, you've cleared the biggest hurdle. You've figured out what your book will be about, and you've gotten started.
About the Author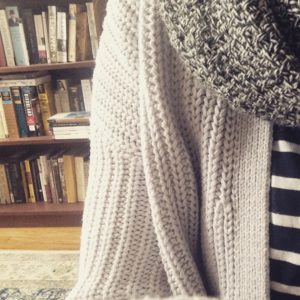 C.K. Bush is a nonfiction editor and writer. She lives in New York City.
Photo copyright: Shuttersock.com