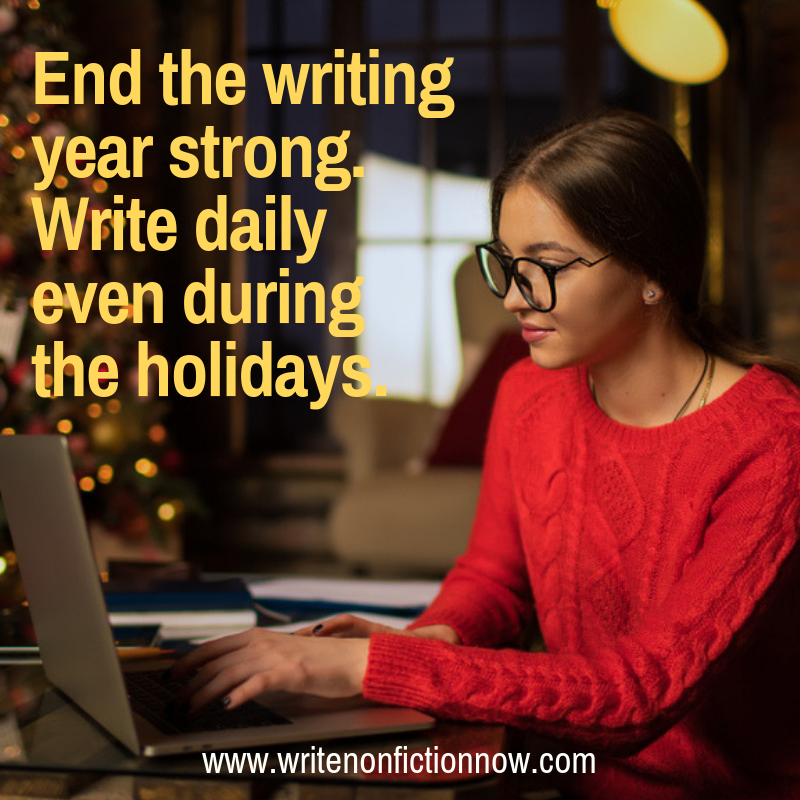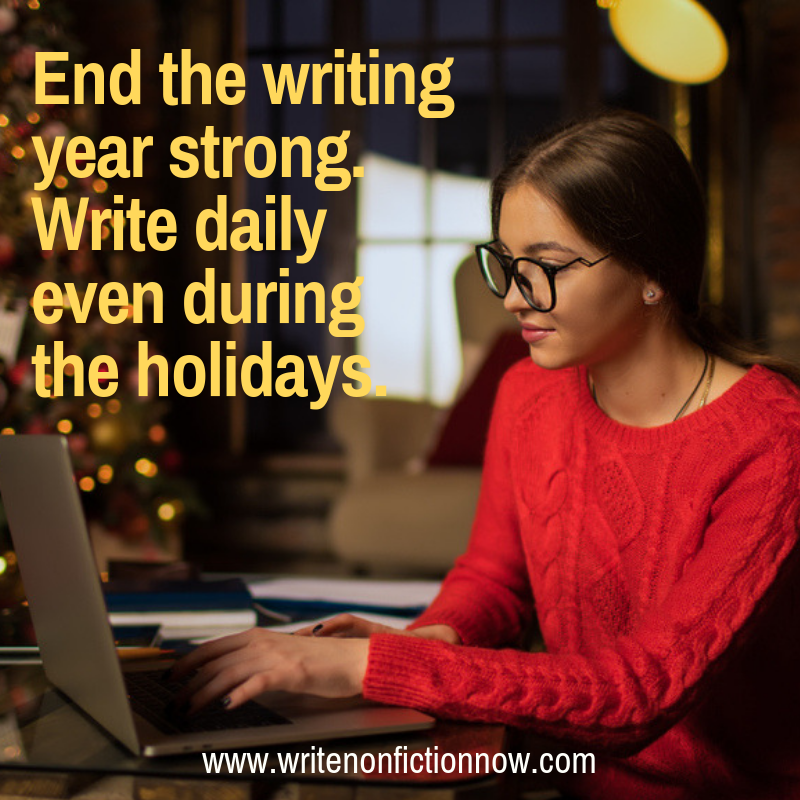 The end of the year can feel like an impossible time to write daily. There's holiday shopping and cooking to do, parties to attend, and, for some people, travel plans to complete. Your regular writing schedule seems to get disrupted entirely from Thanksgiving until the first week of January.
Many writers participate in 30-day writing challenges in November. If you participated in one, like the Write Nonfiction in November (WNFIN) Challenge, you may have developed a nice writing habit and built up some increased energy around your nonfiction book project over the last month.
The trick in December is to keep that writing habit and energy going…despite the holiday festivities. How do you do that? Challenge yourself to write daily anyway.
December Nonfiction Writer's Challenge
To complete this writing challenge, create a schedule in December that allows you to write daily—no matter what.
Of course, you may want to take a few days off during December to celebrate Chanukah, Christmas, or Kwanza, or to go on a vacation at this time of year. But you don't have to take a break, nor may you want to if writing is a priority. Even if you do decide to take a few days off, there is no reason you can't write every other day of the month.
To that, though, you must find a writing time that works for you on any day no matter what festivities you have planned. That may mean creating a morning routine that includes writing.
Find a Reliable Time to Write
Most recently, I've been getting up an hour or an hour and a half earlier than usual to be sure I have time to write for two hours before I begin the rest of my day. I've played around with writing first thing when I get out of bed or an hour later, after I have meditated, journaled, and read. In either case, I make sure I get the writing done early—before the rest of life comes along and disturbs or distracts me.
While you could write later in the day, I suggest you write first thing in the morning to ensure you really do write. During the holidays, you might have parties to attend or be entertaining family and friends in the evening. So nighttime is not a reliable writing time at this time of the year.
Getting up early to write could mean you have to go to bed earlier. So think carefully about what days you can do that. You might not want to get up early after a late night out, like on New Year's Day, for example. If you have small kids who will wake up early on Christmas Day, you might consider going to bed super early and writing before they come asking to open presents.
Steps to Ensure You Write Daily During the Holiday Season
To complete this challenge, first, get out your calendar and determine which days you will be able to get up early and write.
Second, block out time on your calendar in the morning to write.
Third, decide what time you will need to go to bed to get seven or eight hours of sleep. (High-performance [LINK] studies show this is the amount you need to function at your best. Anything less can cause you to operate in an "impaired" state.
Fourth, block time on your calendar each night for bedtime and your nightly ritual.
Then, all you have left to do is write daily.
Here's the last instruction for this month's Nonfiction Writing Challenge: If you do plan to take off some time for the holidays, write at least 20 days in December. That's five days per week, and that amount will easily keep your writing energy and habit going strong.
If that seems like a lot, ask yourself if writing is a hobby or a career. If it's a hobby, you are likely to write only when you feel like it or get inspired. If it's a career—or at least something you prioritize—you will write on a schedule, daily, no matter what.
Remember: writers write. Yes, they take vacations and celebrate holidays. But sometimes they write and then join in the holiday festivities.
Don't lose all the steam you built up in November. Stoke the creative fire in December by writing daily.
How do you ensure you maintain your writing habit in December? Tell me in a comment below.
Photo courtesy of ZoFot.