Yes, indeed, I did! I took one of my short books–a condensed version of what will one day be a full-length book, revised it, had a cover made for it, and formatted it. I then uploaded it to Smashwords and Amazon, and it is now available as an e-book in all e-reader formats. Whoo hoo. And you can do it, too. It's easy, fast and amazingly doable if you set your mind to it.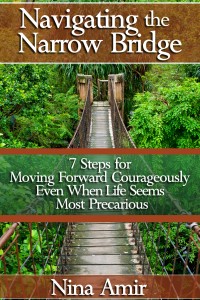 You can now find Navigating the Narrow Bridge: 7 Steps for Moving Forward Courageously Even When the Life Seems Most Precarious
on Amazon and at Smashwords (here) for the low price of $2.99.
If you have fears about going public with your writing, about success or failure, about speaking, or about writing about your family or yourself, maybe you want to take a look at this book!
I wrote this short book in 2009 as a way to make some money when I spoke for free on this topic. The full-length book wasn't written yet; two or three chapters were complete and included in a book proposal I was peddling to agents at the time. I have continued to sell it in a printed "booklet" form for all these years. However, I also published it as a PDF-style e-book that I've sold from the store on my other website, Pure Spirit Creations, which is also the name of my publishing company. Unfortunately, I never finished the book as I went on to pursue other projects. I do plan to complete it, though, and to produce a version of it for writers as well.
Let me tell you about the process of publishing my book to Kindle and Smashwords. This way you'll have some idea of how long it takes, what it costs and how easy it is.
To produce the Smashwords and Kindle versions of this e-book, I simple copied the original copy out of MS Publisher, the program I used to design the book, and pasted it back into MS Word. If you are starting from scratch, you won't have to do this. You'll just work off your MS Word document. I edited the document myself, since I had not looked at it for a long time and felt I was seeing it with fresh eyes. (I'm a professional nonfiction editor.) I also made a variety of revisions. This took me a week. Given the length of my book, I could have done it in one or two days.
I then went slowly through the Smashwords formatting guide. I did have the name of several people who would format the document, but I wanted to save myself the $25-50 in formatting fees and see how hard the job really was. I actually did not find it that difficult. It took me a three weeks to complete the job, though, but NOT because it was hard or even that time consuming. I only worked on formatting a few hours total. I just kept putting this job off; I had an editing job in house at the time that took priority as well. Also, formatting really is not a lot of fun. You'd probably rather be doing something else, although I didn't mind it that much. If you have a book that is all copy and has little formatting or pictures, you can do the formatting in a few hours, I'm sure. Once you've done it once, the second time will be faster and easier. That said, it's not expensive to get it done by someone else.
I did have hire someone to check my formatting work. She produced a document for the Kindle that was specific to what they want and did find one issue with my document that needed to be corrected for Smashwords. However, she charged me only $10 because I had done so much formatting work already. This seemed a perfect compromise to me. That said, I wish I had checked her work prior to uploading my document to Smashwords. Only afterward did I bother to look at my document on the Kindle for PC and Adobe Digital Editions for PC (I don't own an e-reader, if you can believe that…) and I found a few minor errors in spacing between paragraphs and headings (and a missing word–my fault). I corrected this in the Kindle version, and added a page break that she didn't know was needed. The lesson here being that someone else may not be able to totally do your formatting for you anyway…or check your formatter's work! I will now have to upload a revised edition at some point to Smashwords.
This same person did my cover art for me. Her first version ended up being the one we went with; we only tried one other. With the correction of one typo in the subhead, we were good to go. This took just a few days total. Her cover was right on, I thought, the price was right, and she was quick. (She checked the formatting of my manuscript at the same time.)
With all of that done and a fee of just $48 paid for the cover, piece of art and formatting–Yes, an e-book cover can be quite inexpensive; ask for Smashword's founder Mark Coker's "list" of formatters and cover artists!–I was ready to begin uploading my book.
I got busy and waited about a week to get started actually publishing my e-book.
I had attended a webinar on uploading to the Kindle prior to checking out Joanna Penn's great new product, How to Publish Your Ebook on Kindle, iPad, Nook, and More,and I had some notes from that to help me. But Joanna's two videos about Kindle and Smashwords publishing took me step by step through the whole process. I'm really not kidding. I had the video running in one tab on my browser and Amazon or Smashwords. I would pause Joanna speaking and the screen shots on the video as I took each step myself. This was really invaluable and like having a coach right there holding my hand. (I reviewed How to Publish Your Ebook on Kindle, iPad, Nook, and More in this post if you'd like more information on the product.) Uploading to Smashwords took me all of about an hour. I did have most of the promotional copy already written and prepared because I was already promoting the book on my website, but I rewrote some of it; this made the process take a bit longer. If you need to write it from scratch, the process could be quite lengthy. Uploading to the Kindle took maybe an hour–only because I had to retrieve an ISBN from my Bowkers account, where I had to input information as well. I uploaded to Kindle about four days after Smashwords.
It took a few days for the Smashwords version of Navigating the Narrow Bridge to go "live," and it is still pending approval in the premium catalog. In just over 24 hours Navigating the Narrow Bridge was live at Amazon, although it said it was still publishing. I'm not sure you could actually purchase it, but it was showing up in a search.
There you have it. Pretty painless and quick.
The only reason the process took me so long (5-6 weeks) was because I dragged my feet and didn't make this project a priority. I let other work get in the way of finishing the editing and formatting, didn't upload the book immediately after the formatting and cover were completed, waited a few days before uploading to Kindle, etc. You could do this much more quickly if you set your mind to it.
Watch for me doing this again…and hopefully faster. Hopefully, some POD versions will follow as well.