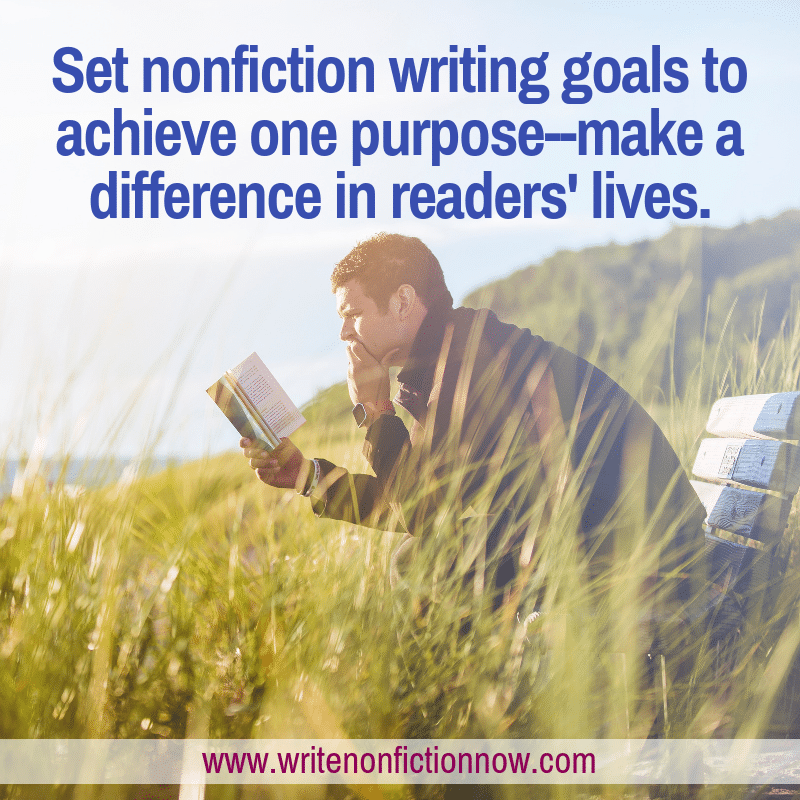 Every year, writers set goals. Write daily. Finish the manuscript. Start a blog. Build an author platform. Publish a book. Find an agent. I've written about goal setting for writers for many years—usually right around the New Year. This year, however, I want to challenge you to do something other than just set goals.
Commit to making a difference.
You can see that as a goal, but I think of it as something more. It's an overriding focus—your purpose—for the year. Everything you do as a nonfiction writer revolves around that center point—make a difference.
Most goals go unmet, usually because they don't resonate with your sense of purpose or your values. They are just things to get done…a to-do list, if you will. But if your goals all fall under the umbrella of a higher purpose—to make a positive and meaningful difference with your words—you are more likely to carry through.
Become a Difference Maker
Instead of focusing on becoming an author or getting published, this year focus on becoming a "Difference Maker." Write and publish work that improves lives and the world.
If that was your main focus in the New Year, how would your goals change? Would the goals you've set for the next 12 months fall under that umbrella of that purpose or not?
If not, you need to recalibrate them with your overriding goal—to make a difference.
Nonfiction writers have the fantastic ability to impact readers lives—even to change those lives. Take advantage of this fact. You'll feel a whole lot better at the end of the year—more accomplished than if you just checked all your goals off as "done."
And, the more you focus on making a difference, the more quickly you will move toward your other goals, like building an author platform or publishing a book. When your overriding ambition is to use your writing so you can live a life of service and contribution, your efforts will naturally attract an audience. Plus, you'll wake up every morning eager to get to work on your article, blog post, or book. The fact that you can make a huge difference in the process will keep you inspired and motivated.
January Nonfiction Writer's Challenge
To complete this month's challenge, plan how you will make a difference as a writer in the New Year.
Follow these steps to help you align your writing goals with your primary purpose of becoming a Difference Maker.
List your five top writing goals.
To determine if they will help you become a Difference Maker, rank them on a scale of 1 to 5, with 5 being the most likely and 1 being the least likely to help you achieve that purpose.
If you ranked any of your writing below 3, decide if you can let that goal go or if there is a way to align it with your purpose of becoming a Difference Maker.
For the goals you ranked a 3 or 4, ask yourself how you can improve the score. Is there a way to better align them with your purpose of having a positive and meaningful impact in readers' lives or the world?
Take action immediately on the goals that you ranked 5. These goals will help you achieve your purpose quickly.
When your written work makes a difference in the world, you leave a legacy of contribution and service. At the end of the year, Difference Makers feel amazing about the work they've done in the world. Of course, the sense of accomplishment after achieving goals is important and feeds your self-confidence, but there's nothing like knowing that having accomplished those writing goals changed someone's life.
How do you plan to become a Difference Maker this year? Tell me in a comment below.