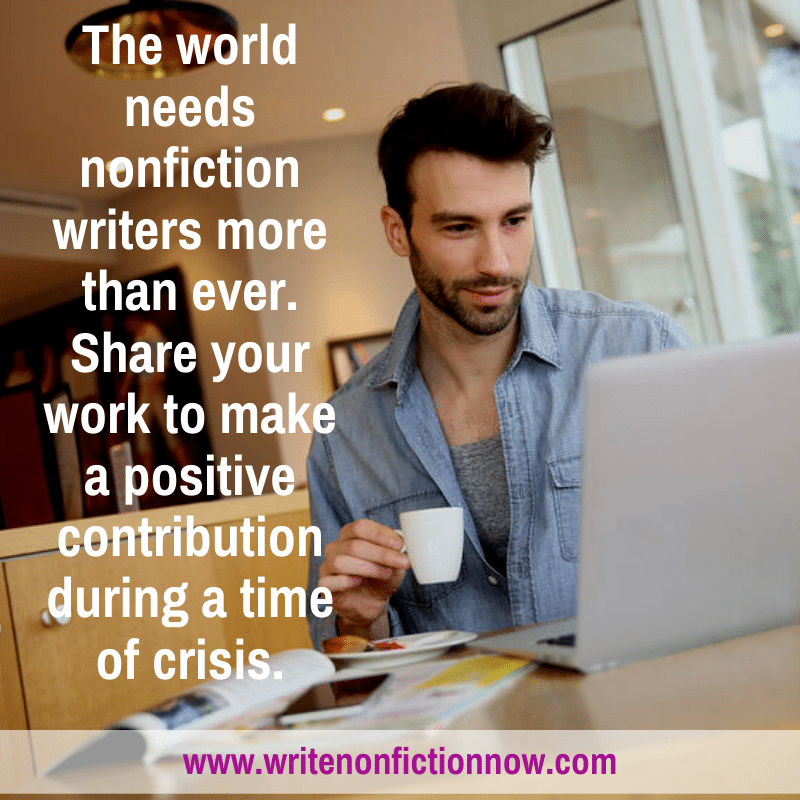 If ever there were a time to use your nonfiction writing skills, it's now. The world needs you, nonfiction writers!
During times of crisis, like this Covid-19 pandemic, people rely on journalists, bloggers, and authors to provide news, analysis of information, tips, strategies, stories, inspiration, and hope. And you don't have to be a professional writer or a previously published author to give them what they seek.
Here are three ways you can use your nonfiction writing skills to be of service to your friends, family, co-workers, employees, clients, followers, and the world:
Write positive and uplifting stories.
Compose pieces that offer tips, strategies, and tools for surviving this pandemic—personally and professionally.
Report on or analyze research, statistics, news, etc.
And that brings us to your nonfiction writing challenge for this month.
April Nonfiction Writer's Challenge
To complete this month's nonfiction writer's challenge, share a piece of your written work during the current Covid-19 pandemic and do so with the intention of being of service.
How to Share Your Nonfiction Writing
Since sharing your written work is the actual challenge this month, here are five ways you can do so.
1. Publish your work on your blog.
The easiest and fastest way to share your work is on your very own blog. After all, you control what and when each post goes live.
If you don't already have a blog, now is a great time to start or add one to your pre-existing website! Begin writing posts and, as each one is published, share the URL to that post on social media.
2. Publish your work on someone else's blog.
If you don't have a blog of your own, submit a guest post pitch to an established blogger. If your pitch is accepted, your piece, once submitted, will be featured on that person's or organization's website.
Ultimately, you want to pitch popular sites, because these blogs will give you work the most exposure—and, in this case, the most chance of impacting a large group of people.
3. Submit your work to a print publication.
Print publications are always looking for valuable content. However, most have a content schedule that has been set up six or 12 months in advance. In the case of a crisis, like the Covid-19 pandemic, the editors might be scrambling to find relevant content.
Don't be afraid to pitch a national magazine. But you can also send a query letter to your local magazines and newspapers. Their shorter publication schedule might be able to accommodate last-minute submissions.
4. Submit your work to an online publication.
News-worthy, timely content, like a piece related to the coronavirus, might find a home in an online publication. Sometimes magazines have online versions, while some publications only offer a virtual read. In either case, these online publications have a lot more flexibility in content schedules.
Pitch them in the same way you would a print publication or blog. Send a query, and then…while you wait, send another query or two or three).
5. Publish your work on other websites.
Last, try publishing your work in a place readers already exits. You can "blog" on a site like LinkedIn.com or Medium, for instance.
You can find a variety of sites that allow you to become a member or set up an account and then begin publishing your work. Maybe you can find a topic-specific website for the type of reader you want to reach.
Nonfiction Writers Make a Difference
Novelists can help people escape from the reality of a crisis, like a pandemic. Nonfiction writers, on the other hand, can help people cope in many different ways.
Think about what you know that might help someone in your country or around the world. For instance:
Maybe you know how to set up a container vegetable garden. Those who are worried about getting organic produce while sheltering at home might find an article or blog post—or a series of posts on this topic—helpful.
Perhaps you are a business consultant with the ability to advise CEOs and CFOs on how to keep their businesses afloat during a mandated shutdown. An article in a business publication or blog—or even on LinkedIn—might be just what these business people need right now.
Possibly you are a life coach. You can offer advice on how to keep people's emotional and mental state healthy while observing social distancing. People who feel feeling depressed and lonely might find what you write the medicine they need.
It's not opportunistic to put your work into the world now. It's a way to make a contribution.
How do you plan to use your writing to do good in the world during the Covid-19 crisis? Tell me in a comment below. And please share this post with other nonfiction writers you know so they, too, will get motivated take on this nonfiction writing challenge.
Photo courtesy of goodluz