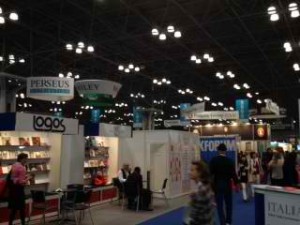 I attended Book Expo America this year with little thought of doing much other than reporting on it, if possible. I was going to spend most of my time at Blog World & New Media Expo, which happens concurrently, and hop upstairs now and then for a friend's book signing and to scope out the free books. However, I did more than that; I pitched a slew of publishers with my book ideas.
And isn't that why aspiring authors go to BEA? Don't they want to pitch their ideas to publishers and land a book deal?
Yes, they do. I know there are writers who go there and take classes from people who know way more than I do about how to "work the BEA" and find a publisher. I did okay, though, so let me tell you a bit about my experience.
BEA is a huge, huge event–the largest event in the traditional publishing industry–with a tremendous number of publishing houses represented on the expo floor. It takes a long time—all of a day or two days (depending upon how often you stop to talk)—to walk the whole expo floor. The large houses are marked with huge signs hanging from the ceiling, and different categories, like children's books, have their own sections.
At most publisher's booths you will find marketing representatives rather than acquisitions editors. Occasionally, an editor will be there, and sometimes agents will actually have arranged meetings with editors. Many agents attend BEA to pitch their clients' books to publishing houses. (I've twice had an agent do this for me.)
Authors also conduct book signings at BEA, and book buyers and librarians check out new releases. Book bloggers, reviewers and avid readers also walk the expo hall looking at the books, scooping up free books, and enjoying the book previews.
Aspiring authors and published authors with book ideas have the opportunity to walk into any publisher's booth and speak with the marketing reps and acquisitions editors—and in some cases the actual publisher. In my experience, I was met each and every time by someone who asked, "May I help you?" or "Do you have any questions?" This was all the opening I needed to say, "I'm Nina Amir, and I have some ideas for books that might fit your catalog. I'm also the author of How to Blog a Book." I'd then hand them a postcard of the book cover and my business card and begin chatting with them about my ideas. (It did seem to help that I was a published author, and one rep even commented that I was increasing my platform with that book.)
I did not have a formal pitch prepared. I was, actually, unprepared, as I mentioned. I just had a conversation. I told the reps what types of books I wrote and then got around to mentioning the book I would like to write for them. I pitched, but informally. A formal pitch would have worked as well–possibly better. I'd suggest being more prepared than I was. I was just fishing for information. You could be getting more specific feedback. (I did get this in some cases, as you'll learn in my next post.)
Out of these conversations come business cards with acquisitions editor's names, if you are lucky (and if these individuals weren't in the booth). You might also get a handout with submission requirements. However, if you know how to write a book proposal, that always does the trick for submitting after BEA. And having an agent in some cases—most cases—is necessary. (I overheard a rep from Hay House telling an aspiring author they only take agented submissions, for example.)
In my next post I'll give you a closer look at my own personal experiences and what I came away with after pitching at BEA.