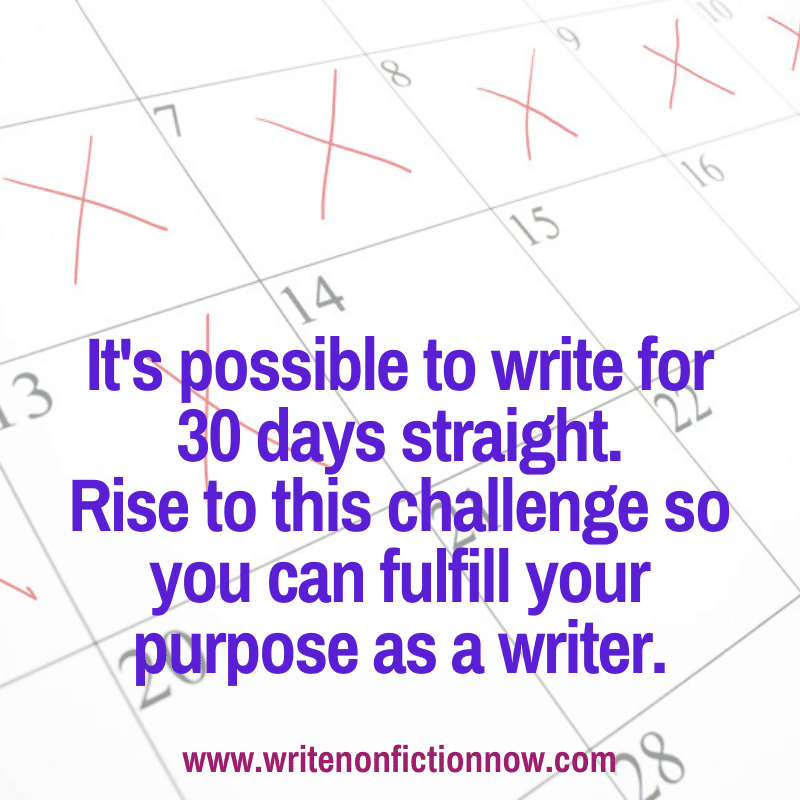 I turn off my computer and pull out my planner. It's time to check off what I accomplished today and plan tomorrow's goals and tasks. I begin to review the list.
Phone calls made. Check.
Respond to emails. Check.
Promotional emails written. Check.
Blog post written. Check.
Create artwork and SEO completed for blog post. Check.
Video recorded. Check. Social media sharing done. Check.
Coaching session finished. Check.
Work on book project. Incomplete.
Damn.
I didn't manage to write even a word of my book manuscript. So, I move that task to the next day's schedule…again.
I can't' tell you how many times that has happened to me. I'm super productive, but my main writing project—my book project—remains untouched.
Writing Consistently is Hard…but Doable
It's hard enough to write a few times per week…for even an hour…let alone every day for 30 days straight.
Many people—maybe you, too—struggle to get in just 15 minutes of writing four or five times per week.
It's no wonder, therefore, that attempting to write every single day for an entire month seems like a vast and unachievable goal. And you may think, "Why bother? There's no way I can do that. I'm setting myself up to fail."
But you can write daily for a month. You can…really.
Need proof? According to the National Novel Writing Month (NaNoWriMo) blog, in 2018, 287,327 people participated in the event, and 35,387 writers were deemed "winners" by writing 50,000 words in 30 days.
I've done the same—written 50,000 words of a novel in 30 days. I've also written the first draft of several nonfiction books in a month or less.
Not to mention that I complete a minimum of four blog posts every month. I compose four or five Sunday emails to my subscribers every month. And I work on a longer book manuscript most of the year, usually managing to complete a chapter (or more) per month.
I've also finished a book proposal in a month. And I've written articles for publication in that amount of time.
I'm not special. I'm not uber-organized. I'm not always super productive. But I do write consistently, and most weeks, I write something every single day.
And that's my challenge to you this month.
Write. Every. Day. For. Thirty. Days. Straight.
Up for the challenge?
Create Your Own Challenge
I could tell you that the only way to take this challenge is to participate in my Write Nonfiction in November (WNFIN) Challenge, aka National Nonfiction Writing Month (NaNonFiWriMo). It doesn't have the restrictions of NaNoWriMo. To take the participate in the event, you need only start and finish a work of nonfiction in 30 days—any length, any project. You don't even have to write a book. You can write an essay, article, or blog post.
In truth, I care less about you participating in the event and more about you developing a daily writing habit. Additionally, I care about you completing what you start and going into the New Year—a new decade—with this accomplishment under your belt. Then, you'll know you can do it…not just in November but at any time of the year. Indeed, you can do it whenever you set your mind to starting and finishing a work of nonfiction.
So, go ahead and write for 30 days as part of NaNoWriMo, if you prefer to write fiction. Participate in NaNonFiWriMo—I'll be thrilled! Or create your own version of NaNoWriMo or NaNonFiWriMo.
But do take the challenge. Write daily for 30 days.
You can do this.
You can do it even if you decide your personal challenge involves writing a 50,000-word book. And you can do it if your personal challenge is to journal for 10 minutes every day, write a longish Instagram post each morning, or compose 10 sentences before you go to bed at night.
You can write daily.
Give Up the Excuses
I realize that November is busy. It includes a U.S. holiday—Thanksgiving. That means a day off to celebrate, not to mention the time spent cooking, traveling, visiting with friends and relatives, and watching football and parades.
And then there is Black Friday…and Cyber Monday. Who can write when there is so much shopping to do?
And there are Christmas lights to hang and Christmas trees to cut down and decorate. And there are parties and celebrations.
Even if you celebrate Chanukah or Kwanza or no winter holiday at all, there are things to do in November—in fact, every month— that easily can take precedence over writing.
I get it.
But here's the thing: Almost all of the things that take you away from writing are excuses.
If you really want to write, you can write anytime and anywhere. Maybe you don't want to take your laptop with you on vacation…take it anyway and commit to writing for 15 minutes first thing in the morning. Perhaps you want a day off to relax…fine, but write two sentences at some point during the day—just to keep up your habit. Maybe in November, your days are filled with shopping, cooking, decorating, and more. But in the evening, before you put your head on the pillow, you can write for a few minutes.
You can write for 30 days straight if you want to…if you are committed to rising to the challenge.
Why Commit to a Writing Challenge
There's another type of commitment that will keep you writing for 30 days and beyond— your commitment to sharing your message.
Nonfiction writers feel a strong sense of purpose or calling. They know they have something important to say that can change lives. And the need to fulfill their mission, to rise to the calling, drives them to write and publish.
Do you know what I mean?
I bet you've felt that push from the Universe to share what you know or have experienced. I've bet you've heard the Still Small Voice tell you to make a difference by sharing your story. Or you've encountered so many people who need what you can offer in the way of solutions or answers.
Now is the time to write so you can share your message.
Commit to writing not only because it fulfills your purpose but because your message could have a massive impact on the lives of your readers and beyond. It could impact their families and communities, their businesses, and well being, or even their world.
So take the challenge…you owe it to yourself and to your readers.
November Nonfiction Writer's Challenge
To complete this month's challenge, write every day for the entire month of November.
That's it. Simple, yes. Easy, not necessarily. That's why you need a challenge and a plan.
The challenge has been given to you—write every day for a month. Now you need the plan. How will you rise to this challenge?
Here are four ways to do so:
Schedule your writing time. Get out your calendar or planner, and block out time every single day in November for writing. Decide how much time you need to accomplish your goal—write 10 sentences, write for 30 minutes, write 1,600 words each day. You decide, but block out the time on your calendar.
Have an If-This-Then-That strategy. Things happen, and those things can wreak havoc with your writing schedule. So plan ahead. If your child gets sick, then what? If you get sick, then what? If your relatives come two days earlier than expected, then what? Think of every scenario that could knock you off your writing schedule and create an If-This-Then-That plan—"if this" happens, "then that" happens. For example, if I get distracted and don't write first thing in the morning, then I write the last thing before I go to bed. If I don't write during my scheduled writing time block, I create a time—even if it means not doing something else—later in the day when I write.
Know what you plan to write. If you are going to journal every morning, fine—but will this be a stream of consciousness or a month-long deep dive into your negative thought patterns? If you plan to write for 15-minutes every evening, fine—but will you produce an essay, article, series of blog posts, or a short ebook by the time the month is over? Have a goal. Know what you will write; otherwise, you will stare at the blank screen or page and not write anything at all.
Write. Every. Day. Get your butt in the chair and fingers on the keyboard. Then, write. Every day. No matter what.
Develop a Writing Habit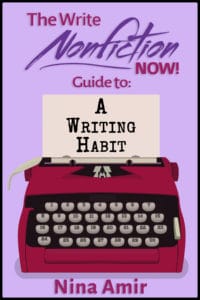 The ability to complete this challenge relies on your planning and preparation and your commitment to the project and to your purpose.
Most writers say they want to write, but don't write—at least not consistently. If you take this challenge, by the end of the month, you'll be closer to having a writing habit than you were on November 1. You may need to continue this practice—and practice it surely is—for another 30 days to solidify your habit. Still, you'll have built up some writing muscles for sure!
Remember when you didn't think you could do something—run a marathon, give birth, stay up all night, write a book—and you did it anyway. Yet, you committed to your goal. You took consistent action to achieve it, and, therefore, you rose to the challenge and succeeded.
This is no different. You've got this. You can write every day for 30 days straight.
Share your 30-day writing challenge in a comment below, and check back during this month to tell me how you are progressing. If you know someone else who could benefit from a writing challenge, please, share this post with them.