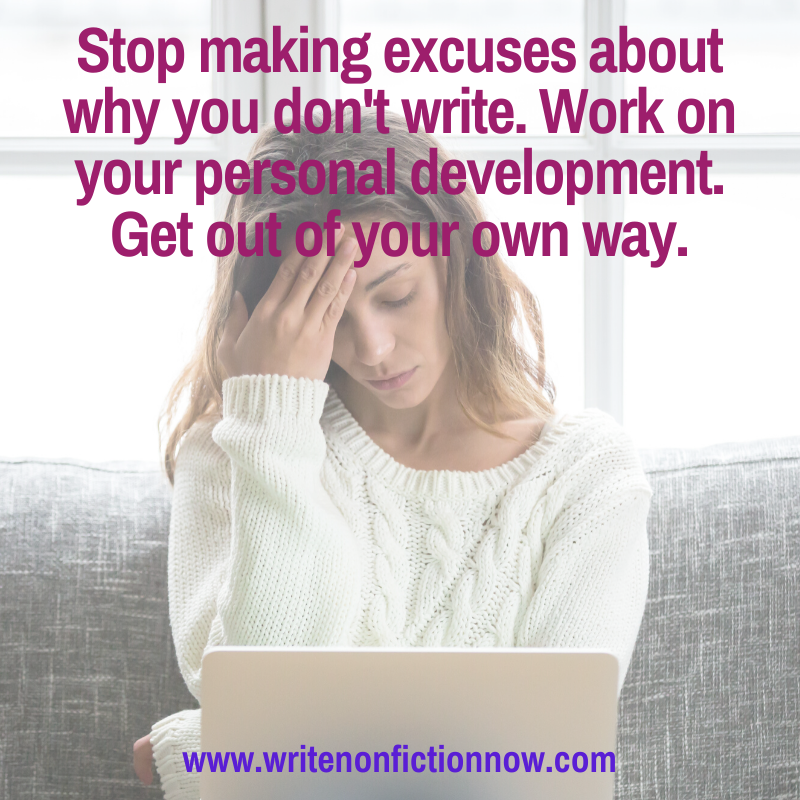 This morning, I opened my current writing project in Scrivener. I reviewed what I needed to write next, and then thought it wise to check my email…then Facebook…and post about my latest book release on social media…
That was at 10:30 a.m. It's now 2 p.m., and I haven't added a word to my manuscript.
Why didn't I write?
I could ask you the same question. Why don't you write?
We writers have such big aspirations, like writing a book in 30 days. And then we don't write anything—even though, if we are honest, we could.
Fess up… You know all the "reasons" you have for not writing are just excuses.
Speaking for myself, today, I could have said I didn't write was because I was under the weather…but that rarely stops me from writing. I could have said I was distracted by the workers fixing my deck…but I could have ignored them.
So, what's the reason you and I don't write?
Arrested Personal Development
If I had to name just one reason why anyone who says they want to write doesn't write, I'd call it "arrested personal development." In simplest terms, I'd define this as being "stuck."
When you don't take action in life, it's typically because you stop yourself from doing so. You might stop yourself with negative thoughts and limiting beliefs. Or you might do so with negative emotions and low energy.
Basically, you stop growing personally. You don't work on our personal development. As a result, you don't change, and your development becomes arrested.
You get stuck. Despite your desire to write, you just can't get yourself to put fingers on the keyboard and knock out sentences and paragraphs…not until YOU change.
When you change, your ability to write when you say you want to write changes, too.
4 Reasons You Don't Write
Let's take the idea of arrested personal development to a deeper level. I can identify at least four reasons why writers don't write—all of which could be eliminated with some attention to personal development.
1. You live a caged writing life.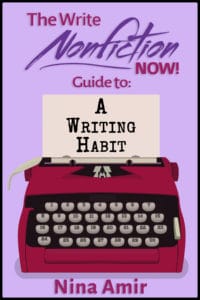 In his book, The Charge, Brendon Burchard discusses three types of life—caged, comfortable, and charged. If you are living a caged life, you feel there is no way for you to write.
You are too busy, overwhelmed, overcommitted, sick, poor, or too something else. You are sure those who think you could write daily—or participate in a 30-day writing event, like the Write Nonfiction in November (WNFIN) Challenge—just don't understand you or your current situation.
You are certain no one has the key to give you the freedom to do anything, especially to write. So you don't try to change yourself or your life in any way. "Why bother," you tell yourself. "Nothing will actually change. I'll never be able to write."
Personal Development Strategy: You hold the key to your cage. Work on your mindset and eliminate or reduce your negative thoughts and limiting beliefs. Develop courage by attempting new actions—and allowing for new results. And carve out a little bit of time to write by revamping your schedule and increasing your focus and effectiveness so you have more time to do other things—like writing. These actions will set you free.
2. You enjoy a comfortable writing life.
A comfortable life is just like it sounds—comfortable. Even though you like things the way they are, you may have a slight feeling of unrest. You know you could do or be more as a writer.   You could write and publish those three nonfiction books you talk about incessantly, submit your work to the magazines you love, or make a difference in the lives of your blog readers by publishing posts regularly. You could make time in your day to write consistently.
But it's so much easier not to push yourself past your comfort zone. So you just continue doing what you've been doing—maybe writing a blog post once per month, talking to your friends about your book ideas, and imagining what it would be like to have a byline in Vanity Fair or The New Yorker.
Personal Development Strategy: It takes courage to move out of your comfort zone. No one likes change or to be uncomfortable. Still, a little bit of discomfort in the form of a stretch goal—like writing a book in 30 days—can make you feel enthusiastic, inspired, and motivated. It charges you up, and that boost of energy will get you writing…and keep you writing.
3. You'd rather talk about writing than write.
You're one of those writers who talk about writing, dreams of becoming an author, but you don't write. In fact, you really don't want to write, nor are you driven to write.
Admit it. It's just so much easier to talk about writing than to do the work of sitting at a computer day in and day out putting words on paper. It's easier to talk about writing than make the revisions necessary to make your essay or book manuscript publishable. It's easier not to tell your stories, dredge up old memories, and be vulnerable for the sake of writing and publishing a book.
You don't have a sense of purpose, a Big Why, that drives you to write. And you don't have enough commitment to stick to the activities that would make you an author—like writing consistently. You like the idea of being a writer and author, but you just don't have the commitment necessary to do the hard work. You prefer to take the easy route.
Personal Development Strategy: If you can find your purpose—your reason for wanting to write, that will get you to the computer. If you combine that purpose with passion for a topic, you'll start feeling inspired. That's when you will take action—you'll sit down and write.
You also have to be willing to change…to stop taking the easy route and do the hard stuff because it's important to you.
Or you need to be honest with yourself—you really don't want to write. Being a writer just seems glamorous. When you can admit that, you free yourself to do something else that really does matter to you.
4. You are afraid.
Most writers don't write because they are afraid. So-called Writer's Block, for instance, is caused by fear of writing. The fear stops the fingers from moving across the keyboard and the writer from producing words, sentences, paragraphs—a completed manuscript.
What's your brand of fear?
Fear of success.
Fear of failure.
Fear of judgment.
Fear that your work won't get read.
Fear of criticism.
Fear of playing big.
Fear of vulnerability.
Fear of not finishing.
Fear of rejection.
Fear that you aren't good enough.
Fear that you have nothing to say.
Your fears are just thought focused on a possible negative future result. Yes, you also may be focused on past negative results, but you don't actually know that you will get the same results in the future.
You have a much higher likelihood of creating those negative results by focusing on the potential of doing so. The more you think about what you don't want, the higher the chances you will get that very thing.
In the meantime, thinking about what you fear keeps you stuck—not writing, which is a great way to avoid what you don't want.
Personal Development Strategy: Obviously, the antidote to fear is courage. But the only way to develop courage is to take action. That means you have to decide to write despite your fear. As you do so, the fear dissipates. If a new fear pops up, move through that one, too.
You also have to become conscious of your negative futuristic thoughts. Turn them into affirmations or positive statements about the wonderful things the future holds for you—if you write and publish your work.
The Secret to Writing Success
When it comes to writing success, the secret lies in personal development. Anyone who is at the top of his game—a world-class athlete, Fortune 50 CEO, or Pulitzer Prize-winning novelist—has spent time, money, and energy learning how to step into the best version of themselves. The same is true for writers. If you don't write, it's time to take your personal development to the next level.
I attended an event about eight years ago that featured several authors. These authors were New York Times bestsellers and highly-paid speakers. By all counts, they were successful.
Each and every one of these speakers got up on stage and talked about the amount of time they spent meditating, the money they had spent on coaches, mastermind groups, and personal development programs, and the one thing that changed the trajectory of their careers—a focus on personal development.
They didn't talk about how much time they spent writing, how often they wrote, or how many words they churned out in a month. They talked about how working on themselves every day made the most significant difference in their ability to succeed.
If you want to write daily, publish a bestselling book, rise to meet the WNFIN Challenge, or see your article featured on the cover of your favorite magazine, focus on personal development. This will help you get out of your own way. Then you will only have reasons to write…not excuses not to write.
What do you think stops you from writing, and what could you change in yourself to remove that obstacle? Tell me in a comment below. And if you foung this post helpful, please share it with other writers.