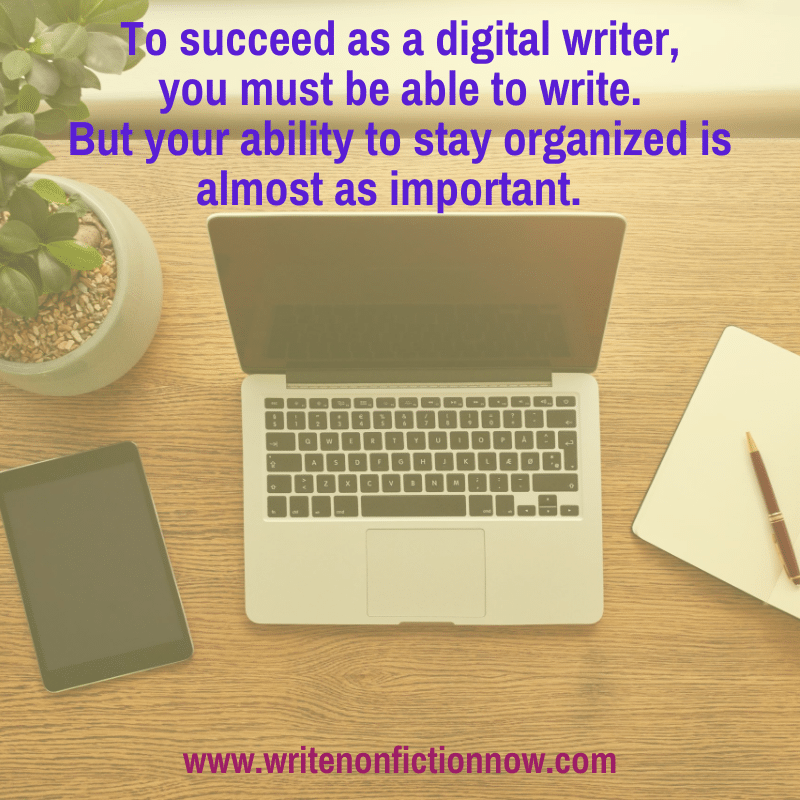 Writing is a business. That means there are many things you have to keep track of in addition to getting the writing accomplished. But many creatives aren't organized, and those other things can feel overwhelming and become time-consuming distractions. Today, Sam Bowman, a seasoned nonfiction digital writer, offers tips on how to stay organized, so you can focus on what you do best—write.
If you're amongst the ever-growing ranks of modern digital writers, you may have found that it isn't the writing that makes the career difficult — it's everything else. Conducting research, structuring your computer files, and taking care of the administrative minutia can be overwhelming. And it can distract you from your primary purpose: writing.
What is a digital writer? It's someone who writes, develops, edits, and publishes content for various digital platforms, like websites, blogs, videos, email marketing campaigns, advertising campaigns, social media posts, infographics, and whitepapers. Digital content also includes ebooks, though.
If you're struggling to stay organized as a digital writer—or any kind of writer, for that matter, try the tips and tools that follow.
Files and Paper
Let's start with the most apparent organizational issue: all the paper generated by writers. You know—the printed research, emails, manuscript drafts, contracts, and more. If you are older than a Millennial, you likely print everything. And you may also be in the habit of writing notes by hand.
How will you keep track of these papers and notes? You could decide to store everything in the cloud and create a paperless business. You can do this with Dropbox or Evernote or even Apple's iCloud. This choice may require scanning essential documents that don't exist on your computer. Still, most printers will scan documents. A variety of digital scanners can be purchased inexpensively, even ones you can use by taking pictures with your phone.
Or you might still prefer physical folders organized in a filing cabinet. But you will need to file regularly and create a system, so you don't lose hastily jotted notes.
Taking Digital Notes
When it comes to note-taking, it's important to stay highly organized. There isn't a single solution to organizing notes, and each writer has a distinct organizational flare. However, you must take the time to consider how you can best stay organized.
For example, you may find that writing notes by hand works best. At the other extreme, you may want to literally copy and paste notes and resource links right into a single document to have them all handily available when you go to write. (Be careful to avoid plagiarism if you go this route!) Perhaps you land somewhere in between, and you prefer to create notes in your own words by typing them directly into an outline.
Whatever your note-taking style, make sure to identify it. Then look for apps, like Evernote or Simplenote, so that you can stay organized when you begin researching. Scrivener can store research as well.
Respecting and Protecting
One of the most significant research challenges revolves around legal concerns. If you want to use the information you found while researching, it's vital to acknowledge your source within the text. That means you also need to have good records of your research sources.
When writing digital content, acknowledge sources by hyperlinking to them directly. If your copy isn't digital, include sources in a bibliography or call out a source in the content itself. 
As for protecting your own compositions, your work is protected by copyright laws as soon as it's published on a medium. In other words, as soon as a blog post is published, it becomes copyrighted.
You can reinforce your claim to something you've written by sending yourself a "poor man's copyright" — i.e., printing and mailing yourself a copy of your composition to prove that you had it at a specific date. If you do so, make sure to keep your poor-man copyrights organized and collected in a single, easy-to-find place. 
Of course, you can register your work with the U.S. copyright office, which is the safest practice, especially for books of any type. Blog content can be registered as well.
Organizing that Administrative Mess
If you're serious about writing for a living, you're going to want to pursue high-paying clients to, well, generate an income. With that said, it's crucial that you stay organized as you go about addressing the administrative side of your business. This includes:
Maintaining Incredible Communication
A freelancer is only as good as their communication. While a client obviously wants to hire a good writer, problems getting or keeping in touch with you will quickly cause friction. Miscommunication, more often than not, leads to a breakdown in the working relationship. 
You can remain on top of communication by:
Maintaining a single work email address that you check regularly.

Proactively setting up accounts on popular communication sites like Zoom, Slack, and Skype.

Setting up a virtual mailbox

,

so clients can send you physical mail, such as products to review, even if you are a digital nomad.
Setting Up Simple Invoicing
If you want to earn steady money writing, you must have a streamlined way to invoice your clients. 
Set up PayPal, Venmo, Stripe, or another banking option to receive payments from clients. Some of these have invoicing systems in place. If you use one that doesn't have this feature, make sure to create a freelancer invoice template of your own. This can be done in Word and saved as a PDF, for instance.
Tracking Income and Paying Taxes
A huge part of staying organized revolves around tracking your income. Start by setting up a separate business bank account. This makes it possible to keep your professional income and expenses separate from your personal financial activities.  
Then, use pen and paper, a spreadsheet, or an application, like Quickbooks, to record every financial transaction related to your business. This includes expenses, like business-related meals, office supplies, and payments to internet suppliers or your web host. It also includes income from any one of your clients.  
When it comes to taxes, it's important to:
Always

do your research beforehand

to stay organized as you go along.

Consider getting an accountant to help you better understand your local tax regulations.

Collect the right information throughout the year — consider scanning and keeping essential tax documents in a single, safe location on your computer.

Pay your quarterly taxes

(state and federal) on time.
If you address your administrative concerns proactively, it will go a long way toward staying organized and on schedule with your actual writing.
Staying Organized as a Digital Writer
From research to taxes, invoicing to note-taking, there are many ways that you can stay organized as a digital writer. Ultimately, how you organize your digital writing life and business is up to you. 
But organization isn't just a convenient idea. It's a critical component of an efficient, productive, and successful writing operation.
If you want to succeed in the writing world, you must keep your business organized and operating like a well-oiled machine. That requires organization, which also gives you freedom from the distraction and overwhelm that can accompany a digital writing career.
About the Author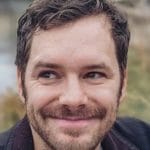 Sam Bowman has a passion for healthy living and positivity. As a seasoned nonfiction digital writer, he covers just about every subject that's out there while diving a little deeper into divorce and mental health topics. In his spare time, he likes running, reading, and combining the two in a run to his local bookstore.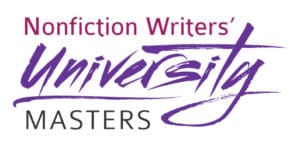 Would you like to learn more about becoming a nonfiction author? If you aren't sure how to get started or to move forward on your nonfiction writing journey, check out the Nonfiction Writers' University MASTERS program. Learn all the steps to becoming a successful—and profitable—author. Discover how (finally) to write consistently, boldly, enthusiastically, and productively. Develop the mindsets, strategies, habits of the world's most successful writers. Make your difference today.
Click here to learn more
. (And if you aren't ready for the Nonfiction Writers' University Masters program, explore the Nonfiction Writers' University. You can enjoy a
30-day trial membership for only $1
.)
Photo courtesy of Andrew Neel/Unsplash