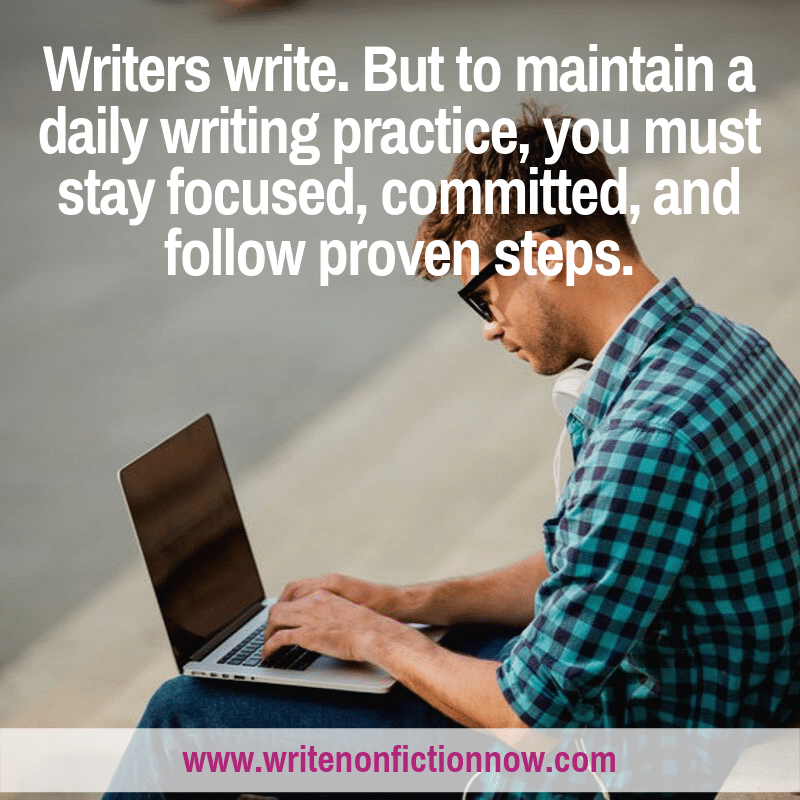 Sometimes you just need simple steps to follow to help you reach a goal. And if your goal is to develop a daily writing practice, the same holds true. Today,
Tom

Corson-Knowles

(@juicetom), bestselling author and self-publishing expert, shares proven steps that lead to a daily writing habit.
Whether you're looking to finish your first book or simply hone your writing skills, a daily writing practice can help you reach your goals.
Not only that, but it also can be extremely therapeutic. By putting down all of your thoughts and ideas for the day on paper, you can better work out what you're feeling and why. (Bonus: This therapy is completely free!)
But to maintain a daily writing practice, you'll need to stay focused, committed, and follow a few simple steps.
The Importance of Writing Regularly
Keeping your commitment will require you to make writing a habit, a part of your daily routine.  When something becomes routine, it means we don't even have to think about that action anymore—we just do it.
Did you have to think about brushing your teeth, getting dressed, or turning on your coffee machine this morning? Probably not.
Your goal should be to make sitting down and writing just as automatic. The best way to do this is by establishing a process that is simple and, hopefully, enjoyable for you.
How to Develop a Daily Writing Practice
These seven tips will help you establish a successful daily writing practice so you can beat procrastination once and for all.
1.     Find Your Productive Hours
Different people work best at different times. Perhaps you hit your stride as you sip your morning coffee before the rest of the house is up and running. Or, perhaps you're a night owl who does her best work with the murmur of late-night talk shows in the background.
Either of these options is perfectly fine as long as you feel like you're in your peak productivity hour.
What doesn't work is telling yourself you'll write "sometime today" or "sometime tomorrow."
Why not?
Because life happens. You'll get swept up in helping your kids with homework, or a work meeting that runs unexpectedly late. Before you know it, it's nearly midnight, and you're just about ready to sleep when suddenly you realize that you were supposed to write today.
To avoid this cycle and replace it with a successful routine, choose a dedicated time—one in which you know you won't be interrupted or distracted—and write at that hour every day.
2. Create Your Space
If your cramped desk facing the wall of a gloomy guest bedroom doesn't inspire you to write, I don't blame you. You'll be far more likely to stick with (and maybe even look forward to) your writing routine if you have a space in which you actually enjoy spending time.
Don't have one? Make one!
Clear off a writing surface, and try to keep it as decluttered as possible. If you'd like, keep just a few photos on your desk of a place or person that inspires you or reminds you of your goals.
You might also add a soothing candle or whatever you need to feel relaxed and focused.
Make your writing space one you actually want to spend time in, and you'll see the difference in your productivity and your ability to develop a daily writing practice.
3. Set Goals
Each day before you begin writing, establish a clear, measurable goal. For example, maybe you want to write 500 words, two pages, or for one uninterrupted hour.
Write your goal down on your calendar or daily agenda planner. This will help you visualize your goal while also keeping you accountable. Plus, there's nothing more satisfying than crossing off a task that will bring you one step closer to your bigger dreams.
Make sure that your goals are clearly defined but also realistic enough that you can achieve them if you stay focused. By setting lofty goals, you're only setting yourself up for disappointment when you fail to reach them—and that will likely discourage you from continuing altogether.
4. Be Prepared
Returning to your writing space, it's important to keep your area neat but also ready for your next session.
If you write early in the morning, for instance, take a few minutes the evening before to tidy up your desk, charge your laptop, etc. This will save you precious time in the morning and help you get started with more momentum.
5. Eliminate Distractions
Even if you're used to working with the TV on or some classic rock playing, it probably hasn't done your productivity any favors.
Try swapping out talk shows and reality TV for some classical music, soft ambient noise, or just the natural sounds of your backyard.
Disable any distracting notifications from social media. In fact, you may just want to go ahead and leave your phone in another room. You also can set up your notifications to alert you only when select contacts call or message.
This one may seem pretty hard at first, but you'll find that you can accomplish so much more when you aren't tempted to stalk your friend's tropical getaway on Instagram or lose an hour watching dog videos.
If you do happen to enjoy watching dog videos, you can use that as a motivating force to get your work done. Tell yourself that once you've reached your daily goal, you'll reward yourself by watching your favorite videos, taking a walk, or calling up a friend—any little thing you enjoy and that will keep you going.
6. Take Breaks
I can't stress this one enough. Just as it's critical to stay focused when you're trying to be productive, it's also important to take breaks.
If your daily writing practice involves more than an hour of writing, don't forget to be gentle with yourself and take breaks as needed.
It might feel like the best and quickest way to reach your goal is to just sit down and write non-stop. But taking a few minutes to walk around outside, stretch, or make yourself a cup of tea can actually do wonders for your mind and creativity.
If you're up against some frustrating writer's block, the best thing to do is take a break and refresh your mind. This way, when you're ready, you can return to your work with fresh eyes and ideas.
7. Use Writing Prompts
Writing prompts are a great way to get your ideas flowing and inspire yourself out of a creative rut.
If you're simply trying to fine-tune your writing skills, writing prompts can help you by providing a fresh topic each day.
However, they also can be extremely helpful for anyone working on a novel, nonfiction book, or more substantial project. If you're encountering writer's block, try out a few prompts to see if they inspire you with any new ideas.
Practice Makes Perfect
A daily writing practice can help you become a better writer and a stronger communicator. You may also find that it provides therapeutic benefits, as well.
So, what are you waiting for? Find your comfiest chair, grab a pen, and start writing!
How did you develop your writing habit? Tell me in a comment below…and share this post with a writing buddy!
About the Author
Tom Corson-Knowles is the bestselling author of 27 books including The Kindle Publishing Bible and founder of TCK Publishing, an independent book publishing company.
Tom has taught more than 80,000 authors how to write, publish and market their books like professionals through his online training courses, including Ebook Publishing School, a free training program that shows authors how to publish and launch their first book.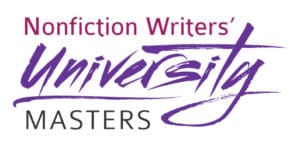 Would you like to learn more about becoming a nonfiction author? If you aren't sure how to get started or to move forward on your nonfiction writing journey, check out the Nonfiction Writers' University MASTERS program. Learn all the steps to becoming a successful—and profitable—author. Discover how (finally) to write consistently, boldly, enthusiastically, and productively. Develop the mindsets, strategies, habits of the world's most successful writers. Make your difference today.
Click here to learn more
. (And if you aren't ready for the Nonfiction Writers' University Masters program, explore the Nonfiction Writers' University. You can enjoy a
30-day trial membership for only $1
.)
Photo courtesy of Brasoveanu George Bogdan