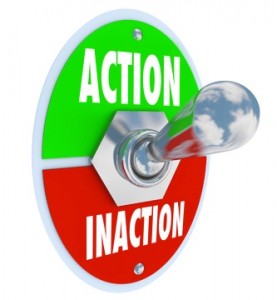 This is the last nonfiction writing prompt of 2013. As such, it's my final chance to assign an exercise that might help you achieve your nonfiction writing goals in the coming year before the year actually arrives.
The assignment has one word: Act.
Sounds simple, right? Yet, some people find it difficult to do this.
Let me explain.
You Can't Achieve Goals if You Don't Take Action
Too often we simply don't achieve our goals because we don't take action.
I have a client who has a good book idea. In fact, when he hired me as his book coach, he had two book ideas, but he couldn't decide which book to pursue first. I kept saying, "Just sit down and write one."
Today he called and told me has a third idea. He wanted to know if the third idea was a better one to pursue. He wants a book in hand by April 1. I told him, "Just sit down and write a book already!"
He started his coaching with me in October. We spent most of the sessions on this one topic: What book to write.
Don't let this be you. Don't let time go by without taking action on an idea.
If you have an idea, pursue it. Act.
Nonfiction Writing Prompt #4: Take Action
Make a list of three to five things you commit to taking action on this coming year. You can call this your action plan, if you like.
As part of the nonfiction writing prompt, write about the reasons you haven't followed through on your action plans in the past and how you will avoid this problem this year. What has stopped you? How can you avoid these obstacles in 2014? What is your payoff for actually taking action or not taking action (what positive or negative results will you achieve by taking action or not taking action)? Write about what you learn.
Utilize previous planning to come up with action steps that relate to accomplishing your goals if you have taken advantage of the opportunity provided in previous prompts:
Or these posts:
Additionally, here are posts I published last year that related to planning; you can apply them to 2014 and then create an action plan using the final post:
Now, commit to actually taking action. Set an intention. Write it down: I, [Name], intend and commit to taking the following action in 2014: (1)____________; (2)____________; (3)____________. You can add a date for when you will actually take these actions or start and complete them.
Pin this on your computer.
I know it is almost New Year's Eve, and these may sound a lot like resolutions, but I don't like to call them resolutions. Most people don't keep resolutions, and no one likes to "resolve" to do anything. It feels much more positive to set an intention or to commit to doing something positive, something as simple as taking action.
Share your action intentions for 2014 below in a comment. Making them public helps you be accountable.

How to Know What Action to Take
How do you know what to take action upon? I agree with Lisa Sasevich's mantra: Listen. Act. Trust. (Don't know Lisa? She's "The Queen of Sales Conversion," was named America's Top Women Mentoring Leaders by WoW Magazine and has the No. 169 rank on the prestigious Inc. 500 list of America's Fastest Growing Private Companies.)
In addition to actions related to your book, you might need to take action on the following:
Backing up your computer
Purchasing a new computer
Learning a new skill
Hiring a coach, editor or designer
Learning to speak or beginning to speak professionally
Starting a blog or podcast
Becoming active on social networks
Buying a URL for yourself, your book, your blog, a course…
Joining a professional association
Attending a conference
Don't hold yourself back because of fear or any sort as you make your decisions, which includes self-doubt, financial uncertainty or lack of confidence.
How can you ensure you actually take action and don't simply fall into inaction, which is the same as creating resolutions and then simply forgetting about them? Create an action plan from a place of inspiration. Go with that feeling of passion, purpose and inspiration. That goes back to listen, act, trust.
You instinctually know what you feel you should work on next. Your passion and purpose lead you to these things. And when you combine your passion and purpose, you feel inspired. Intuitively, you know these projects or tasks are the right ones to pursue.
In that moment, take action! Also, trust that what you are doing is the right thing to do. Have faith that it will work out. Put your energy into making it work. Take more inspired action.
Dealing with Doubts and Fears
If you have doubts, listen to them, but don't necessarily let them stop you from taking action. Evaluate them. If the they are self-doubts—I'm not good enough, I don't know enough, I'm stupid, etc.—or illogical fears—I might fail, I could lose money, people might see me, I will look stupid, etc., keep moving forward. If you have legitimate doubts and fears—you've done an analysis and the idea has no market or isn't unique in its category, you don't have the time or money to invest in your project right now, or you need to learn specific skills before you can make it work, then you may need to listen and make adjustments. You may not necessarily have to stop in your tracks. Remember: Listening is important, as is evaluation, and in most cases you will find that your gut instinct leads you in the right direction while your doubts and fears put on the breaks for no good reason, leaving you with your purpose and potential left unfulfilled.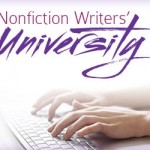 If you find this difficult, choose small actions. Pay attention to what inspires you, and take small steps toward that goal. One little action still moves you forward.
If you are enjoying these prompts and the corresponding information that goes with them, watch for information on The Nonfiction Writers' University coming soon!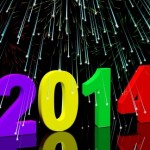 Take advantage of my huge
New Year Blow-Out Sale
! I'm offering the lowest prices of the year on products and services to help writers and bloggers achieve their goals!
Click here to learn more
.
Photo courtesy of iqoncept | stockfresh.com