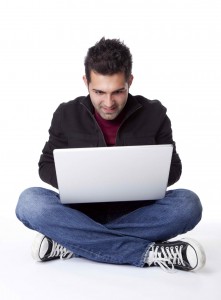 I continue to be amazed by the fact that the majority of writers I know still don't have a blog. And not of them are old and unwilling to embrace new technology either. Some just simply refuse to do anything other than write. Yet, they say they want to get published. When I ask them why, they respond, "I want to have my writing read."
Most writers say they write because they "must." I disagree. I think writers write because they want their writing to be read.
Only seven percent of books published in the United States sell more than 1,000 copies.
The average book sells about 300 copies per year and 3,000 copies in its lifetime.
That means most authors are not getting their writing read even after they get published—at least they aren't getting read by many readers.
If you blog—or blog your book, however, you could have 300 readers read your work—maybe just one short blog post, or  several or part or all of your blogged book—in month, a week or a day. You could have 3,000 readers read your work in a month, a week or a day. You could have many more readers than that stop by and read the writing you publish on your blog every month, week or day.
In other words, if you blog, your writing will get read. And, you will get published. In fact, ever time you write a blog post you hit a little button that says, "Publish." That releases it into Cyberspace for anyone and everyone to read if they so desire. And at that moment, you become a published author (and a publisher).
So, explain to me why more writers aren't blogging? Why aren't you blogging?