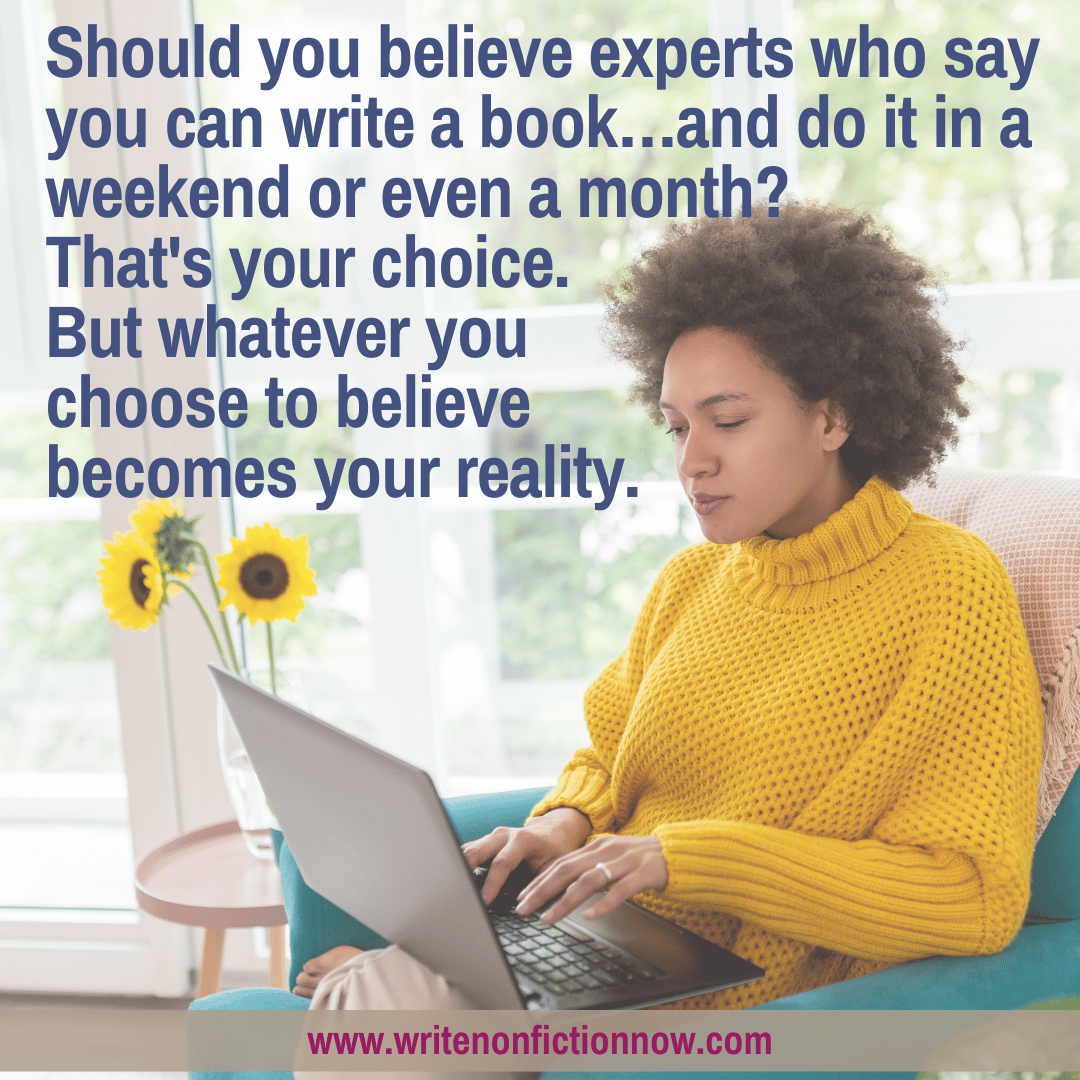 If you are like most writers, I bet you've seen more than one ad or email that said, "Write that book already!" Or perhaps it promised, "You can write a book in a weekend!"
In response, perhaps you thought, "Maybe someone else can write a book, but not me." Or maybe you said, "Yeah, right. It's impossible to write a book that fast."
Let's be honest.
You could write a book if you wanted to and believed you could. And if you were totally committed to this goal, you would find the time.
It is possible to write a short book in a weekend if you are a fast writer and know what you want to say. I've even written a long book (50,000 words or so) in about six weeks. In either case, what you complete in such a short amount of time typically is a first draft, not a final, publishable manuscript.
So, if you read these ads and emails with skepticism, good for you! But…
100% Possible, 100% of the Time
That said, don't discount the idea that you can become an author quickly. I just told you I've done it.
And there are so many ways to write a book fast. For example, you could:
Compile previously written essays or articles
Write a short ebook or booklet (even one based on a longer book you plan to write)
Create a tip book
I cover many more options in my course, How to Write a Short book Fast!. However, that's not the point.
The point is that anything—even writing a book—is 100% possible, 100% of the time. And if you believe it is possible to write a book or to do so in a short amount of time, you can do so.
But if you don't think it's possible, it's not. As Henry Ford said, "Whether you think you can, or you think you can't – you're right." Indeed, attitude determines success or failure, which is true of most projects you take on, including writing a book in any amount of time.
Your Commitment Level
Beyond believing it's possible to write a book and to do so quickly, you need a high degree of commitment to start and finish a book project.
Don't believe me?
Look at your current writing habits or history related to starting and completing writing projects. If you tend to write consistently and finish what you start, you are committed to that goal. If you don't, you simply aren't as committed to your writing or becoming an author as you say.
Also, you aren't committed if you make many excuses for not writing. (Keep in mind that your "reasons" are excuses.) People who are committed to writing a book do it. They find a way—no matter their circumstances, and they don't give up until they type the last word or their manuscript.
Be Careful What You Believe
In this post, I've suggested you take those promotional ads and emails about writing books or writing them super fast with a grain of salt. But you already knew to do that, didn't you?
I've also claimed that anything is possible, and your mindset and commitment level make the difference between your ability to write a book…or not. But, of course, you probably already knew that, too, and if you look at your track record, you'll find proof that what I have shared is true.
But maybe you don't believe anything I've written in this post. That's okay…
But here's the thing about belief: you can believe something that supports you…or doesn't.
Believing that a positive mindset and high commitment level help you write a book quickly supports your efforts. This is especially true if you think changing your mindset and commitment level is possible.
And while sometimes change is uncomfortable, change is always possible. Always…if you are willing to do things differently and committed (there's that word again…) to transformation.
But you could believe something unsupportive about your ability to write a book instead. For instance, you could think you aren't a good enough writer to produce a book manuscript. Or, like one of my clients, you could decide to believe writing a book takes many years. She told me she was on "the three-year track" because most authors she knew said it had taken them that long to complete a manuscript.
While that might be true for some writers, it's not true for all. In fact, I know novelists and nonfiction writers who consistently produce a book manuscript every one to three months. However, they don't share that belief—if they did, they would only complete a book manuscript every few years. But she chose to believe it was true for her.
How long do you think it will take her to write that book. I predict it will take three years, if not more.
What you believe impacts your ability to achieve any goal or develop any skill. So choose your beliefs carefully.
That brings us back around to those ads and emails…
Are you still wondering if you should believe those experts who say you can write a book…and do it in a weekend or even a month? That's your choice. But know that whatever you choose to believe will become your reality. So choose carefully.
Do you believe you can write a book…and do it quickly? Tell me in a comment below. And please share this post with a writing buddy.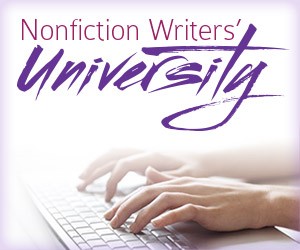 Would you like to write and publish nonfiction work, like articles, blog posts, books, or reports…and become a successful author? Join the Nonfiction Writers' University. Get the basic education you need and and author and personal growth coaching to help you succeed as a nonfiction writer.
Enjoy a 30-day trial membership for only $1. If you've felt the desire to get coached and be supported as you pursue authorship, this program is for you. Participate in monthly group Author Coaching sessions and gain access to an extensive archive of writing and publishing resources.
Photo courtesy of tanzimgraphicszone.