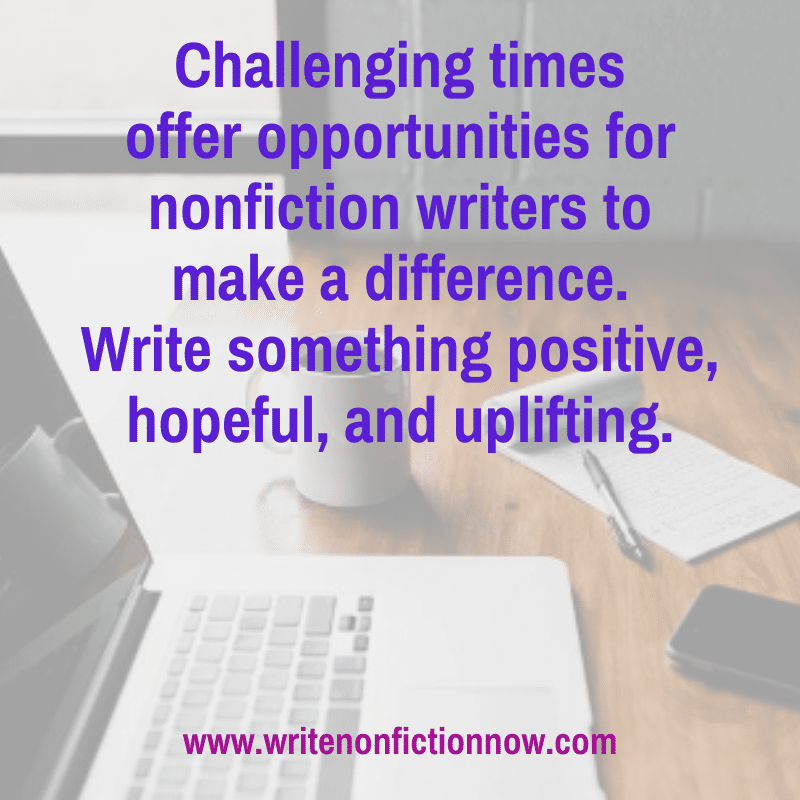 The news always provides fodder for nonfiction writers. However, it also provides an opportunity to make a difference—to produce pieces that uplift, inspired, motivate, and provide hope. Today, Sam Bowman, a seasoned nonfiction digital writer, offers tips for writing encouraging pieces during the Covid-19 pandemic. However, you can put the same strategies to use at any time to offer a positive take on whever is happening in the world.
To say we are living in strange and uncertain times would be an understatement. About 40 percent of America's population, roughly 130 million people, are currently under some stay-at-home order. Millions of people are out of a job, and the unemployment rate reached a staggering 14.7 percent in April. Plus, over the last few months, schools, many businesses, and restaurants have closed their doors to the public, opting for things like online learning and curbside delivery.
Orders to stay in quarantine can also put people at risk of feeling lonely, which can lead to a variety of serious health issues and even increase mortality rates. Between the facts of the Covid-19 pandemic and the mixture of myths and conspiracy theories floating around online, the abundance of information can feel overwhelming, and the situation can appear hopeless.
Thankfully, the current situation isn't without its bright spots. Now, more than ever, people are coming together to create joy, gratitude, connection, and hope through art. All over the world, street art is popping up depicting images of hope, humor, and togetherness surrounding the pandemic. People are joining in singalongs from their apartment windows. Even famous Broadway playwright Andrew Lloyd Webber is allowing people to watch his most famous musicals online for free.

Writing is no exception when it comes to helping people feel hopeful and encouraged during these hard times. The simplest of words can often be the most powerful. As a nonfiction writer, you have a responsibility to tell the truth and give people the facts, but that doesn't mean you can't inspire positive feelings through your work.
In fact, you have a powerful opportunity right now to take the truth, facts, and information and produce written pieces that support, inspire, and motivate readers. Your published words can become a source of encouragement and positivity.
Manifesting the Right Mindset
Before you put pen to paper or type a word, it's crucial that you have the right mindset to offer encouragement. Writers aren't immune to the mental health impact this pandemic has caused.
First, understand that you can still write positive pieces without being tone-deaf to the situation. People don't want to hear uplifting stories only to find out they aren't accurate or believable.
Also, if you plan to write about the pandemic, make sure the information you're using is accurate. Frequently research the government's policies and laws surrounding COVID-19, including:
The rules and regulations for stay-at-home orders

Which businesses are considered essential

The CDC's latest recommendations

Business protection rights

Unemployment facts and figures
If you find that some of the information discovered during your research feels overwhelming, take a step back before you write. Use the opportunity to meditate and practice mindfulness. Meditation helps you to let go of negative thoughts instead of holding onto them.
When you clear your head and release your emotions, you'll open yourself to more creativity. You also will find it easier to stick to the truth while remaining positive and uplifting.
Writing With Hope in Hopeless Situations
Remember, what you're writing isn't necessarily about you—even though you are nonfiction. You don't have to throw your opinions into a piece or talk about how this pandemic makes you feel.
That said, your life experiences can provide compelling and inspiring stories. Right now, people need to feel connected to others and to hear how they have overcome difficulties. Such stories give them hope in what seems like a hopeless situation.
Allow yourself to tap into the spiritual aspect of writing, where it can often seem like some larger force is driving you to put words to the page. This may help you let go of your own inhibitions, worries, strong opinions, or desires to influence someone else.
Many positive stories have already emerged from this global pandemic. Perhaps the best news is that 99 percent of the people who contract coronavirus will recover. In addition to optimism regarding the disease itself, this pandemic has displayed the positive side of humanity.
All over the country (and world), neighbors are helping neighbors. Businesses are donating supplies to hospitals and to those in need. MGM Resorts International donated nearly 500,000 pounds of food to food banks across the country, and U-Haul gave 30 free days of storage to college students who have been displaced by their school shutting down. Even distilleries across the country turned from whiskey to hand sanitizer production to keep people safe and healthy.
These stories of people helping people are maybe most remembered about this global pandemic. They give people hope in a time that feels bleak.
The pandemic provides an opportunity to write about something meaningful and honest. You needn't look far to find something positive to write about.
The Psychology of Positivity
As you write encouraging pieces during the Covid-19 pandemic, it's important to understand positive psychology and how things like happiness counseling can be included in your writing. You don't have to be a psychologist or counselor; a little bit of knowledge in these areas can help your work raise readers' spirits.
Many people are looking for a way to find joy and fulfillment amidst the pandemic. Happiness counseling focuses on helping people find a certain level of satisfaction and contentment in life. You can add such things to your writing by encouraging your readers to:
Pay attention to the little things

Search for their purpose

Give back to others

Live in the moment

Practice self-control
You don't have to sugar coat what's going on in the world to make a difference and encourage readers. Focus on the positive, focus on the future, and remind those who read your pieces that together we will all see this through.
You are uniquely equipped as a nonfiction writer to produce work that matters. Allow your writing to be a beacon of light and hope during a dark time. In the process, you, too, will feel happier, more hopeful, and more fulfilled.
About the Author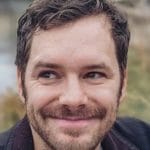 Sam Bowman has a passion for healthy living and positivity. As a seasoned nonfiction digital writer, he covers just about every subject that's out there while diving a little deeper into divorce and mental health topics. In his spare time he likes running, reading, and combining the two in a run to his local bookstore.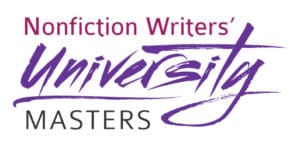 Would you like to learn more about becoming a nonfiction author? If you aren't sure how to get started or to move forward on your nonfiction writing journey, check out the Nonfiction Writers' University MASTERS program. Learn all the steps to becoming a successful—and profitable—author. Discover how (finally) to write consistently, boldly, enthusiastically, and productively. Develop the mindsets, strategies, habits of the world's most successful writers. Make your difference today.
Click here to learn more
. (And if you aren't ready for the Nonfiction Writers' University Masters program, explore the Nonfiction Writers' University. You can enjoy a
30-day trial membership for only $1
.)
Photo courtesy of Andrew Neel/Unsplash