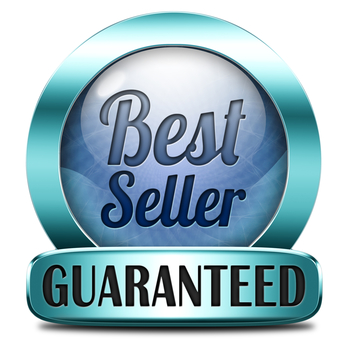 Do you have a picture in your mind of what it takes to become a bestselling author? Does it include someone toiling over his manuscript for many hours per day or late into the night for years?
I'd like to debunk the idea that it has to take a long time for a writer to produce a bestseller. The belief that the only way to create a bestselling book—and a career as a bestselling author—involves working on a manuscript for a year or longer is limiting, and, in my humble opinion, false. In fact, I know authors who complete their manuscripts in one to three months and produce books that upon release outsell the other titles in their categories.
Let's look at a few examples to prove the validity of this statement:
I've heard Jonathan Maberry, a New York Times best-selling and multiple Bram Stoker Award-winning horror and thriller author as well as a comic book writer, magazine feature writer, playwright, and content creator, talk about finishing a book in a month.
James Scott Bell is the #1 bestselling author of both nonfiction and fiction. His Write Your Novel From The Middle was an instant #1 Amazon bestselling writing book. He completes the first draft in either genre in two or three months.
I wrote the first draft of How to Blog a Book in five months. I composed just 300 to 500 words per day and published them on the blog three or four times per week. I then spent about a month editing the manuscript before I turned it in to the publisher. That means I completed the book in about 15 weeks or four months. It has remained an Amazon bestseller since its release in 2012.
The Author Training Manual took me just eight weeks to write. I spent another four weeks editing and revising the first draft. (There was also some time spent inputting my beta readers' suggestions and changes.) In total, the manuscript was completed in about four months, and it became an instant Amazon bestseller and continues to appear on the Top 100 List weekly since its release in June 2014.
How to Write a Bestseller Quickly and Effectively
Don't get me wrong. I'm not advocating writing fast and turning out shlock. If you did so, the manuscript you produce won't become a bestselling book.
I'm advocating doing enough pre-planning to write a book that targets your market and adds new, unique and necessary content to the category. In this way, you outsell other similar books.
But a plan and a writing guide help. Actually, I'd say they are necessary.
Maberry and Bell use a plan to help them write quickly. I use a plan. Other author's plans and planning processes may differ from mine, especially if they write fiction.
Here's how I create both a plan and a writing guide: The plan begins with a market and competitive analysis. It also contains a clear idea, which is produced by writing an overview of the book.
With these pieces of the plan complete, you create a table of contents and chapter summaries (or synopsis). Then you are almost ready to write.
Your Writing Guide
The two analyses, the overview, the table of contents, and the chapter summaries become your writing guide. You refer to them each time you sit down to write, and they guide you to write a successful book. Here's how the process works:
Reread the overview to remind yourself of what you are writing about.
Reread the market analysis so you know who you are writing to and what your reader wants and needs; be sure you deliver these things in each and every chapter.
Reread the competitive analysis to remind you of what needs to be done to craft a book that is better than those currently on the bookstore shelf. And use the analysis to determine how you can ensure your book will be unique and necessary in the market and category.
Use the table of contents to keep you organized as you write and to organize your book.
Approach your summaries as the chapter foundations. Each sentence can become a bullet to remind you what to write next or even be rewritten to create a subhead. As you provide the content for each bullet or subhead, you build out your chapter.
Using these documents provides you with a guide for writing a marketable book—one with a high likelihood of becoming a bestseller.
For more information on how to produce and use a bestseller writing guide, read these posts:
Don't Just Write Fast
I'm not encouraging you just to write fast or to turn out sloppy work. I'm encouraging you to create a pre-writing plan so you write a great book fast.
The point is to write a better-than-average manuscript quickly. You can do this if you plan a marketable book in advance and write using that plan. Using your writing plan keeps you from creating content that meanders rather than stays on point, rewriting, producing too much content, and turning out misplaced and unnecessary content. Doing these things leads to the need to cut, revise, or edit extensively.
Assuming you are a better-than-average writer and you have done your homework, you should be able to write your book quickly. You need to know:
for whom you are writing
what your readers want and need
the structure of your book
the content you plan to include
what you are writing about
how your content targets your market
the benefits your book provides to readers
With this information in hand, you need only sit down and write. Produce about 1,000 words per day (the length of a long blog post…this one is 1,155 words in length) and you will have 30,000 words in just four week. In under a month, you can complete a marketable 50,000-word nonfiction manuscript—one with a high likelihood of becoming a bestseller. If you produce more words per day, it will go faster. At that rate, however, you can complete a novel or memoir in three months or less.
And these manuscripts will have the makings of bestsellers because you targeted the market and studied the competition prior to writing.
Know When to Say "Done"
But you won't need to spend a year or two (or three or four) completing your book. There's simply no reason for that.
Yes, you can always improve the manuscript once you complete the first draft. But get that first draft written, and then revise and edit for a designated amount of time. Don't allow your Inner Critic or Perfectionist to take over and keep tweaking for months or years.
Use deadlines. Have one for the completion of the first draft and another for completion of the final draft. Stick to these deadlines.
And remind yourself that you can complete your book fast—well before the New Year comes to an end. Let go of any limiting beliefs that the only way to produce a bestselling book involves struggle, pouring over the manuscript for years until you feel it is ready for publication, or writing for months and months or years and years. It's simply not true.
Would you like to learn more about how to write a bestselling book? Click here to watch my four-part series about how to create a career as a bestselling author. Also, add your name to the list below to be notified when I release the next video in the series. This ensures you become one of the first to hear the details of my new Six Months to Your Bestselling Author Career premier coaching program as well.
Photo courtesy of kikkerdirk / stockfresh.com