Holidays of all types can wreck havoc on a writer's schedule. Your kids are home from school, your husband doesn't go to work, and family members descend upon your home—and sleep on the couch in your office. Holidays simply don't help you write. So how the heck is a writer supposed to work during "vacations" imposed by national holidays?
As we head into the Christmas and New Year week—not just one holiday but two usually celebrated with an entire week or more off work—how will you continue writing?
Why might you want to write during a holiday? I can think of many reasons:
You want to keep up your writing habit.
You have a deadline to meet.
You enjoy your work.
You feel passionate about and inspired by your current work in progress.
You set a goal to finish your project before the end of the year.
Develop Holiday Habits and Strategies to Help You Write
If you do, indeed, want to keep writing while you wait for Santa, after presents are opened or as your family members count the days and hours until they can sing "Auld Lang Syne" and kiss under the mistletoe, here are a variety of ways to accomplish that goal:
Get up early and write for an hour or two before your family members arise.
Stay up late and write after everyone in your home has gone to bed.
Escape to a coffee shop for an hour every day to write.
Take your computer with you when you run an errand and spend at least 30 minutes writing in your car before you complete your errand.
Excuse yourself from the festivities to "have some quiet time." Take your computer with you…and write as long as possible!
Hire a sitter to watch your children while you shut yourself in your office (or leave to write at a coffee shop for a few hours).
Take a walk and speak your book, blog post or article into your phone using a voice recognition system. Later, edit the transcript provided.
Ask your spouse to watch the kids or entertain the family for an hour while you write.
Inform you family that you are not on vacation—even if they are, go into your office, and close the door. Put a note on the door that says, "Do not enter or knock unless blood is involved."
Shorten your writing periods. Instead of writing for an hour or more at a time, grab small writing periods where you can—15 minutes here, 10 minutes there—until you accrue an hour's worth of writing time per day.
Holiday High Performance Writing
Notice, I didn't suggest that you sit your kids (or your husband) in front of the television set to occupy them while you write (but you could do that as well). I don't want you to encourage anyone to pursue mindless or useless activities so you can achieve your goals.
However, It's amazing how much writing you can accomplish while your kids or family occupy themselves with an activity, such as playing a game, reading a book, or conversing. Maybe it won't be your best writing…or maybe it will. Writing in short spurts or under deadline can make you work more efficiently because it requires that you focus more intently on your task.
I'm not an advocate of never taking time off from your writing work. It's important to get a writing break from time to time. Nor do I advocate acting like a recluse when you could spend quality time with family and friends. I do, however, support you following through on your intentions and doing what's necessary to meet  your goals. If that means developing holiday writing habits, skills or strategies, more power to you!
High-performing writers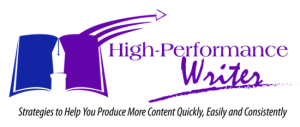 stay focused on their goals and have clarity of purpose and intention. They develop skills that allow them to achieve their highest potential no matter what else is going on their lives. They don't let life—or holidays—get in the way.
On the other hand, you could get super focused before the holidays roll around and employ a different type of high-performance writing skill: Get your work done beforehand!
For example, every time I get ready to take a vacation or holidays approach, I write all my blog posts and schedule them before I leave. I don't just say, "Oh, well. I'm going on vacation. My readers will have to wait until I get back to read my next post."
When you know a one-day or a week-long holiday is fast approaching, get focused! And get productive. With your work done, you don't have to worry about writing during the holiday—unless you find you have the time or can make the time. You can still employ any of the holiday writing tips mentioned above to get some writing in while you sip some eggnog.