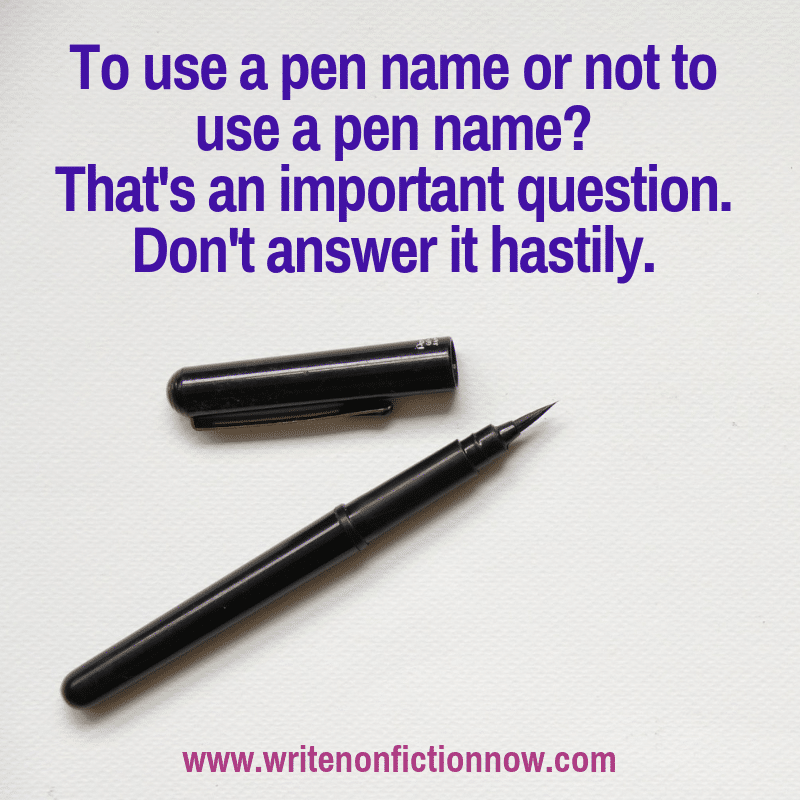 There are certain questions writers frequently ask me. "Should I use a pseudonym?" Is one of them.
I've got my opinion on the matter—especially when it comes to nonfiction authorship.
I believe nonfiction writers will find it difficult to promote their books under psuedonyms. Think about it… Are you going to get up on stage and speak about your book, call yourself something other than your real name, and allow people to take your picture? Think about it… In this digital age, eventually, you will be recognized. You'll be found out.
Therefore, if you want to use a pseudonym, I recommend being upfront about it. Tell people you are using a pen name and explain why. Once you've done that, however, what's the point? You might as well use your real name!
That said, there definitely are times when a pen name might be appropriate—like if you are an elementary school teacher who writes erotica, for example. Or if you are writing a memoir about your life as a mafia hit man's wife.
While I have always felt pretty confident about my perspective on the use a pseudonym vs. don't use a pseudonym debate, I thought I'd reach out to those whose opinions hold more weight—literary agents. After all, they have to work with writers who might want to use pen names and represent these writers and their choices to publishers.
I asked four literary agents that I know and trust to provide their point of view on the topic of using pseudonyms. Here are their responses.
On Pseudonyms
Peter Beren (www.peterberen.com) replied with a historical overview of the issue that offers reasons why authors have taken pen names in the past.
Pseudonyms are accepted and rich part of literary history. The reasons authors use them are many and varied. Often pseudonyms are created to hide gender identity. SE Hinton (Susan Eloise Hinton), author of The Outsiders, decided to use her initials to avoid being slapped with a gender label (i.e., "Female). Born Amantine Lucile Aurore Dupin, George Sand became a famous writer in 19th century France and avoided prejudices that would have hurt her career, had she been perceived as female. As she became more successful, she became less concerned about hiding her gender and more concerned with bending it. She was often seen in men's clothing and, Mon Dieu, smoking in public.

Sometimes authors have personal or editorial reasons to hide their identities. Stephen King published several novels under the name Richard Bachman because he wanted to test whether or not the books would be popular without his name brand. Another time he used the name of a character from another novel, John Swithen, to hide his identity. Then he claimed that Richard Bachman was the real identity of John Swithen and killed Bachman off. I represent a prolific novelist, Paul Aitken, who writes under the name, David Jester, for his humorous stories and, Eli Yance, for horror and mysteries. He doesn't want to confuse his fans. Once when King had a female pseudonym, an actress was employed to "play" that pseudonym at book signings.

Anne Rice, who has sold more than 100 million books, started her career as Anne Rampling and A.N. Roquelaure to hide the fact that she was writing erotica.
Andy Ross  (www.andyrossagency.com) took a legal and business approach to the topic.
If an author's previous book had low sales, it becomes much more difficult to sell his next book. Some agents have resorted to submitting the book under a pseudonym to address this problem. I won't do it.

For one thing, eventually, sooner rather than later, the author will have to reveal his name. If he uses a false name in the book contract, the contract can be terminated for fraud. Additionally, as an agent, my credibility is based on trust with a publisher. Submitting a book under false pretenses damages my reputation.

Of course, a publisher can always choose to use a pseudonym for an author. And they may do so for legal or marketing reasons. But it will be extremely difficult for the author to promote the book.
Gordon Warnock (www.fuseliterary.com) sees the use of pseudonyms as a long-term commitment but not necessarily problematic if the nonfiction author has a strong brand.
Using a pseudonym isn't much of an issue if you're prepared to treat it like your real, public name. Regardless of how you choose to spell your name on your book cover, whether you include your middle name, use an initial or two, or use your nickname, you'll need to maintain a presence and promote your work consistently over time using that spelling. It's a commitment.

This is much easier and more common for fiction writers, as they generally don't have the same platform prerequisites of nonfiction writers. If you're a nonfiction writer looking to use a pen name, you're usually going to need to build and maintain a platform using that spelling so readers looking for your particular expertise can find your work.

I usually recommend this for nonfiction only if you already have a strong brand with that name. Think of it from the reader's perspective. Fans of Boots Riley will find and buy his work much easier if he doesn't release it as Raymond Riley, as is the case with Ray Romano versus R. Albert Romano.
Finally, Rita Rosenkranz (www.ritarosenkranzliteraryagency.com) took a practical and cautious approach to the debate that encompasses many of the previous comments and brings us full circle.
There are a few key reasons to use a pseudonym. One is if the author's previous works underperformed. A pseudonym helps achieve a clean slate for the next book. Another scenario is when an author is stepping out of his/her genre and doesn't want confusion of her/his authorial identity in the marketplace. Or an author, let's say of thrillers, wants to write in a different genre. Here again, a pseudonym helps avoid marketplace confusion when an author wants to write in different tracks. Sometimes the pseudonym is only "window dressing," where the authorship line might be XXX, writing as YYY. And let us remember way back when those talented women who needed to cloak their gender to be published…

My own take is that a pseudonym should be used calculatedly and judiciously. If the author truly wants to write "undercover," what does that mean for book promotion?

There have been instances, let's say in scenario one above, where the editor has learned the author's real name after acquisition (this can be tricky). The author/editor/agent team can decide on how to move forward without being limited by previous sales. But, yes, since the identity of the author is camouflaged, publicity has to be more creative.
Ultimately, the choice to use or not use a pseudonym is up to you. Step back and get a big-picture view of what that decision will mean to you and your book long term. Then embrace that decision and stick by it as you move forward with your career as a nonfiction author.
Do you plan to use a pseudonym? Tell me why in a comment below. (And please share this post if you found it useful.)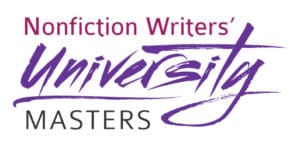 Would you like to make a difference as a nonfiction writer? Check out the Nonfiction Writers' University MASTERS program, where you can receive ongoing Certified High Performance Coaching, including the High-Performance Writer and Charged Writer programs. Learn all the steps to becoming a successful—and profitable—author as well as one who authors change. Discover how (finally) to write consistently, boldly, enthusiastically, and productively. Develop the mindsets, strategies, habits of the world's most successful writers. Make your difference today. Click here to learn more.
And if you aren't ready for the Nonfiction Writers' University Masters program, explore the Nonfiction Writers' University. You can enjoy a 30-day trial membership for only $1.