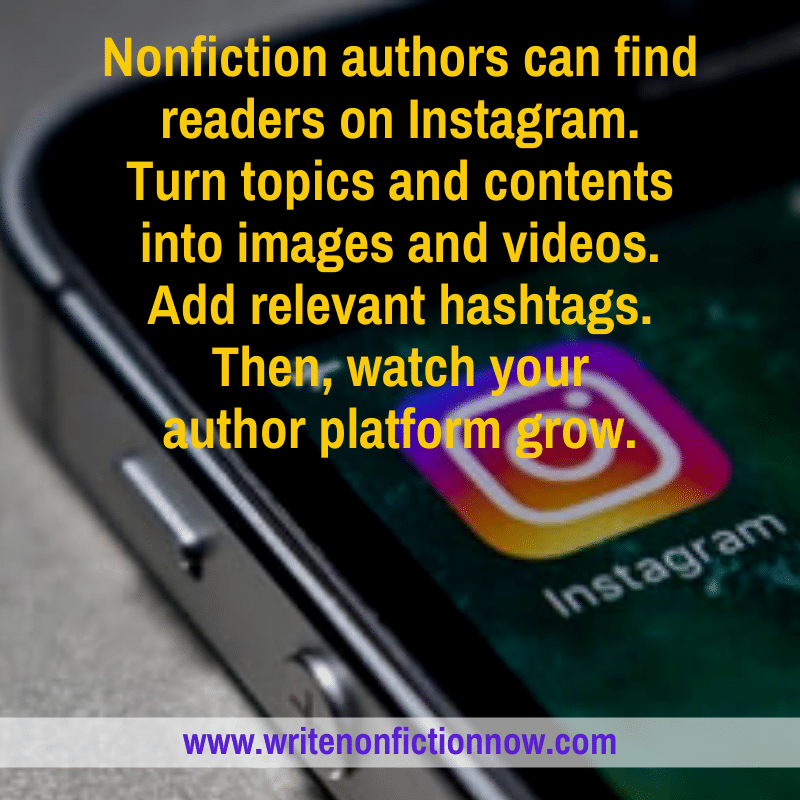 Writers work with words. That's why too many shy away from promoting their nonfiction books or building an author platform on image-heavy social media sites, like Instagram. That's a mistake since many nonfiction readers hang out on this social media site. Today,
Kayleigh Alexandra (@getmicrostarted),
a writer for
Micro Startups, offers writers some proven tips for using Instagram effectively with words and pictures.
It can be challenging for nonfiction writers to get their work seen by publishers or literary agents. But a strong presence on social media makes it possible to be heard above the noise and get noticed by publishing pros. Specifically, growing a following on Instagram can prove a worthwhile platform-building effort.
With more than a billion monthly active users, Instagram's platform offers you a considerable cross-section of demographics that likely includes your readers. You can still use Facebook and Twitter, but try building an audience on Instagram, too.
Here's what you need to know about creating an author Instagram profile that gets your work seen…and read.
Embrace Hashtags to Enter the Conversation
While words tie a story together, hashtags on Instagram tie topics together. Hashtags are how people start and join conversations on social media sites. They are used to help users find topics, accounts, and content of interest.
Your target readers are no exception. Nonfiction readers use hashtags to share their favorite books, what they're currently reading, book quotes that inspire them, topics they enjoy, and more. If you can conceive of it, there's a hashtag for it.
Choose Your Instagram Hashtags
As an author, hashtags help you get your work seen. By using relevant hashtags in your Instagram posts, you direct prospective readers to your account and grow your following.
Instagram allows a maximum of 30 hashtags per post, so make the most of them. There are hundreds of book-based hashtags for you to choose from, tailored to specific genres, readers, and types of Instagram posts. For example, the #WomensHistory hashtag is perfect for capturing a female target readership interested in history. #personalgrowthbooks is fabulous for targeting those readers who are focused on self-improvement, and #nonfiction or #nonficitonbooks works as well for a general nonfiction audience.
#EBooks or #freebooks are ideal hashtags for spreading the word about your book by offering a freebie. Prospective readers can easily discover you in this way.
Or create a teaser chapter that people can read for free. In this way, you can hook potential readers by giving them insight into your work. There's even a hashtag for that on Instagram: #freechapter.
Links are not live in an Instagram post. Therefore, always remember to include a link in your bio that leads to your book's sales page. That way, your new followers or those who grab your freebie can purchase your complete book afterward.
Takeaway: The key to successful Instagram hashtags is using those that most pertain to your target audience. Who is your target reader? What are their interests, and how do they tie into your work? Use genre-specific and subject-specific hashtags to reach specific readers on Instagram.
Tip: The #MSWL hashtags is a particularly useful one you can follow too. It stands for "manuscript wish list," and is used by agents looking for specific manuscripts they want to see.
Showcase Your Knowledge and Win New Readers
In the world of nonfiction, credentials are everything. Your experience, knowledge, qualifications, speaking gigs, and so on add value to your brand as a nonfiction author. As part of your marketing strategy, use your Instagram account to showcase your knowledge to your audience.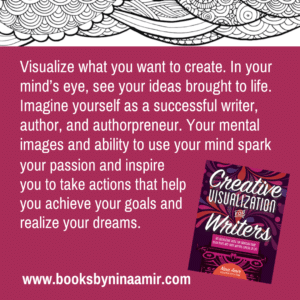 Videos are particularly worth mentioning here. They are quick and straightforward to create and are perfect for communicating information clearly and concisely on Instagram. Record a short video—as short as 60 seconds—in which you explore an aspect of your nonfiction niche and use it as an entry point to your book.
For instance, if you write about astronomy, you could create a brief 30-second video that helps your followers spot a once-in-a-lifetime comet that's due to appear. Use your phone camera to shoot the video; Instagram posts are made directly from a phone. This example highlights how entry-level videos showcase your expertise and help new audiences engage with your book.
You can also capture photos from your phone and upload them to Instagram. Or you can create quote cards using other apps and upload these as well. Keep in mind that all of the images you post on Instagram should enhance your brand and showcase your expertise.
Of course, add a description of the video and relevant hashtags when you upload the video or image. This helps readers find you.
Takeaway: The key is to deliver eye-catching, engaging gems of knowledge in an easy-to-understand way. This strategy helps people engage with your nonfiction niche and encourages them to return to your Instagram profile for more. In the process, you demonstrate that you are the expert on your topic area and strengthen your author brand.
Tip: As well as videos, consider carousel posts showcasing a series of tidbits related to your niche.
Create Instagram Content
that Appeals to Readers
The type of content you share on your Instagram author account is important, but it's harder to pin down. Fitness coaches can share progress updates and exercise videos. Beauty bloggers know makeup tutorials and look books are perfect content. But what does a nonfiction author share?
At first glance, a visual-heavy platform such as Instagram might not immediately seem suitable for nonfiction authors. But there are lots of ideas you can put to use that will attract your target readership.
The most popular of these is "book porn," or beautiful, high-quality images of books, bookshelves, libraries, reading nooks, and so on. Look at any passionate reader's Instagram account. You'll surely find at least one artfully-arranged photo of an open book next to a steaming coffee cup. This content is popular amongst Instagram's reading community and is perfect for your author's Instagram account.
But besides this, you could share quotes from your favorite authors, photos of your writing room, even gifs and memes related to your book. Or create quote cards using a service like Canva. These are images that feature your words (from a blog post or a book). If you don't want to mess with photos, you can just use a colored background.
A variety of visuals make for an excellent Instagram account that your target audience will love.
Takeaway: Image-based content can take a variety of forms but is what Instagram users seek. You can easily create images that will attract new readers as you share about your books or topics that target your audience.
Tip: Flatlays are a popular Instagram content format that works well for literature-based visual content. Choose a selection of your favorite books—or your published books—and arrange them on a beautiful surface, such as a pretty comforter or rustic wooden tabletop. Add some props (flowers, cups of hot cocoa, etc.) and take a top-down photo of your books in all their glory.
Share Your Work Through High-Quality Visuals

As an author, you can—and should—also share your work on your Instagram. Obviously, you can't post entire chapters on the platform, but it is possible to share quotes or extracts from your work reasonably well.
While quote cards tend to feature fewer words, you can include more text. That's not to say you should eschew high-quality visuals to cram as much of your work as possible into a post. Simply deliver your book excerpt in a visually-appealing way. (Check out #nonfictionquote for examples.)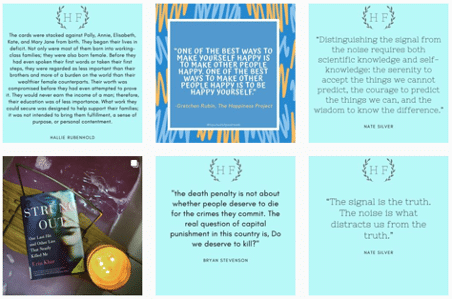 As the examples above show, it's possible to share text—even copy directly taken from your book—in a visually-striking way. This is the ideal way to share your work on Instagram, giving potential readers an insight into your writing style and literary worlds.
A screenshot of your work with a filter overlay will suffice. Still, creative text overlays are a popular and easy method that is Instagram-worthy. There are lots of free online photo editors that are intuitive and easy to use, so it's simple to get started in this manner.
Takeaway: If you don't know what content to post on Instagram, return to your books. Each one can provide content for possibly hundreds of beautiful and impactful Instagram images.
Tip: Choose a quote or paragraph that you feel particularly exemplifies your work and style. Next, use a free online photo editor to create a graphic displaying it. Find an excellent photo that serves as the background, and use a text overlay to add your quote or passage.
At first glance, Instagram might not seem like the right choice for writers and authors. In fact, it's the perfect platform to build your audience, demonstrate your expertise, build your brand, and show off your writing. Follow the tips above, and you'll create an Instagram strategy that draws in new readers in their droves.
About the Author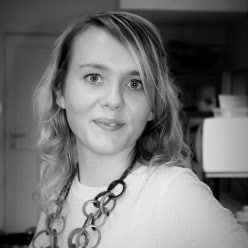 Kayleigh Alexandra is a writer for Micro Startups, an online destination for everything startup. She's passionate about hard-working solopreneurs and SMEs making waves in the business world. Visit the blog for your latest dose of startup and charity insights from top experts around the globe.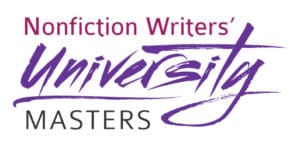 Would you like to learn more about becoming a nonfiction author? If you aren't sure how to get started or to move forward on your nonfiction writing journey, check out the Nonfiction Writers' University MASTERS program. Learn all the steps to becoming a successful—and profitable—author. Discover how (finally) to write consistently, boldly, enthusiastically, and productively. Develop the mindsets, strategies, habits of the world's most successful writers.
Click here to learn more
.And if you aren't ready for the Nonfiction Writers' University Masters program, explore the Nonfiction Writers' University. You can enjoy a
30-day trial membership for only $1
.) Access 6.5 years of archived educational events and coaching sessions as well as a ton of bonus courses and ebooks.
Photo courtesy of Pexels.