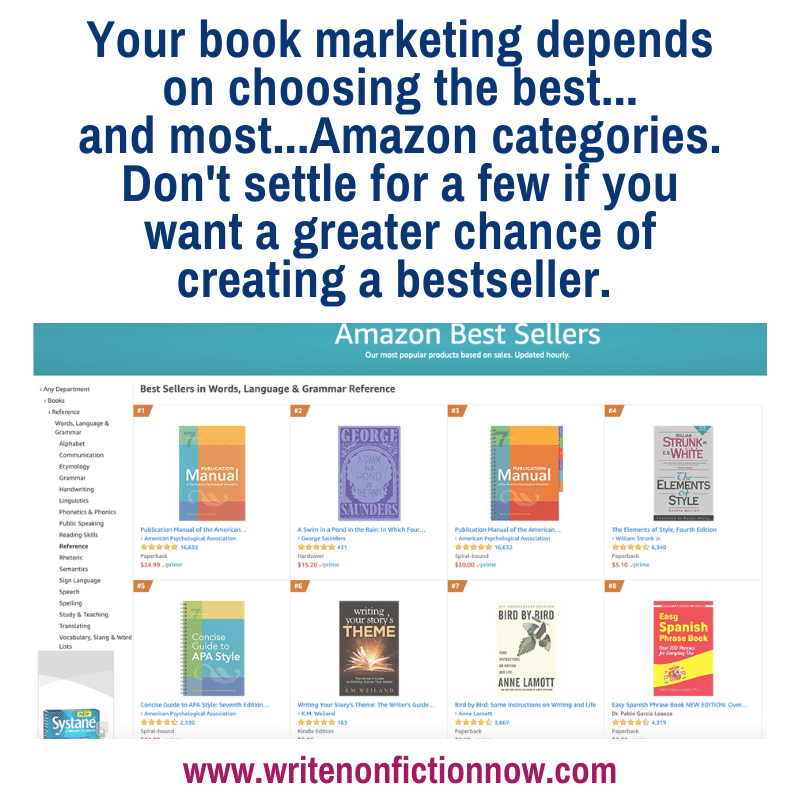 Don't make this common mistake: focus on marketing your newly self-published book and spend little time choosing the Amazon categories in which it will be sold. In this post,
Jay Artale
(
@BirdsOAFpress
) explains why categories are so important and how to get your book in 10…not just two or three.
Your book's metadata is the key to discoverability on Amazon. If you're not using the right words in your title and subtitle or selecting the right keywords or categories, there's little chance of your readers discovering your book.
The mere mention of "metadata" can strike fear into an author's heart, especially those new to self-publishing and already feeling overwhelmed with all the production and marketing tasks piling up.
Consider that nonfiction readers rely on Amazon's Top 100 Best Seller lists to browse books in their favorite categories. If you're not putting enough effort into selecting the correct book categories, you're sabotaging your book's sales.
Selecting the most relevant category with the least amount of competition will help you become an Amazon Bestseller and earn that coveted orange bestseller tag, which can boost sales and give you bragging rights across your social networks and in your newsletter.
Amazon is constantly evolving and changing. Only big-name authors used to be able to request that their books get added to more than three categories, but recently the option to add your book to 10 categories opened to all authors.
Your KDP Dashboard
When you set your book up in Amazon KDP, you have the option to choose two BISAC categories. The challenge is that Amazon only uses these book industry categories during the setup. The company leverages its own category structure on the site, and you don't always end up in the most lucrative or relevant ones.
Territory-Specific Sub-Categories
Each territory has different category and sub-category strings, so your research needs to be conducted by territory and format. There are literally thousands of categories for each territory. Although some overlap, there are many more that are territory-specific.
It's your job to research relevant book categories and email Amazon customer service to ask them to place your book in your chosen categories.
Conduct Category Research
The best way to find potential book categories is to use keywords or search terms you'd use to find your own book.
Find Books similar to yours: Go to Amazon and choose Books or Kindle Store in their search box and type in search terms that describe your book

'

s content. This step is to find books that are your competition.
Compile a list of potential niche categories: Review the search results to identify possible sub-categories relevant to your niche. The key here is

relevant

—you

'

ll encounter books in irrelevant categories, either from authors trying to game the system or because they

'

ve been placed in an incorrect category. Maintain your own integrity through this process and only target categories relevant to your book.
Check the #1 Best Seller in each niche category: When you find a potential category, click on the category link and view the book listing for the #1 spot.
Example: Initially, I typed "Turkey Travel," which is a broad category. I would have trouble getting a big-name publisher like Lonely Planet off the #1 spot because of the low Best Sellers Rank.
But as I continued my search, I came across more niche terms like "off the beaten path" and "budget travel."
As you can see, the Best Sellers Rank number is a lot higher for this niche category. That means you don't have to sell as many books to reach the #1 spot.
To reach the #1 spot in Middle Eastern Travel, I'd have to sell 18 books per day, but to reach #1 in Off the Beaten Path Series, I can sell less than 1. So by targeting the latter category, I dramatically increase my chances of becoming a bestselling author in that category.
Research the Best Sellers Rank Number: Use one of the free Amazon Books Sales Calculators to see how many books you

'

d need to sell to reach the #1 spot. When you come across a category where you want to list your book, grab the entire sub-list category string. To do this, click on the category link on the book sales page and note the information. (You

'

ll need this for your email to Amazon.)
Example: The category string for the Off the Beaten Path category is:
Kindle Store > Books > Travel & Tourism Guidebook Series > Off the Beaten Path
Here are some free Amazon Book Sales Calculators you can try:
Depending on your nonfiction niche, it may not be possible to achieve the top spot, but if you can get on the first page of the Top 100 Best Sellers in your chosen category, you'll increase your chance of getting noticed and attracting more readers.
By the end of this research exercise you should have a list of potential categories by territory, prioritized by based Best Sellers Rank.
Email to Amazon Customer Service
Once you've determined in which categories you want to list your book, it's time to reach out to Amazon Customer Service and ask them to move your book to those categories.
Log into your Author Central account. (If you haven

'

t already got one,

now is an excellent time to set one up

.) Click on the Contact Us link at the bottom of the page.
Select the issue and details for a category update request. Although you can request phone call support, it

'

s easier to submit a request by email.
Don't be one of those nonfiction authors who focus their attention on paid advertising and completely overlooks one of the most powerful metadata basics—your book categories.
Researching your book categories takes effort. Depending on the number of books you've published, it could be an arduous task to fine-tune your metadata. So if research isn't your thing, pay for a gig on Fiverr (or one of the other freelance gig sites). Alternatively, speed up the research process by using custom software like Publisher Rocket or KDSpy.
There are plenty of options out there for authors. Just don't settle for two categories when it's free to get your book listed in ten.
Have you had success getting your book into a relevant niche category? Let us know what tactics you've used to raise your book's visibility to your target audience.
About the Author
Jay Art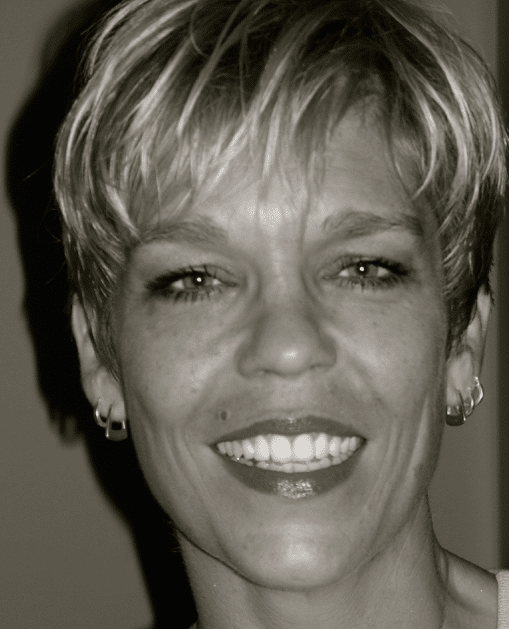 ale abandoned her corporate career to become a digital nomad and full-time writer. She's an avid blogger and a nonfiction author helping travel writers and travel bloggers achieve their self-publishing goals. Join her at Birds of a Feather Press where she shares tips, advice, and inspiration to writers with an independent spirit.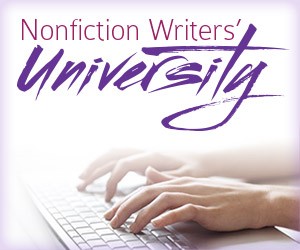 Do you want to learn more about becoming a nonfiction author? Check out the Nonfiction Writers' University. Get the basic education you need and the coaching to help you succeed as a nonfiction writer. Take advantage of monthly live educational and group coaching events. Enjoy a 30-day trial membership for only $1.
Do you want a more advanced approach to your nonfiction writing education? Join the Nonfiction Writers' University MASTERS program. Receive ongoing live Certified High Performance Coaching, Author Training, and Authorprenuership Training as well as monthly educational and group coaching events. Learn all the steps to becoming a successful—and profitable—author. Discover how (finally) to write consistently, boldly, enthusiastically, and productively. Develop the mindsets, strategies, habits of the world's most successful writers. Click here to learn more.