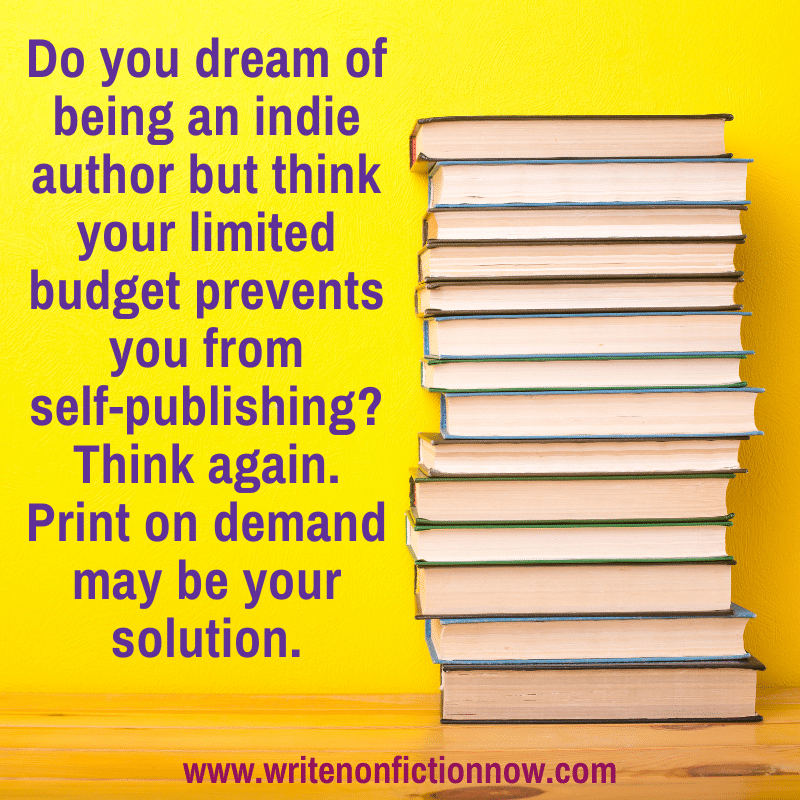 You dream of becoming an author and have researched self-publishing. But you put your dream on hold when you decided becoming an indie author was too costly. In fact, most writers can afford to self-publish if they use Amazon's print-on-demand or POD service. Today,
Jay Artale
(
@BirdsOAFpress
) provides the basic info you need to decide if this publishing option is right for you and your budget.
Publishing an ebook is the gateway to becoming a nonfiction author. If you're building your business around your expertise and planning to join the speaker circuit, you need to have a paperback version of your book available, too. The easiest and most affordable way to publish a print-on-demand (POD) book is with the Amazon Kindle Direct Publishing (KDP) service.
Many ebook authors avoid creating a physical book because they believe doing so requires investing large sums of money to fund an offset printing run. This is the model traditional publishers and vanity presses use. Even though offset printing reduces the per book publishing costs by about 4%, these printing companies require large-quantity book orders. Add to this high setup fees, and it becomes a cost-prohibitive option.
But Amazon offers a print-on-Demand (POD) option, which is ideal for indie authors with a limited budget who want to self-publish. This service used to be called Create Space. It is now part and parcel of Kindle Direct Publishing (KDP). (Yes, you can produce a POD book with the Amazon KDP service.)
Here are just a few of the benefits of using this service.
Amazon provides you with a free barcode/ISBN.
There are no upfront printing costs for customer orders.
You can buy copies of your books at cost.
You aren

'

t charged for making edits to your book file.
What Is Print-On-Demand?
POD is the ideal option for authors who want a paperback version of their ebook but don't have the funds to support a large print run. Here's how the process works:
You supply your cover and internal book file to Amazon KDP.
Amazon doesn't print copies of your paperback until they receive a customer order.
Amazon prints and ships your book to their customer.
Amazon calculates your royalty rate based on your list price and deducts the printing costs from your royalties.
Here's an example of what that calculation could look like using a set of figures for illustrative purposes:
Example Royalty Rate = 60%, Your List Price = $15,  Printing Costs = $5
(60% x list price) – printing costs = net royalty you receive
(60% of $15 = $9 gross royalty) – $5 printing costs = $4 net royalty
Each of the figures in the example above is variable. Let's look at each of these in more detail.
Amazon POD Royalty Rate
Royalty rates are the most complex aspect of POD publishing. They are based on whether you distribute your book directly through a distributor or access their network through a third party.
Amazon isn't the only POD distributor. So Why use Amazon KDP? This is a good choice if your primary goals are to make your book available online at the world's biggest online marketplace. Also, if you want to print copies of your book at cost and make them available via your website and speaking engagements, then Amazon KDP provides the most straightforward distribution decision.
However, if your primary goal is to get your paperback into bookstores and libraries, consider going directly with a mainstream distributor like Ingram. Keep in mind that there's a financial implication with this option.
Amazon pays you a 60% royalty rate for any sale through an Amazon storefront. If you opt in to their expanded distribution network, Amazon sends your book listing to third parties, including Ingram. You'll earn a 40% royalty rate for sales to libraries or bookstores they supply. If you're using a free Amazon barcode/ISBN, Amazon becomes your book's publisher of record and may deter independent bookstores from ordering it.
Amazon POD Printing Costs
Amazon KDP printing costs vary depending on two elements: ink type (black ink or color) and page count. Your book's trim size, bleed settings, or cover finish don't affect your printing cost.
Let's look at each of these elements in more detail and the impact of your publishing decisions.
Ink Type
Nonfiction authors have an added challenge compared to fiction authors. Nonfiction books often include charts, graphs, or images. Whereas it's easy and relatively cheap to include several color images in an ebook, the POD cost per page for color printing is around six times more than it is for black and white.
For example, if the POD printing costs for a 500-page book with a black and white interior were $6, it would jump to ~$36 for color printing. Just think what your list price would have to be to cover these printing costs and still make a profit. It's just not feasible.
Even if only one or two pages in your book require color printing and the rest are black and white, Amazon will charge you the higher color page pricing for every page in your book. This seems crazy, but black and white books use a less expensive toner printing process that creates blacker blacks and sharper edges. But the inkjet printing process used to create high-quality color images is significantly more costly.
Page Count
As well as charging a small setup fee ($0.85), Amazon calculates your printing costs based on the number of pages in your book. This can flex up or down depending on the font style, font size, and line spacing you use for your internal book content.
When a reader buys an ebook, they can adjust these settings on their ereader. When it comes to paperbacks, the control rests in the publisher's hands. (That's you.) The reader is stuck with your design decisions.
I still buy paperbacks, but I'm getting to the age now where I can't read really small print and don't like it when the lines are super close together. If I pick up a book with line spacing set to 1 and a small font, I can't read it easily and, therefore, don't buy it.
You can adjust these settings prepublication, but doing so will increase or decrease your book's page count. Keep in mind that your decision could also reduce your readership. Experiment with your internal formatting and put your reader's needs over your desire to reduce your book by a few pages.
If you (or your designer) set up your paperback book file correctly, you will be able to automatically adjust your fonts and line spacing to assess the impact on your page count. Play around with these settings until you reach that perfect balance between optimal page count and reading ease.
Don't underestimate the positive benefit to the reader experience of including negative space in your book design. For example, leaving more white space between headings and sub-headings can improve the reader's journey through your content.
List Price
You won't be able to set your list price until you've completed your book formatting and have a final page count. At that point, you can enter different list prices into your title setup field to determine your printing costs and the royalty rate you'd receive for each sale.

Amazon provides you with a minimum list price, which takes into account your royalty rate and printing costs, and would result in your receiving zero royalty. So the more you increase your list price over that minimum, the more royalty you'll receive.
Why Amazon KDP is the best option for Nonfiction Authors
Amazon POD offers an enticing publishing option for two reasons. First, you don't pay upfront fees to make your books available for customers to order on Amazon. Second, you also can order author copies of your book at cost and make changes to your book files for free.
Ordering Author Copies
As soon as your book is available in an Amazon marketplace, you can order author copies to sell directly from your website or at your events. This version of the book looks exactly the same as a regular customer copy, is sold to you at cost, and only requires an order quantity is one book.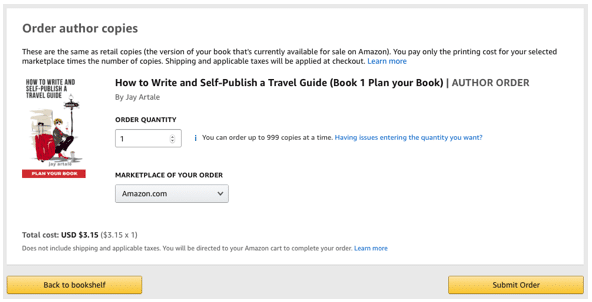 You're charged the Amazon printing cost plus shipping fees.
When you submit your order, you're directed to your Amazon cart to complete your order, and that's where you enter the shipping address and will see the shipping costs.
Making Updates to Your Book
'
s Content
Imagine doing a large print run of 1,000 books and discovering typos and grammatical errors or later finding out that some of your content has become outdated. With POD publishing, you can make changes to your paperback files as many times as you want. That means your book can be kept as current as your ebook.
Amazon KDP is an ideal POD printer because they don't charge you for changes to your book's content, and you can make as many changes as you want as often as you wish. Some distributors, like Ingram, charge $49 every time you update your book file.
Keep it simple
Print a paperback version of your book can seem overwhelming because you have different internal formatting and cover design requirements. But Amazon KDP provides a simple print and distribution option for indie authors that enables you to get your book into readers' hands with as little fuss as possible.
Are there any hurdles or worries that are stopping you from publishing your POD paperback through Amazon KDP? Let me know in a comment below, and I'll try to ease your mind and point you in the right direction to becoming a paperback author.
About the Author
Jay Art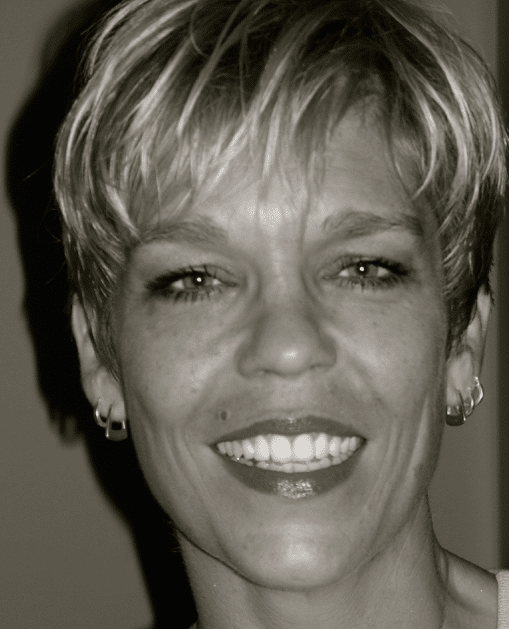 ale abandoned her corporate career to become a digital nomad and full-time writer. She's an avid blogger and a nonfiction author helping travel writers and travel bloggers achieve their self-publishing goals. Join her at Birds of a Feather Press where she shares tips, advice, and inspiration to writers with an independent spirit.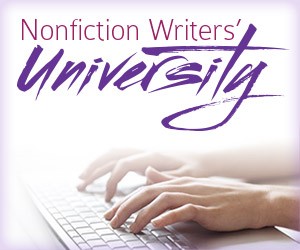 Do you want to learn more about becoming a nonfiction author? Check out the Nonfiction Writers' University. Get the basic education you need and the coaching to help you succeed as a nonfiction writer. Take advantage of monthly live educational and group coaching events. Enjoy a 30-day trial membership for only $1.
Do you want a more advanced approach to your nonfiction writing education? Join the Nonfiction Writers' University MASTERS program. Receive ongoing live Certified High Performance Coaching, Author Training, and Authorprenuership Training as well as monthly educational and group coaching events. Learn all the steps to becoming a successful—and profitable—author. Discover how (finally) to write consistently, boldly, enthusiastically, and productively. Develop the mindsets, strategies, habits of the world's most successful writers. Click here to learn more.