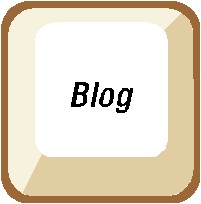 What if you could get read more often and make more money from something other than writing a book? Would you stop trying to get published? Would you turn your attention to this other endeavor?
Here's the thing: You can actually focus on this specific activity and still try to get a book published. You can even do this activity and write your book at the same time–and, in the process, you can increase your chances of getting published. Plus, you can do this activity and create new ways to make money as a nonfiction writer.
What's the activity? Blogging.
Most books today don't sell more than 250-300 copies per year and 3,000 in their lifetime. That means that most nonfiction writers don't get their books read (meaning purchased) as often as they'd like. However, your blog could have 250-300 readers in a month or even in a day. It could have 3,000 readers in a month or even in a day! Blogs with that many readers–successful blogs–tend also to attract agents and publishers. They attract blog-to-book deals. In fact, you can blog your book, write it post by post and publish it on your blog, and create a successful blog and a book at the same time and possibly land a book deal. How cool would that be?
While you are at it, you can make your blog the center point of your business as a nonfiction writer–the place where you write your book, promote it and publish it (or get it discovered by an agent or publisher) and sell your wares. Your blog can be the place where you make money with other products and services you offer, like articles, coaching, consulting, teleseminars and webinars, speaking, workshops and classes, home-study courses, and more books (booklets, tip books, ebooks, whitepapers, workbooks, etc.). As you blog, you become the expert on your topic, and people–your readers–then want to hire you, get information from you, learn from you. They will pay for this. How cool is that?
And all of this happens with a blog. And you know how to blog because you know how to write.
By blogging you get read more often and make more money from something other than just writing a book.
If you want to learn how to blog, join me this coming weekend, August 24-26 at my Writer's Digest boot camp. But don't wait too long…there's only room for 25 participants in How to Build a Business Around Your Blog Boot camp, and there are only a few spots left as I write this post.  To learn more about the boot camp and to register, click here.