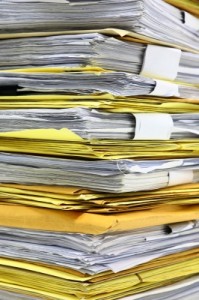 Our fast-paced and digital world has shortened the average human attention span. Supposedly people don't want to read more than a computer-screen's worth of content at any one given time, they want to read shorter books and generally they don't  read as much. A good deal of what they do read is online in a condensed form. With digital books as well as print books available today, the length of manuscripts has begun to vary considerably. And some books are simply shorter, following basic reading trends. For this reason, it's not surprising that aspiring authors have questions about the appropriate length of a manuscript.
So, how long should a manuscript be? Each manuscript should be long enough to adequately tell its story. Thus, one could say each manuscript should be as long as it needs to be! In other words (no pun intended), tell your story in as many words as necessary—no more, no less.
Of course, a printed book probably needs to be at least 100-125 pages in length. Less than 100 pages and it becomes difficult for a printer to print the title of the book on the spine. That means your manuscript must be at least 35-40,000 words long.
The average nonfiction book, if such a thing exists, runs about 50,000 words; longer books run about 75,000 words. I asked agents Elizabeth Pomada and Michael Larsen of Larsen Pomada Literary Agency to add their thoughts to the subject. Elizabeth said, "For nonfiction books, it depends on the kind of book. Biographies, for example, can be 200,000 words. How-tos or self-help are usually 40-50,000 words."
Echoing my earlier sentiment, Michael added, "Someone once said no good book is ever too long, and no bad book is ever too short…I don't have numbers so much as a simple way for any writer to find out how long a book should be: use successful, comparable books as models." (This advice can be applied to fiction as well—"Use the books you love as models." That said, the average adult novel is 100,000, and most publishers for most categories want novels ranging from 80-120,000 but some categories run shorter. )
Still unsure of how long to make your nonfiction book? Go out and find similar books to the one you want to write and figure out how many words are in the book. Then model your manuscript after that book. If you want to write a memoir, for example, look at four or five similar memoirs and determine their word-count. Then produce a manuscript that falls within a similar range.
Ebooks vary widely in length. An ebook, could be quite short—3,000 words—or as short as you can get away with. I've also seen some that are quite long—as long as a full-length book. In fact, many printed books are turned into ebooks. Again, check out books in your genre or category; find your competing or complementary books, and then write a manuscript of similar length.
When it comes right down to it, the length or your manuscript won't be a problem to an editor or publisher if what's on the pages of your manuscript are worth publishing. Just keep the length reasonable.
Photo courtesy of scottchan
<
h4 style="text-align: center;">Need help planning out your nonfiction book? Need your manuscript edited?
Need a writing, book, author, or blog-to-book coach
to help you get started or finish your nonfiction manuscript?
Contact Nina at NinaAmir.com.