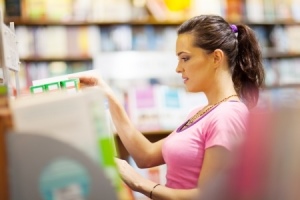 Maybe you've heard the adage that if you've been searching for a particular book and haven't found it, that's the book you should write. Or if you've been wishing someone would tell a particular story, that's the tale you should tell. And, if there's a hole on the bookstore shelf waiting for a book readers want and need but that hasn't yet been published, that's the hole you should fill when you write your book.
All of these statements describe books that are unique and necessary in their category. You may think your nonfiction book idea is just that—unique and necessary, but are you sure? Can you say this with complete certainty? The way to determine this is by conducting a competitive analysis.
When you decide to write and publish a nonfiction book, you want to be confident you bring a product to market that has never before been written—or read—and that your target readers want and need. To write that book, tell that tale or fill that hole, do some work before you start your manuscript. As part of your initial planning process, study other previously published books and use this research to help you develop the confidence to write and publish a singular nonfiction book.
Your Book's Competitive Analysis
The research to which I am referring is most often called a competitive analysis. It's an essential part of a business plan for your book. It's also an important step in conceptualizing and producing a unique and necessary book, which is why you want to take this step first—before you write. As an indie author, it's up to you to determine if your book, once finished, will be better than those already on the market as well as if it's a product that will sell. Take the time to go through this analysis in the early stages of planning your book and honing your idea. Also, include this research in your book's business plan.
If you plan to traditionally publish, a competitive analysis is a required part of your book proposal. A book proposal, first, convinces a publisher that your book is a viable product, and second, becomes the business plan for that book once accepted by the publishing house; they then extract bits and pieces of your plan and place it into one of their own.
How to Begin a Competitive Analysis
To complete a competitive analysis, study other books on the same topic, in the same category, or in the same genre, and compare them to your project. Evaluate how they are better, worse or different. A book that competes with the book you want to write is one that, given the choice, your ideal reader might purchase instead of yours. It is not one this same reader might purchase in addition to yours; that is called a complementary book.
To locate competitive books, spend time browsing Amazon.com. Search by new and popular titles, relevance and publication date. Then check out the bestseller lists—the Amazon Top 100 in your book's genre or category.
Identify five to ten competing books. These should be bestsellers in your book's category or the ones you feel most closely resemble the content you plan to include.
Compiling Data for Your Competitive Analysis
Once you have created a list of competitive titles, search inside each book, studying:
The front cover
The back cover
The table of contents
The foreword and introduction
As much content as possible
Also make note of each books' page count and price as well as if it is available in hardcover, paperback and/or ebook. Categorize your competition by self-published and traditionally published works. (If you are planning to traditionally publish, only focus on traditionally published works.)
Then make a trip to your local bookstore. Take a closer look at the books you feel are your book's top competition. (Order any books you can't find in the bookstore, such as self-published titles, to study further.) Spend time reading them. Look for special features the authors' included or anything else that makes them special, different, or excellent, as well as how the authors have failed in any way.
How to Use and Evaluate the Data You Compile
Once you've accumulated this data, it's time to put it to use. As you look over the information about the competitive books you've researched, keep one important question in mind:
How can I write a better book?
Did one of the authors cover a broad range of material? Have several authors chosen to focus on one solution to a problem or answer to a question? Have none of the authors provided the particular viewpoint you have to offer or created a story that takes places in a particular location you know well? Have the other authors done a superb job that you can't surpass? Be honest.
Also answer these questions as you compare your project to these published works:
Will I approach the subject from a different angle?
Will I provide new information?
Will I solve heretofore unsolved problems (or provide new solutions)?
Will I provide new or different benefits?
Will I tell a previously untold story?
Will I cover different themes or issues or do so in a unique manner?
Will I offer readers a unique experience?
Will I show readers a place or a life they've never seen before?
The answers to these questions, and others like them, determine if you need to change how you approach writing your manuscript. With all your research and answers, reexamine your idea and find ways to incorporate the best in these other books (in different ways), improve on what the others lack and, by so doing, produce the most unique and necessary book in the category.
This exercise is easier for nonfiction writers than for fiction writers and can be completed without reading every competitive book. Novelists, on the other hand, have to spend more time reading, or at least skimming, the top books on their list of competing titles and breaking down the stories to find the data they need and answer many of these questions.
Remember to make determinations about the most appropriate page length, price, book size, format, and cover design based on the information gleaned during your competitive analysis. You don't want your book to be too different from others in your category. It typically doesn't work to your advantage to have a book that is half the length of all the other books on the shelf or literally half the size let alone twice as expensive.
One Final Comparison
Although some people like to write by the seat of their pants, I suggest a bit of mapping, or planning, before you start to write. This helps you complete the final stage in your competitive analysis.
It's possible that before you began your competitive analysis you had a table of contents for your project. You also might have had a synopsis or chapter summaries. But maybe you didn't. In either case, at this point you want to have both.
Once you've created your table of contents for your book and you have your chapter summaries written, take this detailed outline for your book and compare it to the top three to five books on your list of competitive titles. Ask yourself three final questions:
Will my book improve upon the competition?
Is my book unique?
Is my book necessary—do my target readers need or want it?
If you can answer "yes" to all three questions, you've accomplished your goal. You've created a book idea that will fill a hole on the bookstore shelf.
Copyright: michaeljung / 123RF Stock Photo
This post was previously published on The Book Designer as How to Fill a "Hole" on the Bookstore Shelf.