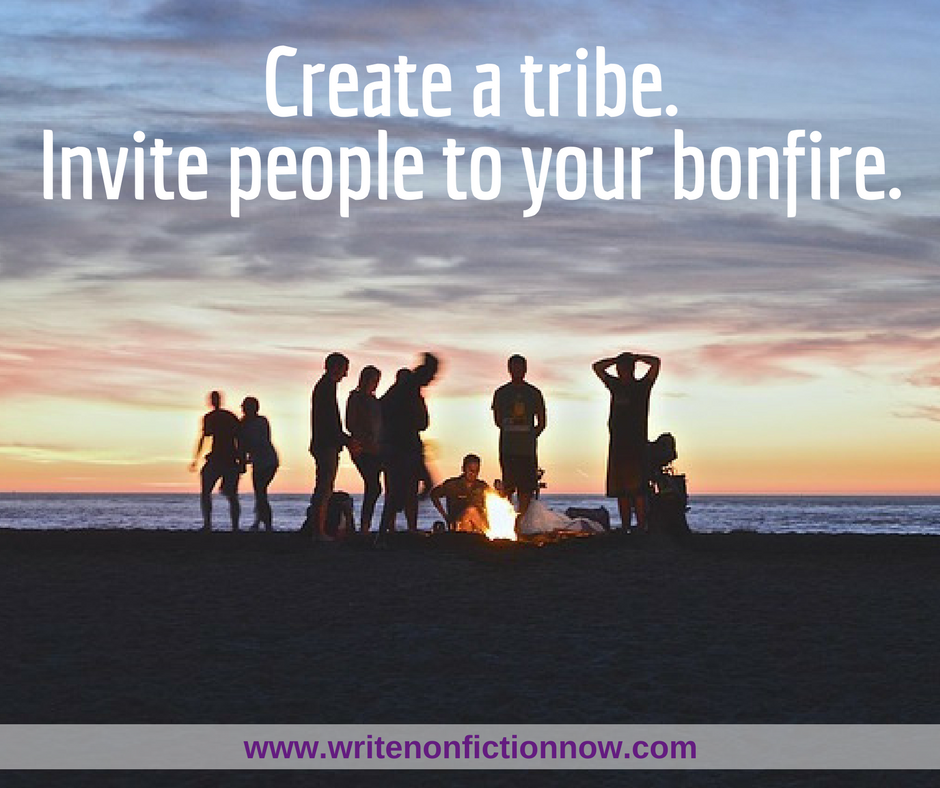 Platform. You know you need it, but you hate all that self-promotion. To get over that hurdle, reframe platform building into tribe building. Build a tribe of like-minded people who want to spend time with you.
Seth Godin coined the term "tribe," and I find it a much more appealing way to look at creating a built-in readership for my books—and my work in general. I also call platform an "engaged community," but a tribe has a warmer feeling.
After all, we want to belong to a tribe, like our family, our friends, or people who like or do the same things. And that's the nice thing about a tribe…not only do others want to be in it with you but you want to be in it with them.
There's one difference, though; you have to lead your tribe. And you have to attract the members to your bonfire.
Take the June Nonfiction Writing Challenge: Build Your Tribe

It's true that the actions you take to build a tribe are not much different than those you take to grow your platform. However, when you think about this task as attracting a group of like-minded people to sit around your bonfire with you and gnaw on some bones together, the activity takes on a different feel, don't you think? You are looking for people to hang out with and tell stories.
And that's how you go about building a tribe: Find people with common interests to yours, and then invite them to gather around so you can spend time together.
Who Will be in Your Tribe?

To take on this month's challenge, you must first determine who will be in your tribe. That means you need to decide what type of people would be interested in your book and your work in general. Who could you invite to sit around your bonfire? What would they want to talk about once there, and where will you find them?
Technically, this is called a market analysis. Just think of it as identifying and finding potential tribe members. That's your first job.
Invite People into Your Tribe

Next, you have to invite people to become members of your tribe. Throw them a bone…sing songs loudly enough for them to hear…make the fire so large and bright they flock to it like moths.
How do you do this? There are so many options! You could:
Start a Facebook, LinkedIn, or Google Plus group and invite them to join.
Create a TwitterChat and send tweet invites to those you think would be interested.
Develop a weekly Facebook Live event and message people to attend—or even promote it.
Create a weekly email message; share it on social media but get all the respondents onto a segmented list for your tribe.
Start a blog, and invite people to subscribe to it.
Create a podcast or YouTube station and share episodes on your social networks.
The ways to gather people around you are endless! Pick one or two that feel the most comfortable to you and that you feel your potential tribe members will enjoy.
Give Potential Tribe Members What They Want and Need

If you've done a good job of studying your potential tribe members, you'll know their problems and questions—what they want to talk about around the fire. Now you can set about solving and answering them—telling them stories.
In other words, you need to begin providing valuable content everywhere you can. Attract tribe members by offering something highly beneficial at your bonfire.
Lead Your Tribe!
Next, lead your tribe! How do you do that?
First, behave like the expert you are. Step into that role. Don't feel like an imposter. Nonfiction writers are experts. And be a good role model.
Second, step up and into your role as an authority and author. Fake it 'till you make it. Act as if you do, indeed, lead a large tribe and have a book (if you don't already). That confidence attracts tribe members (as long as you behave and speak without ego).
Third, share your message. Get your message out where it can be heard or read. Find other authors, bloggers, or experts, and comment on their posts. Share your blog posts or excerpts from your books. Allow people to realize you are a leader in your field or industry by speaking up.
Fourth, make decisions. You are the leader. You decide how your tribe is run. You make the rules…but always listen to your tribe members to be sure you are meeting their needs. Plus, decisions tend to produce actions. You go from decision to commitment to action, and your tribe members will follow suit.
Fifth, engage with your tribe members. See yourself as a tribemate… Yes, you are the leader, but you must always be part of the tribe as well and remind the members you are just like them. Sit with them around the bonfire. Share you bones with them. Ask them what matters to them. Get involved, and they will respond likewise.
Time to take on the challenge! Go out there and build your tribe.
What type of tribe are you creating, and how do you plan to attract your tribemates?
Become a successful published nonfiction writer. Join the Nonfiction Writers' University today. (You can test it out for 30 days for only $1.)
If you need help creating your author platform, feel overwhelmed about any and all aspects of becoming a published nonfiction writer, or struggle to know what step to take next on the path to realizing your dream of becoming a professional writer, the Nonfiction Writers' University is the place for you.
Get trained, coached, and supported on your journey to successful nonfiction authorship. Click on the following link to find out more and join: www.nonfictionwritersuniversity.com
Photo courtesy of geralt / pixabay.com