WNFIN Challenge/NaNonFiWriMo
Day #18
Guest post by Carla King (@CarlaKing)
Today there are so many quick and easy ways to publish a book it's almost dangerous. Why dangerous? Because books need editing, proofreading, formatting, and design and, honestly, a prematurely distributed book can be embarrassing. But that doesn't mean you shouldn't publish it for beta readers, iterating often and launching new improved versions while you build platform, gather blurbs and reviews, and finesse your editing and design.
Format For Success
The first challenge is to format a manuscript for print and e-book readers. You'll need a PDF for print, MOBI for Amazon Kindle e-books, and EPUB for all the other e-readers. Good formatting requires proper use of styles in Microsoft Word, Scrivener, Google Docs, Pressbooks and other programs you might use, so that e-book readers can properly display paragraphs, lists and chapter titles. So make sure to format properly using styles!
Publish Small
A new free service called Liberio offers a very quick and easy way to create an e-book straight from Google Drive. When you upload your book, you can publish it directly to Google Play and download EPUB and MOBI versions, too, to do with what you want.
For print books I recommend uploading your PDF interior and cover files to Amazon's CreateSpace because it's easy, fast, and reliable, and they're the most inexpensive POD print book vendor I've found. Lots of authors I know use CreateSpace to test out print design and formatting, and it's also great for sending out advance reader copies to important reviewers. Keep the book private until it's finished, and when it's ready, sell it in the CreateSpace store for 80% royalty and distribute it to Amazon.
Authors with serial books, travelogues and how-to guides should look at LeanPub, a cloud-based tool that allows you to sell your in-progress e-book and update your readers through their email system. The system uses DropBox as a document repository and simple MarkDown language for formatting. I love the pay-what-you-want pricing (you set the minimum and maximum), which can make it a great crowdfunding platform, if you wish. Their commission is 10 percent minus 50 cents per transaction.
Finally, I can't resist recommending Draft, a simple, cloud-based document creation service with version control that tracks edits by contributors (like your editor). It can publish direct to Google Docs, your website or your newsletter. You can also download your document to PDF for print and HTML (which is "almost" EPUB). And those are only a few of Draft's features. Take a look. It's a great addition to any indie author's toolbox.
To Sell or to Give Away?
Mark Coker, founder of the Smashwords e-book distribution service, has discovered that the most successful authors on his site give away their first book and sell their second book. He says that authors generally start making real money only with their third book.
You can give your book away for free on Smashwords by uploading a Word doc or an EPUB file. Don't distribute it via their premium catalog yet, just let readers download from the Smashwords store.
You can also blog your book on your own website to gain followers, or use LeanPub to serialize it. Or store it on DropBox or Google Drive and post the link on social media sites. Some authors use their Facebook Notes area to publish stories and books in plain text and to get reader feedback.
I also like to upload my books, or parts of books, to Scribd, a document publishing site and reader subscription program with lots of social features. Readers can follow you so they are notified when you upload a new story or book. The Scribd widget lets you embed your book on your website pages and blog posts so that readers can scroll through the book without leaving your site, or even share it on their own blogs.
Also take a look at Gumroad and Selz, two online stores that provide widgets for selling (or giving away) digital downloads and physical objects.
Yet another smart way to publish as you grow platform is to give away digital downloads of stories or entire ebooks as freebies when readers sign up for your email newsletter. I recommend MailChimp, which is easy to use and free for up to 2,000 email addresses.
There are lots of other ways to publish, and new ones crop up all the time. Libiro (not to be confused with the aforementioned Liberio), is a beautifully-designed indie-only e-bookstore (75 percent royalty). The niche site All Romance is a specialty site for selling romance ebooks (with 60 percent royalty).
An innovative site called Screwpulp was designed to provide indie authors with ratings and reviews before going with big distribution. You give away initial copies of your book for free, but when your ratings go up, so does the price, in one dollar increments. You commit to 90 days (non-exclusive) and earn 75% royalty.
When Your Book is Perfect
These are some of the quickest ways to publish, but when your book is perfect and you're ready for big distribution the most frequent recommendation I make is a combination of CreateSpace and IngramSpark for print and Kindle and Smashwords for e-books. In the meantime, publish small and don't rush! Your book deserves to be the best it can be.
 About the Author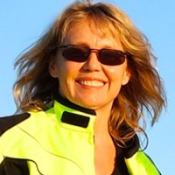 Carla King is an adventure travel journalist and book author whose solo journeys around the world are published widely online and in print. She also runs the Self-Publishing Boot Camp educational program of books and workshops, an outcome of her many years in technology and her enthusiastic experimentation with emerging tools and services. Her self-publishing books are the Self-Publishing Boot Camp Guide for Authors, which is a step-by-step manual to publishing, promoting, and selling your book in print and every popular e-book format, and an easy-reading companion to the guide titled How to Self-Publish Your Book, an updated compilation of her PBS Mediashift columns since 2010.
Photo courtesy of artur84 | Freedigitalphotos.net. Amazon links contain my affiliate code.