Blogging for Authors—Lesson #11
Lot's of people will tell you blogs are dead. Too many of them exist. The Internet is too noisy. No one will ever find your site.I know you'd like to believe them because you'd rather be writing your book than blogging. But they are wrong.
Blogs are alive and well. Not only that, they provide authors with one of the most effective tools available today for everything from building author platform, promoting books upon launch, building a brand, and even writing not just one book but many books—while you accomplish those other tasks!
Here are three good reasons—in fact, the most important reasons—you need to blog if you want to become a successful nonfiction author.
You can Blog Your Way to Successful Book Promotion
As an aspiring author you need a platform, a built-in readership in your target market for the book you plan to publish. Without a platform, you have no one to whom to market your book upon launch—no email or subscriber list and no followers on social networks. Without platform you lack visibility, reach, authority, and influence—all of which constitute platform and help you promote your book.
If you blog consistently, often, and in a focused manner on one or two topics, you gain visibility for yourself and your book. Search engines, like Google, catalog your posts for keywords, or search terms. Over time, if you continue writing about the same subjects, this drives your site up in the search engine results pages, giving you great visibility. Your site—and your books—become more-easily discovered by those searching on the Internet for that topic.
Plus, you develop author platform. Each time you publish a post, you can share the link on social networks. This attracts followers on those networks and drives readers to your blog, where they will sign up for your mailing list and subscribe to receive posts directly in their email boxes. Plus, your new raving blog fans will share your posts with their followers—giving you reach and authority. Over time, as your following and engagement grows, you become an influencer in your field. Then, when you ask people to purchase your newly released book, they will. They will know, like and trust you.
Without a platform, it's difficult to promote a book. With one, you can accomplish your book marketing effectively—often with the help of your blog.
You can Blog Your Way to an Awesome Author Brand
Branding provides a wonderful way to get yourself and your books noticed. Like Nike, Audio or Lays Potato Chips, when someone says your name, sees your logo or thinks of one of your products (books), you want them immediately to know what you do and stand for as a writer.
Your blog serves as your author website. Use it to convey your message—how you want to be known by your potential readers (or customers and clients). Do this with the name of the site, the tag line you use, the colors you choose, and the content you produce on the blog.
You have about five seconds to capture a visitor's attention when they land on your website. That's why branding is so important.
And each blog post you write helps strengthen your brand, especially if you share it across your social networks. (Brand each social network so it looks like your website.)
You can Blog Your Way to a Book—or Many Books
Many writers don't want to blog because the activity takes them away from their primary writing activity: producing a book manuscript. However, you can write your book right on your blog—post by post.
For nonfiction writers, this strategy makes a ton of sense. Write a 10-to-30-post series and turn it into an e-book. (Do this several times per year!) Or write a full-length book over the course of six to nine months.
As you blog your books, you develop an avid fan-base of readers ready to purchase the finished book. They are invested in the end product because they've read the first draft and liked it. Maybe they even offered you feedback on that draft via the comment function on your blog. They might have shared an anecdote you asked for permission to include in the final version of the book. And now they want to see the finished product, which should have a bit of previously unpublished material in it as well.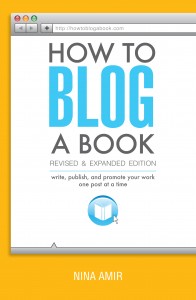 When you blog a book, you write, promote (build platform) and publish at the same time. What could be better than that? And you build your brand.
The only reason writers shoudn't blog is if they don't want to succeed as authors. And the time to start blogging comes the moment you get the idea for a book or decide you want to become an author. So don't wait…start blogging now.
To learn more about blogging book and booking blogs, purchase a copy of How to Blog a Book Revised and Expanded Edition.