WNFIN Challenge/NaNonFiWriMo
Day #9
Guest post by Kristen Eckstein, The Book Ninja (@KristenEckstein)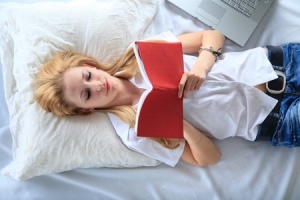 On August 26, 2013 I woke up at 3 AM with an idea. Snuggling down under the covers so as to not wake my husband, I lit up my phone's Notes app and went to work. I started brainstorming a list of topics I could write about for a Kindle series. Then in a sudden strike of inspiration, I browsed over to my blog and began copying and pasting article titles to my Note.
In about 30 minutes I had over 20 possible topics I could write about—all for the same series of Kindle books.
To say I was on fire with a brilliant idea was an understatement. I was so excited that by 4 AM I decided I was through pretending I could go back to sleep, padded over to my home office, picked the topic that would be the easiest to write about, and I started writing. In two hours I had the core content of my first e-book in the Author's Quick Guide series done. By now I was wide awake, and having a computer art degree (which means I really do know what I'm doing), I started working on the book cover.
By 8 AM I had the book cover done and my sleepy-eyed husband showed up and gave it some minor tweaks (he's the real designer in the family). After we were satisfied with the cover, I went back and re-read through my entire e-book and did some light editing.
At 10 AM my e-book was done, the cover was ready, and I shipped it off to my Kindle programmer to create the Kindle file. Apparently my programmer had nothing better to do that day, as he sent me back the formatted Kindle-ready MOBI file by 1 PM and I uploaded it to my Kindle Direct Publishing account (kdp.amazon.com).
A few hours later, around 10 PM, I received the coveted email from Amazon saying my e-book was "live in the Kindle Store." And that's when I got super excited! I'd just written, designed, programmed, and published a Kindle book in less than one day!
I didn't even realize I'd discovered the formula for super fast non-fiction book writing until my business coach asked me if I could produce one Kindle book every week through the end of 2013… which I did. Now I don't personally recommend that you write and publish 18 Kindle books in 18 weeks as I did unless you have the ability to write all day every day. I will tell you that my writing got better and faster, and now I can pump out an article like this one in less than an hour. There's nothing like practicing your craft over and over to get really good at it, and be able to complete your goals fast with focus and intensity.
So what is this formula of which I speak?
Writing a non-fiction book fast (especially a shorter Kindle book) is not difficult. Now, I'm not talking about writing a 300-pager here. I'm talking about short, direct, how-to style books, specifically for a Kindle series. Most of my Kindle books are between 8,000 and 10,000 words. I know my target audience is busy, so I focus on answering the questions they're asking the most. Which brings me to Step 1…
Step 1: Pay Attention!
Watch what your target audience is asking. Pay attention to what people ask on social media, on their profiles and in targeted groups. Keep an idea list with you on a notepad, in a journal, or in the Notes app of your phone. Every time you see or hear someone ask a question you know the answer to, write it down.
Step 2: Pick Your Topic
Now go to your list of questions (aka: ideas) and choose one that resonates with you. Is there one you're extra passionate about? Maybe someone is asking for green smoothie recipes and you're a health coach who loves to use green smoothies to ease people into a healthier lifestyle. Then a book with your favorite recipes and some basic steps on how to get started would be perfect for you to write.
Step 3: Repurpose
The secret to writing fast is not to write from scratch. It's to find content you've already created and compile that into your book(s). Here are some common places to look for content you can simply copy and paste into a book document:
Blog posts and articles
Guest articles (articles you wrote for magazines, other blogs, newspapers, etc.)
Interviews (hint: get these transcribed)
Webinars (again, get these transcribed)
A speech
A teleseminar
An old PowerPoint presentation
Step 4: Make Time!
This is the most important step of all. If you compile all your ideas but don't set aside time to take action on them, you'll forever be wishing you were a published author and never actually reach your goal. Action takers are the ones who get things done. So block out that time in your calendar, take yourself out to a coffee shop, and buckle down until you get your book written. If you write hard for a minimum of one hour a day during this NaNonFiWriMo event, you'll have at least one book in your series written, if not more!
Step 5: FOCUS
It's easy to lose your focus. The phone will ring, your email will bleep, Facebook will bloop, and Skype will ping all day long. So turn everything off (including your wifi) and focus. You can make all the time in the world, and as long as you allow those distractions to creep in, you won't feel as if you accomplished anything during that time. I personally love taking myself on a Writing Date (KristenRecommends.com/writingdate) to the beach, the mountains, or my local coffee shop.
Why is focusing so important? Here's a real-life example…
As I was writing this article, things were going well until I typed "Step 5: FOCUS." I started writing the URL for Writing Dates (yes, this is a real event put on by my good friend Natalie Collins) and wanted to test it to make sure it was accurate. So I opened my browser window.
That was my mistake. I should have waited to check that URL until after this article was written. Because of that one tiny break in focus, you almost didn't get this article you're reading now. When I opened my browser I saw Facebook had some notifications. And of course I have to see what the people want… then my internal office chat blooped with a question about a book design. Then as I answered that, my phone buzzed with a text.
I allowed my focus to be broken, which opened me up for all kinds of distractions. It  takes only a millisecond. And it's the most dangerous thing to the success of you as a published author. Follow these easy five steps and you'll see your book written in no time!
Are you primed and ready to take action?
Check out my exclusive Kindle in 30 Challenge. The Challenge is a live event that runs three to four times per year. Click that link above to learn more and sign up to be the first to hear about the next Challenge!
About the Author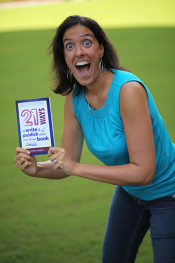 Kristen Eckstein, The Book Ninja, is a highly sought-after publishing authority, multi best-selling author and award winning international speaker who has started over 50 publishing companies and published over 200 books and e-books. In Fall 2013 she challenged herself to write and publish a new Kindle book every week for 18 weeks straight, then went on to create the exclusive Kindle in 30 Challenge.
Copyright: tpabma / 123RF Stock Photo