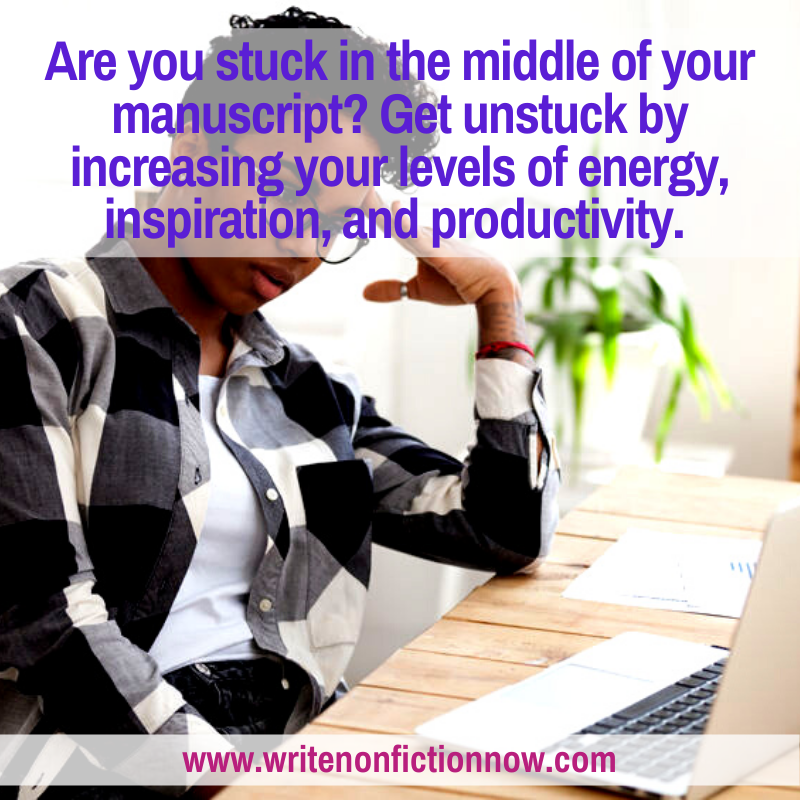 Just like marathon runners, writers know that making it through and beyond the halfway point of a writing project can feel the hardest. That's when you need to stay energized, inspired, and productive, so you complete the first draft of your manuscript.
The middle of your book project can be hard, tedious, and doubt-filled. Suddenly, you find yourself avoiding the manuscript you were so passionate and motivated to write when you started. Writing becomes drudgery.
Like a marathon runner, the halfway point of writing your book finds you tired, in pain, and ensure you can make it over the finish line.
But you can cross the finish line to "done." You can continue writing until you complete your manuscript.
And the process does not need to feel difficult, painful, or unpleasant in any way—not if you employ strategies that keep you energized, inspired, and productive.
Stuck in the Middle
I got stuck in the middle of my current book project. I lost my steam and couldn't get my mojo back. And I just about stopped writing for several months.
Every day, I blocked out time on my calendar for writing the book. Still, inevitably, I ended up doing something else. So many other tasks seemed more pressing.
"The book can wait," I rationalized. "These things cannot."
And when I did sit down to write, every word felt like a struggle. Until I decided to put to use some strategies I know work. I teach them to my clients, and they write from start to finish without struggle. When I put them to use, I started making progress again.
Increase Inspiration
The first thing I did was increase my inspiration level. I reminded myself of the reasons I wanted to write the book in the first place. And I reconnected with my passion for the topic.
I feel a strong sense of purpose or mission around my current book project. I feel called on some level to write and publish the book because I know it will impact readers in positive and meaningful ways.
And I'm passionate about my topic as well. I talk about it often and seek opportunities to read or take classes on the subject.
When I combine my purpose with my passion, I get inspired. Once I had reawakened my inspiration, I wanted to take action. That inspired action will lead me to a completed manuscript. It will keep me writing until the last page—and final revision.
Increase Energy
Then, I generated more energy. It's incredible how your energy can affect your ability to write. I'm talking about physical, mental, and spiritual energy. And all three of these were low. I realized I needed to generate higher levels of energy on all fronts to finish writing my book.
So, I began exercising, and when I found myself feeling tired, I used breathing exercises to boost my energy level. For instance, I would take 20 deep, forceful, and fast diaphragmatic breaths before sitting down to write. (You can do the same.) This raised my levels of energy and focus.
I also began using affirmations and visualizations. I would tell myself I was ready to write and that I am a good, prolific, and productive writer. "Focus on writing!" I would say. And I would see myself writing productively and completing the manuscript. This kept my mental energy positive, which resulted in both mental and physical energy boosts.
Last, to increase my spiritual energy, I reread the entire beginning of my manuscript and made sure it contained a spiritual message. As I continued to write, I felt the book and I fall into alignment. And I would include a little spiritual writing ritual, like lighting a candle and setting an intention each time I sat down to write.
Increase Productivity
Next, I focused on increasing my productivity level. Obviously, if I was struggling to write, I was not productive. But I know how to be productive, and my Certified High Performance Coaching experience helps me be more productive—even when I'm in a productivity slump.
So, I focused first on urgency and necessity.
To increase the urgency I felt to get the manuscript done, I used a deadline. Sometimes the deadline was enforced by a timer that rang after 50 minutes—and I needed to complete a section of my writing project by that time. Other times my decision to get the first draft—and maybe part of the second draft—done before ringing in the New Year.
I achieved a higher level of necessity by thinking about the fact that, due to my current work-related responsibilities, I would not have the ability to crank out this manuscript in record time. I needed to be ready for a traditional publishing deal with an almost-done manuscript.
Getting to Done
Some people strong-arm their way to the finish line—whether in a race or a writing challenge, like the Write Nonfiction in November Challenge. Others, though, seem to sprint to completion.
You have a choice—struggle or flow to "done." I hope you choose to flow.
Writing is never effortless, but it can be easy. The process can be enjoyable and satisfying. And when it is, you'll get from start to finish without having to pause—or stop—in the middle.
How do you get unstuck when you find yourself stuck in the middle of your manuscript? Tell me in a comment below. And please share this post with a writing friend.
Photo courtesy of Aleksandr Davydov